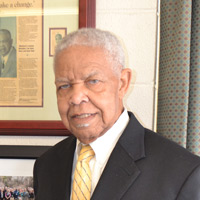 ©DPI Mar/Apr 2018 | Photo by Jodie Vance
Fred L. Davis
Owner • Fred L. Davis Insurance Agency
I was born in South Memphis on May 8, 1934. Times were not good. That was the Depression Era. For black folk in the very segregated South, it was even worse. It was bad enough to be born black, but I was born black and in an apartment building located in the rear of the houses that faced the street. When you're born in the rear of people, in the back, that's a pretty ominous sign!
In addition, I grew up in a split family. My mother and father were married, but they never lived together after I was born. I have two younger brothers by my mother and father, and my mother had four girls by a previous marriage. The girls were much older and did not live permanently with us. I lived with my mother sometimes, and I lived with my father sometimes. Therefore, I never had a family in the traditional sense. I never can remember eating a meal with my mother and father at the same table. And sometimes, ironically, they were under the same roof, but we never had a meal together. That's something I learned to work with and live with.
Both my parents' formal education was very limited. I never heard either one of them talk about going to school. My father was born in 1892, and my mother was born in 1899.
From the 1st to 4th grades, I went to Florida Elementary School. Then my mother sent me to a Seventh-day Adventist school. It was a hell of a walk to get there, but they taught the Bible, and that's what my mother wanted for me. My mother went to Chicago to work, staying with one of my older sisters. She took my baby brother with her. Then I lived with my father until graduation from high school.
My daddy was a barber. He took a front room in the house where we lived on Hollywood and turned that into a barbershop. He mostly worked for himself. Living there also was my younger brother. But I guess all of us, watching our daddy in the barbershop, developed our entrepreneurial mindsets.
My daddy was sort of the neighborhood philosopher. People would come around the barbershop and listen to him talk about current times and what was going on. At times, to make money to buy clothes and other necessities, I caught the cotton truck to go pick cotton. At that time, there were cotton trucks that picked up cotton pickers from all over Memphis. At specific locations around the city, you could catch the truck, go pick cotton, then ride the truck back home. When I ran short of clothes, socks, or whatever, I'd take a day out of school, go over and pick some cotton, and come back.
My mom was a religious woman, but she didn't attend church regularly. During my growing up, I was sort of a child prodigy in the sense that my mother used to take us to church meetings where I recited these long dialogues and monologues and answered questions and answers about religious matters. Churches used to have what they called "programs" back in that day. There would be singers and quartets — let's say The Blind Boys, and all of that — as part of the program. There would be speakers, people who were in some ways gifted in that manner. During my grade school years, I was one of those gifted kids.
While my mother's education was limited, she had good "mother wit," as we used to say. She was a very strict disciplinarian! I guess I learned some of my discipline and frugality from her. She was hard on truthfulness and forthrightness for us. She didn't cut us a lot of slack!
I graduated from Manassas High School in 1953 and went to Tennessee State University in Nashville, where I met my wife, Ella. Both of us got degrees in accounting, and I like to say that we courted over worksheets! We married in 1957, the same year we graduated from college. Ella is the first African-American woman to get an MBA from the University of Memphis.
After college, I went into the Army for two years, and they sent me to France. Ella came with me, naturally, and we had a house in town. I worked in the comptroller's office, because of my accounting background. The only time my wife ever mentioned divorce was over French! She'd be at home all day, around people who didn't speak English. When I came home, she hadn't had anyone to talk to, but I was busy studying French. That was a bit much for her.
 
After I got out of the Army, in the late '50s, we had two children and no car. I began selling insurance door to door in Orange Mound, for North Carolina Mutual. It was the best training I ever got, except for waiting tables at The Peabody when I was in high school. I worked my territory for five years. I became very involved with the community and gained an intimate knowledge of the Orange Mound neighborhood. I knew everyone in every house on every street. And they all knew me. I became president of the Orange Mound Civic Club. But professional opportunities for me, a college graduate in business, were very limited. Back then, black people couldn't get those professional jobs. They wouldn't hire you.
When I decided to go into the insurance business, I couldn't take the licensing exam unless I got a licensed insurance agent to sponsor me. But hell, there weren't any black licensed insurance agents! Russell Sugarmon and A.W. Willis had some real estate they were about to close on, and they wanted me to write the insurance. So, they asked a white agent to sponsor me. I passed the insurance licensing test, got licensed, and then I wrote the insurance on the properties they were closing on. But I had to run it through the white insurance agent, and the policy had to go to the white company. No white company would sign a contract with a black agent.
I opened Fred L. Davis Insurance Agency in 1967. I was the first black, independent insurance company in six states. I was used as an example in other places to give opportunity to other black people in the insurance business. And I'm pleased with that.
When I decided I wanted to be an independent insurance contractor, I had already become friends with John and Jim Collier, who owned Collier Insurance. We met at a "Great Books" discussion group at a church on Union. I had often discussed the challenges I faced being black in this industry and having to get a white agent to sign off on everything I did. Jim said to me, "Fred, I'm tired of you bitching about having to 'go through white folks' all of the time. I'm going to get you licensed as an independent." And they took me down to the Hartford regional office in Memphis, gave the manager the papers, and asked him to give me a contract. Jim said, "Sign it." He did. The Colliers had great influence.
Now, you have to understand that even to this day, the only way to learn this business is to be in the business. There is no college you can go to and learn how to run an insurance agency. So, who was going to train me? Collier said, "We are." And they spent years, from the first day, working with me and training me and teaching me until I could fly on my own. I recognize them every chance I get. In fact, they recently celebrated the 100th anniversary of the Collier Agency.
In 1968, I ran for and was elected to the Memphis City Council. I was chairman of the Public Works Committee during the sanitation workers strike of 1968. For weeks before Dr. King's assassination, I had been putting before the Council different proposals to settle the strike and recognize the strikers' union, but none of them had been accepted. And I had told the Council, in my forecasts, about the kinds of things that could happen if that strike kept going on. I didn't foresee Dr. King being killed, but I did foresee an explosion in the black community. In 1972, I became the first African American to chair the council.
But being a civil rights activist and community leader were not the only things I was involved with. Over the years, I was president of the Liberty Bowl, founding director and past president of the Mid-South Minority Business Council, recipient of the Humanitarian Award of the National Conference of Christians and Jews, inducted into the Society of Entrepreneurs, past president of the University of Memphis Society, trustee of the Community Foundation, director of the Memphis Leadership Foundation, a founding director of the Assisi Foundation, and other honors.
It's been a good ride — a hard, wild ride — through a racist thicket.
Fred L. Davis Insurance Agency is … one of the first independent, black-owned insurance agencies in the South. We provide individuals and small businesses with insurance coverages that include property casualty, life, health, annuities, mutual funds, and bonding. We also offer counseling on risk management and risk avoidance, and we assist small businesses in providing employee benefits, including retirement funding and group coverage. We've been located at 1374 Airways in the Orange Mound neighborhood since 1968, and I don't ever plan to move. Deciding to open my insurance company in this neighborhood and keep it here is one of the best decisions I've ever made.
What sets us apart from other insurance agencies … Before I was established, you couldn't insure your home, car, or property with a black person. Now I have two young women, both licensed professionals, who work for me. One has been with me 27 years, and the other has been with me 30 years. They drive up in nice cars and are nicely dressed, and young people in this neighborhood, going back and forth past this office, see them coming and going. They see that it's possible for people to be prosperous, working in a black business. There are not many examples of that kind of thing in this neighborhood.
My first paying job … When I was in 3rd or 4th grade, my mother would take my little brother and me over to Arkansas to pick cotton for a sharecropper, Mr. Henderson, in Hughes, Arkansas. The money I earned picking cotton was kept separate because that was my contribution to my clothes for school. And I was expected to catch up the time that I was out of school picking cotton, because this took place in September and October.
As a child, I aspired to be … something other than a laborer. When you grow up in a neighborhood where most of the people are maids and porters and railroad workers and day workers, there aren't a lot of role models. That was because of segregation. There were a few doctors who lived in the area. I don't think I saw a black lawyer until I was in high school. And that's one of the reasons I still live in Orange Mound. I don't have to, but I choose to, because you can't be what you can't see. The kids in this neighborhood usually don't see successful black people who aren't doing things illegal. They really don't have a lot of role models.
I wish … that there were more African Americans in communities like this who live and work in the neighborhood. You can't influence people that you're distant from.
My children … grew up in this neighborhood. My oldest child is a retired law enforcement officer who now works for the appeals court in Washington D.C. My middle child, my daughter, has an undergrad degree from Yale and a law degree from Vanderbilt. She also went to the elite St. Mary's High School. My youngest child, marketing expert, created the "Can you hear me now?" jingle when he was vice president of marketing for Verizon. Now he's chief marketing officer for ServiceMaster. So, what I'm saying is that with the right kind of parenting — even in Orange Mound or other inner-city neighborhoods — a lot of people with these kinds of accomplishments can come out of this neighborhood. It is not the neighborhood when you can produce like that. It is the parenting.
The first time I was arrested … I was 27, 28 years old and working for North Carolina Mutual Insurance, collecting premiums door to door. A group of insurance agent buddies and I decided to help desegregate the Mid-South Fairgrounds. One Sunday, five of us met at my house and went to the Fairgrounds, even though black people were only allowed to go to the Fairgrounds on Tuesdays. We walked in and tried to buy tickets to a ride. The girl selling tickets was scared. She said, "I can't sell you tickets. This is not your day!" She called the administrative office and told them that there were these black people trying to buy tickets. They told her that she couldn't sell us tickets. So, we left her and went to another ride and tried the same thing. That girl called the administrative office and got the same answer. We did that four or five times. Finally, the administrative office people called the police. The first patrolman came, and he tried to get us to leave, but we wouldn't leave. He called his sergeant. A crowd started gathering around us, for we were the only black folks in a crowd of white folks. We wouldn't leave with the sergeant. The sergeant called the lieutenant. We had three police cars out there. Some fellow in the crowd said, "Turn them n------ over to us, and we'll get them out of here!" So, the crowd started rumbling. We still wouldn't leave, so they arrested us, took us to jail, booked us, and put us in the slammer.
Being in jail is like … That's a strange feeling. When you hear those doors clanging behind you two or three times, you think, "This time it's for real!" I was angry, but I was not afraid. I was sort of feisty. But what really upset me was the black fellas in the jail cell next to us. We could see them through the bars. They were giving us grief, and that's what really pissed me off. "We're out there fighting for your freedom!" I wanted to tell them. We were in jail for several hours. Finally, they let us make a phone call. There were some people attending a service at Mason Temple. A.W. Willis, Russell Sugarmon and Benny Hooks came over and bailed us out. When the trial came up, one of two things had to happen: They either had to jail us, or they had to open up the Fairgrounds to blacks every day. They opened the Fairgrounds. I tell myself sometimes that God has one hell of a sense of humor, because much later, after I left the City Council, I was appointed to the Park Commission, which had jurisdiction over the Fairgrounds, the golf courses, Pink Palace – all of that! You just don't know what is going to transpire over time.
Marching during the sanitation workers strike … King and I were side by side on March 28, 1968, when we kicked off his last march in support of the striking sanitation workers in Memphis. I have a photo of it. On the right side of the photo is a truck, going the wrong way, against the crowd of marchers. O.W. Pickett, who was in charge of security, was on one side of King, and I was on the other side. But when that truck came into us the wrong way, that pushed me back and away from my position of being next to him. That was the last march, and that's when all hell broke loose
One of my fondest memories of MLK …  Dr. King was a very congenial person. He was not full of himself. The people who hung around him, who got the privilege of being with him, took their importance more than he did! I interacted with King in a number of functions outside of the march. He was a man of humility. But if you were around him long enough, you also understood the unwavering commitment that he had for the cause.
During the "Mountaintop" speech … I was sitting on the edge of the stage next to the steps at Mason Temple when Dr. King came in and made his "Mountaintop" speech on April 3, 1968, the night before he was shot. He wasn't scheduled to talk at Mason Temple. The choir was singing and clapping. Rev. Ralph Abernathy got up to speak, but the crowd shouted him down. They wanted Dr. King, who was in his room at the Lorraine Motel. Abernathy called and asked King to come speak at Mason Temple. It was raining like hell that night. When King got to Mason Temple, he sat down in his chair on stage for a minute to catch his breath. The choir was singing. He walked up to the podium and started to speak. He had no notes, no paper. His speech was from the heart.
When King was assassinated, I was … in a hotel room in the Claridge Hotel, waiting to settle the strike. The City Council had decided we were going to settle the strike that day, and we were waiting for Tom Miles, who was the federal mediator, and King's people to arrive so we could settle the strike. In addition to me, there were councilmen Lewis Donaldson, Jim Netters, Jerred Blanchard, and Downing Pryor. We got a call from City Hall to turn the television on. And that's when we found it out. When I saw that King had been assassinated, I just lost it
The billboard incident … In 2013, I spent $6,000 for a billboard located just a few yards from my office. On the left side of the billboard was a picture of a young black man in a cap and gown, holding a diploma. On the right side, was the backside of a young black man with his pants hanging below his butt. The words in between the two men read, "Show Your Mind. Not Your Behind." It went around the world: London, New York, South America. I purchased rights to use the billboard because I got so tired of people in bourgeois circles, in churches and other places, whispering about all these fellas with pants sagging. But they would never say anything to the fellas, because they were afraid of them. It was rampant, people talking among themselves about these fellas with their pants down around their butt. So, I decided to make a public statement. I consider myself ghetto, too. I grew up in the ghetto. I've never lived anywhere else, and I don't intend to move anywhere else. I wanted to confront these people. You can't fool me, because I've been out here forever! I said, "I'm going to put up a billboard." I wanted young black men to know that when they sag their pants, it negatively impacts their future. If you want to be upwardly mobile, you can't present that image to people. The billboard sent the message, "You can achieve!"
Orange Mound … Like all black neighborhoods around the country, Orange Mound suffers from the legacy of racism, the lack of equal opportunity. For example, when I was chairman of the Public Works Committee on the City Council in 1968, there was not one licensed black electrician or one licensed black plumber in the city of Memphis. Never had been. I put the word out that there was not going to be any more licenses issued for electricians if a black person wasn't approved in the next class. Guess what? We got the first black electrician! I did the same thing with the plumbers. We got the first black plumber! Now, that's an example of the racism that keeps African Americans from being who they could be. It's because of the system.
My current project … I am renovating a house across the street from Beulah Baptist Church on Douglass in Orange Mound. I'm doing that because that street, that area, is dangerous. They call it Crack Alley. Sometimes, during the summertime, it's like the Wild West — they shoot up and down the street. There are girls on the corner, because they don't have anything else to do, and they don't know anything else to do. I used to go behind the house, before I fenced it in, and rake up all kinds of condoms and whatever. So, I bought this house, and I'm spending a lot of time and money renovating it. It's going to be a community outreach facility. I want it to be a place of refuge. I want it a place where kids can study or take remedial classes. I want it as a place where people can get counseling. In my opinion, we should give churches an example of the actions they talk about in Sunday School, but may not have the resources to do. So that's my current project.
I'm frustrated by … What I see all over the place is that there are — well you can't really call them "movements." There are times when certain groups of people are energized. They want to go out there and do something good for the city or the neighborhood, and they get up and tackle a problem for maybe 15 minutes. You look up six months later, and they're not there but the problem is still there. They highlighted the problem, but that's it. To resolve a problem, there has to be commitment rather than it being considered just a project.
My final 2 cents ... There are some experiences that you can't know and understand unless you're black in this country. Even after reaching the highest office that this country can offer, you still have to deal with race. I think of myself as a change agent. I've been "out there." A lot. There's a story about a piece of paper along a railroad track, just lying there. When a train comes by, the wind from the train causes the paper to flutter. When the train passes, the paper settles back down until the next train comes. Well, that's what I see happening in these periodic movements that take place from time to time. People flock to it, their emotions are high, they are excited, and headlines get in the papers. And then the excitement moves on, and it settles back down until the next train comes. I'm not into that. I made a personal commitment to this community — as a councilman and a civic leader — to be here, to help to bring it through. And I'm still here, 50 years later. I've always wanted to be an agent of change, to help make things happen.
It takes a lifetime to learn to live in this skin. It takes consistency. You can't change courses when a new movement comes along. If you have a sound, well thought-out commitment, you can only get there with consistency. The race is not given to the swift or the strong, but to those who see it through.