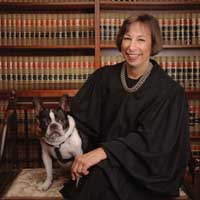 ©DPI Jan 2010 | Photo by Christopher Barnett
Janice Holder
Chief Justice, Tennessee Supreme Court
My parents bought our house from my great-grandmother. It was a tiny house on Valley Street outside of McDonald, PA, in Robinson Township. They immediately started remodeling to put in indoor plumbing and a bathroom. They made the upstairs into an apartment and rented it out. The only problem was that my mother got pregnant during the construction phase, and they needed some place to put me!
So what would have been the dining room became my bedroom. It was a good-sized bedroom for a baby, but there really was not much space for a bed or dresser as I got older. The room was only five feet wide, so I slept with my toes curled over the mattress. My dad built a closet with sliding doors, so I had space to hang things. Then I had this tiny, little spot for a dresser. And that's how I grew up.
My dad was a rigger in a steel mill, and my mom was a housewife. They met when my father was a drummer in a big band, and my mother was a singer. My dad asked her out to hear Ella Fitzgerald, and on the way home he told her, "I'm going to marry you."
I am an only child. I remember my mother reading to me, day in and day out. That's how I learned to read. Dad was always welding at home or doing woodworking, making gunstocks — he had a whole basement full of things. He was a very quiet man. He taught me how to do things he knew how to do, such as shoot a rifle. I'd watch him make things, and we communicated that way.
My dad had hunting dogs — Spottie and Blazer. But they were working dogs, not pets. They lived outside because they were in continuous training. For pets, I had rabbits for a while — but nothing inside the house. My mother didn't want that.
From the time I was 12, my entire social life was playing tennis in McDonald on two clay courts. Everybody congregated there. Every night during the summer, I was there, and sometimes during the day.
Law wasn't even remotely something I thought about. I thought I wanted to be a nurse, a pharmacist — something in the health sector. My later plan was to go into research psychology. I applied to a number of graduate schools, but Educational Testing Service neglected to send my scores to the schools. By the time I figured out what happened, it was far too late to correct it. So I had to sit out a year. I started really thinking about what I wanted to do and decided I wasn't sure anymore that it was research psychology.
So I applied to one law school, one paralegal school, one school to complete my requirements to teach, one French graduate school, and the airlines. I cast a wide net to see what would happen and ended up getting accepted to all of them. I thought, "I'll just go to Duquesne in Pittsburgh for a year and see what law school is like." It was a fluke that I went.
I found that I really did not like law school that much! I remember looking at my first set of grades and realizing that I got the worst grade in the subject I knew really well, and I got the best grade in the subject I didn't know very well. I thought, "This is absolutely ridiculous. I'm not going to look at my grades anymore." And I didn't. All the way through law school, I appointed one of my fellow law students as an attorney-in-fact to look at my grades to make sure I didn't have something like an incomplete. But I knew I was doing fine because I was invited to be on the Law Review.
Duquesne was a good school, and I got a fine education. I stuck with it because my attitude was the same as when I started law school: "Well, I'll graduate, and if I don't like practicing law, it's still a good degree to have."
When I finished law school and started looking for a job, I found that I had missed the first wave of everyone hiring women. So I was now in the position of looking for a job in places where the first woman had already been hired and they weren't eager to hire a second. Herbert Sorg, a federal judge in Pennsylvania, was one I knew who hired women. I applied for the position of judicial clerk and got it. From the first day I began work, I aspired to be a judge. I wanted a job like Judge Sorg's.
Pittsburgh weather brought me to Memphis in 1979. I couldn't stand any more of the winters — physically or mentally. I worked here in the private practice of law through 1990, also serving as editor of the Memphis Bar Forum, on the board of directors of the Memphis Bar Association, and as the chair of the Lawyers Helping Lawyers Committee.
In 1990, there was an open seat for Division 2 of Circuit Court, and after some serious soul-searching, I decided to run for the position. In retrospect, that didn't make much sense because I didn't know anybody politically. But I also didn't want to look back 10 years later and wonder what would have happened if I had tried. So I did it.
I don't really know why I was elected. The farther I get away from it, the less I understand how it happened. There wasn't any real reason why I won over people who were lifelong Memphians with political connections.
But it was my dream job, without a doubt. It took me a long time to believe it because I didn't receive my Certificate of Election — which makes your election official — from Governor Ned McWherter for about a year! I worried that entire year — even though the election results had been certified — that something might happen to undo it, and my dream job would be taken from me.
Being a judge was everything I had hoped it would be. It was the first and only time I can remember that I said to myself on my first day of a job, "This is the right place for me." I didn't have any moments of indecision. There wasn't anything that came up in the beginning that I didn't know how to handle. No doubts. I knew exactly what to do.
I could have been very happy in the Circuit Court judge position forever. But that job is dependent upon being re-elected continually, so I knew my dream job could still be undone. That's partly why I decided to apply for this job. It's a bit more secure.
I was appointed to the Tennessee Supreme Court in 1996, the third woman to serve on the state's highest court. In 2008, I became the first woman to serve as Chief Justice of the Tennessee Supreme Court, and it is an honor. I'm perfectly happy doing what I'm doing.
I wanted to be a judge because … it's the type of job that allows me to use what I have learned in a trial setting. It allows me to make decisions and resolve issues rather than always arguing one side or the other. I thought it suited me very well.
The trick to having a successful career in the judicial arena is … paying attention to detail.
What surprised me about being a judge … was absolutely nothing. At the first job I had out of law school, I had to be physically present in the courtroom whenever there was a trial going on, regardless. That meant I absorbed everything — the procedure, the decorum, the way lawyers addressed the judge, the way the judge handled things. I saw every kind of case there was to try, and I was a sponge sitting there.
If I hadn't pursued a law career, I would have … been a flight attendant or entered the foreign service. I just wanted to fly, to go places.
The main differences between a justice and a trial judge … I have more time as a justice to think about the decisions I make, to reflect on what the trial judge did and pick it apart. It's more reflective. This is a job that allows me to sit and think for a considerable period of time about how to reach the correct result. But I still have to study and read all the time.
The types of issues we decide … are generally so complex that you must look very hard to find the better reasoning that gets you to a particular spot. We're not looking for a result; we're looking for the better approach, the better path.
I manage the stress of my position by … attending my karate classes — 21 years now — and teaching karate to kids.
Most of my time is spent … in Nashville because the capital is there. But we have dockets in Knoxville and Jackson. We sit in all three courthouses, but there are other things we do on a monthly basis that take us all across the state for one reason or another — conferences, speaking engagements, panel participation, seminars — constant traveling.
The most dangerous part of my job involves … traveling on the interstate! Seriously!
A justice's robe … is always worn when you're on the bench. As a Circuit Court judge, that was a daily event, so the robe was hanging right by the door to the bench. As a justice, we are so seldom on the bench in comparison that I have a robe in each courthouse. That way, I don't forget it! We also wear it for things like a funeral, performing a marriage ceremony, and other official functions. There are different styles of robes depending on your preference. Some choose different colors, different fabric inserts — it's very much a personal choice.
My favorite subject in school … English
When I was a lawyer, I viewed judges as … we'd better skip this one!
My four fellow Tennessee justices … often laugh at the things I do. For example, I was leaving a chief justices conference in St. Thomas, and I heard that you could swim with the sea lions. The sea lions had been taught — on signal — to stick out their tongue, smile like a rock star, and things like that. So I have pictures of both the sea lion and me standing there with our tongues stuck out at the camera, then grinning like rock stars!
The cases we take are decided … by the five of us. We review all the cases one by one, looking for cases that develop the law, which is what we're here to do. And those cases are generally the most complex. Last year, we reviewed 752 appeals and granted approximately 50 of them. It's not a vast amount, but there's no formula to go by. It's never the same kind of subject matter, and it's always an issue that's just "out there."
My first paying job … was a lifeguard when I was 16.
After completing law school … I rewarded myself by buying a horse and keeping horses until I sold my last one in 1989.
My first thought after being sworn in as the first female Chief Justice on the Tennessee Supreme Court … was surprise that anybody noticed! That's terrible to say, but I'd been around for 13 years, and I only had the ceremony for my mother because I knew it would mean something to her. My surprise was that everybody took notice and was interested in it. But I felt humbled — and also apprehensive because I wanted to do a good job.
The only time I would lie … I don't. Ever. It's genetic. I don't know that you could be a judge and be able to lie. It would be very difficult.
From my mother, I learned … that if you treat people well and let them know you value them, they will often live up to your expectations. Growing up, I saw her do that with the "bad, incorrigible" kids on the street. She treated them like they were very special, valued. And some of those kids lived up to her expectations.
My favorite law and order show … I don't watch much TV, but I like CSI: Miami, CSI: NY — they're fun.
The misperception I battle most … is that because I'm a chief justice, I must be a big, tall person. I'm just the opposite! People are always surprised when they meet me in person. It's almost like if you're short, you can't possibly be an authority figure!
One of my favorite civic activities … is to participate in the Memphis Council for International Visitors and really get to know the people who come through Memphis who are learning about Memphis, learning about the United States, our culture. That is really rewarding — for them, I hope, and for me, I know.
From my father, I learned … to be meticulous and pay attention to small details regardless of what you're doing. If you're going to do something, do it correctly. If he pounded a nail, it was going to be right. If he made something, he made it as perfect as he could — no matter what it was or how long it would be in use.
I have never … bungee-jumped. Or skydived. I might like to try skydiving, though.
The judge I admired most … was my first employer, Judge Herbert P. Sorg.
People might be most surprised to learn … what an isolated and isolating position this is. I don't see live people; I see the written word. So it's difficult to be the same kind of person I was when I was sitting on a trial bench. The only people who come to my office are the UPS person and FedEx guy! Even my law clerks are down the hall, and unless they make a point of coming by my office, I don't see them, either! And then everything is done by email. So I have no human interaction unless I seek it.
My favorite fairy-tale … Hansel and Gretel.
Of all the awards and honors I've received, one that meant a great deal personally was … the one I received from the American Bar Association for supporting lawyers assistance programs in Tennessee — but all of them mean a great deal to me, really.
I pay a personal price when I … forget to balance my life.
Most people don't realize … the amount of administrative activity this job requires. It's not just opinion writing. It's administrative, which takes up far more time than writing opinions.
The hardest part of my job … is maintaining a good level of expertise on so many subjects.
One of the most rewarding parts of this job … The Supreme Court Access to Justice initiative has gotten such great press lately. It's an initiative to make the justice system more user-friendly and more accessible to the public, especially to those who can't afford attorneys. Those are the kinds of things that make me happy. I'm not in the trenches doing the Access to Justice work, but I'm speaking about it, focusing on it. We have a commission that's doing a lot of work to find innovative solutions to problems. Bringing attention to the commission through public appearances, and directing people there for help is the type of thing that my position allows me to do, to do good for the system as a whole.
If I could spend an hour with any person … it would either be Dr. Martin Luther King Jr. or Gandhi.
As a child, my first love was … tennis.
If I could do one thing over … I don't think that way. To me, everything that happens, happens! That's why I never get upset about anything. It happened, so now what's the next thing we do? I would never do anything over, because if I did that, I wouldn't have the next opportunity that came from the thing that came before.
On my tombstone, I want … "She could parallel-park a pickup truck."
Lately, I don't make enough time to … scuba dive. I've been diving since 1981. Before the last hurricane, my favorite place was Cozumel because it's easy to get there and beautiful, beautiful diving. I just haven't really had a lot of time to get on a plane and go someplace to dive.
I want to be remembered … as somebody who gave this job and everything I did my best shot.
My final 2 cents … I would tell people — particularly women — to never let others define who you are. Set your goals, work to achieve them, and find people who help you achieve them. But don't let anybody tell you that you can't do something you want to do.