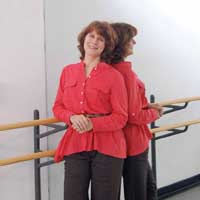 ©DPI Sep 2011 | Photo by Terre Gorham
Dorothy Gunther Pugh
Founding Artistic Director,
Ballet Memphis
I was born in Memphis and grew up in East Memphis in an upper middle-class family. We belonged to the Memphis Country Club, for example, and I attended St. Agnes Academy.
But before I was born, my father was a career Navy man, and my parents moved frequently. They did make it a point to come back to Memphis so I could be born here, but before I was a year old, I crossed the country twice because of my father's career. He made it to Lieutenant Commander when he decided to leave the Navy and return to Memphis. I was about four years old.
He started out on the bottom rung of Mid-South Chemical Co. He worked his way up and held several executive positions. He was the person who always told me, "Dorothy, you can be whatever you want to be." He believed in me and gave ambition to a Southern girl born with a silver spoon.
My mother was a very beautiful, fierce, determined woman with a fiery artistic temperament. Growing up, she wanted to be a Hollywood actress. But her father told her she had to go to school, learn shorthand, and marry. Nice girls, he told her, don't grow up to be actresses.
My mother also loved anything scientific that had to do with medicine. If she had had any kind of encouragement in that area, she could have been a successful medical professional. But she was a housewife and raised my younger and older brother and me, but she was very involved with school and community clubs and functions. She set an example for me in leadership. Growing up, I always wanted to be the leader. Always.
Mother loved dancing, and she took me to dance classes growing up. I loved dancing, too. She encouraged my imagination. We staged plays with the neighborhood kids all the time, and I always had to be the director. So ever since I was little, I've been "on stage" in one form or another.
When I was 15, I decided I wanted to be a ballet dancer. Mom told me, "Every woman in our family goes to college, and you must go, too." So I went. At Vanderbilt, English and French were my favorite subjects, but I kept dancing whenever I could. I danced with what was the precursor to the Nashville Ballet.
After graduating college, I ended up teaching English at an inner city junior high school in Nashville for three years. I just loved it so much — the teaching and being in such a diverse school with such diverse cultures and a loving, close group of kids. I was teaching myself. I saw myself throwing away years of growing up in a segregated, isolated world. I kept walking into fascinating, brand-new worlds. So I would teach until 2 o'clock in the afternoon, and then I'd dance from 3:30 till 10:30 every night.
My husband Robert — whom I met in high school — finished graduate school in Nashville, and I had a job offer to dance at Pittsburgh Ballet Theater, which was a pretty prestigious ballet company. But I also had an offer from my old ballet teacher in Memphis, who wanted to retire from her small ballet school. Did I want to come home and take over the school?
Well, I did want to come home — and I heard an inner voice saying, "You need to be your own boss." I also knew I really wanted to have children. So we moved back to Memphis.
My school quickly expanded, and I was adding students and faculty alike. At the time, Memphis was home to two ballet companies, but both organizations were struggling to make it work, and precious resources were being diverted into two separate groups.
At my school, I had a group of talented children, and we were doing really good shows. People saw us and commented about us. In 1985, ArtsMemphis approached me with the idea of my building a ballet company. Shortly after that meeting, I got a call from Pitt Hyde, asking to meet.
Pitt got down to business right away and asked, "If I gave you $200,000, what would you do with it?"
I looked at him, knowing he was talking about my building a ballet company, and said, "I'd probably give most of it back to you because I want to go slowly." Three days later, Pitt and an anonymous donor gave us startup money, and we began to build a ballet company.
In 1986, I hired my first two professional dancers and launched Memphis Concert Ballet. The next year, we had four dancers, then we doubled it to eight. We'd supplement those dancers with dancers from the school.
We didn't need to build a Houston Ballet in a city like Memphis, so I decided to create a different kind of ballet company that I didn't see anywhere else — one that was in touch with the times, the culture — and that's what we started to do. Memphis has an unusual culture, and I wrestled with that a lot. How do we take ballet — a beautiful and inspiring art form — and infuse it with something else? My community needs to see itself reflected on the stage. We have to be knowledgeable, versatile, and not make assumptions but rather be curious, expansive, and inclusive.
Now, 25 years later, Ballet Memphis is so many things. We are recognized for our close ties to the city's rich musical and literary heritage, and we've been heralded for our innovations as a ballet company committed to creating and commissioning relevant work and for the diversity of our dancers and repertoire. We reach more than 15,000 students each year, and our school trains more than 700 students weekly. Performance and choreographic experience is provided through the Junior Company, and a stand-alone Pilates Centre serves about 300 clients a week. The combined programs of Ballet Memphis serve more than 75,000 people annually.
As Ballet Memphis's artistic director, I find myself … "alone at the top" more often than not, although I know that I'm really so fortunate to be at the top. But the buck stops with me. I assemble a cast of strong characters who have a lot of knowledge and skill from all over the country. Then I add to that my knowledge of the Memphis community. We examine our cultural assumptions over and over again. It doesn't mean we'll come up with the answers, but we always have to be asking questions and we have to make what we do open so that the audience can participate somehow.
After I agreed to build a ballet company in Memphis, I … felt a little afraid. What if I don't measure up to Pitt Hyde's expectations after he gave me the start-up money? This is clearly a man with high expectations. What if I'm not good enough? Am I handling this right? Am I thinking of everything? — and every variation of those kinds of worries you can imagine! Then I took a breath and thought, "I'm good at what I do, and I'll just do the best I can and hope it works."
One of my initial challenges … Memphis did not have a ballet company with a great reputation because it had never existed before! So we had to build our reputation. We therefore had to offer some great incentives right away to attract the talent we needed. I told Pitt I wanted to offer our professional dancers 40 weeks of work and 3 weeks of paid vacation. I knew what companies around the country were offering.
When I was young, I dreamed I would … I literally had a dream where I saw my name in lights on a marquis, and I knew in my dream that it was from putting the show together, not from being on the stage. I felt wonderful!
My favorite ballet role I danced … Camille in The Lady of the Camellias, which was also my final performance before retiring from the stage. It brought me to a real expanded level of empathy for people who hurt personally.
The part of my job today that requires the most stamina … is juggling all the personalities involved in this organization: all the incredibly creative people in the building; the tiny handful of administrators; the board members, who want certain things; the donors; school parents; the community; corporate and civic leaders; patrons and audience — and you're trying to convey who you are with a limited amount of marketing dollars. You have to be all things to all people and please everyone in order to survive. But this is also energizing for me.
When a show's run ends, the costumes … are put into storage. We make all of our costumes here. Some are reused for subsequent shows down the road; others are never reused. But we keep them all.
The ballet move I hated to do most … multiple pirouette turns on pointe — when a dancer spins fast on one leg. I have a little bit of vertigo, so spinning multiple times, especially on a dark stage, was not good for me!
Ballet Memphis's current facility … was built in 1998 with 17,000 square feet. It's a national architectural award-winning facility that houses our administrative offices, three rehearsal/practice studios, wardrobe/costume room, classrooms, and Pilates Center.
The AbunDANCE series … was started as a way to celebrate new ways to look at the world around us. The Connections series pairs the art of dance with the essential elements of life that surround, support, and engage us in everyday life — from architecture to fashion to the earth and sky, and even food! The world is changing, and we have to change, too.
Traits of a good choreographer include … knowing why the work should matter and being able to assess the skills of the dancers.
The secret to remembering the choreography … You get it in your body, in what's called "muscle memory." If you've rehearsed it enough, you give into your muscle memory, and your body responds to a script that you don't realize it's reading.
The number of times I've "died" on stage … oh, about three. I've died from consumption; I've hung myself; and I've stabbed myself on stage — most of my favorite roles were highly dramatic. But I'm married to a therapist and I love reading novels — I'm very much drawn to the inner workings of the human psyche and spirit.
My two daughters … are 33 and 25. And no, neither one dance. But Megan's Ph.D. thesis is going to be about dance in America, and my oldest daughter, Elise, is all but dissertated in English and is on the faculty at Rhodes College.
One of the criterions for selecting which productions to stage … is that it must relate to things people care about at that time. I'm not going to acquire a ballet just because it's the edgy thing; I'm not going to get that Euro choreographer just because he's the rage right now.
I retired from dancing in 1991 because … I was then only needed in roles that needed a mature dancer, and I had also sprained my ankle, I bet, 16 times in one year. The writing was on the wall. I thought, "I can step aside and do the things that the ballet company needs for me to do, things that I'm best at." Running the company had gotten to where it took all my time and concentration.
I feel fortunate that I … created a world — a number of worlds — where I can give a lot of my experience and background. And any of the love and belief that has been given to me over the years, I hope that I'm giving that back to everyone I touch.
Some of my career highlights … Ballet Memphis has achieved national prominence, cited by the Ford Foundation as an "exemplary arts institution" and "national treasure." We've performed to critical acclaim in New York and Paris, and were lauded by the Ford Foundation Monograph and received a grant from the Andrew W. Mellon Foundation. We've been profiled and reviewed in dozens of prominent media outlets, and we've garnered national attention many times for various works. I feel incredibly honored.
The public's biggest misperception about ballet … is that it doesn't relate to their lives. In many ways, they're right because many ballets and dancers have become "things" that people can't relate to. That's why Ballet Memphis focuses so hard on making sure our performances are open, emotional, and centered on stories or ideas that matter to people.
I'm especially proud of … how we've nurtured young choreographers through the years. I really love that.
A personal trait that helps me … is my tenacity. My impatience is the flip side of that; I want things to happen immediately.
A commandment that a ballet dancer should never break … Eat wisely and nutritiously. If you don't — on either side of the pendulum — you're going to be in trouble. Also, don't smoke. It's amazing how many ballet dancers smoke.
The future for Ballet Memphis … I don't see that we need to get bigger in terms of the number of dancers. We do need to get bigger in terms of the number of administrative people so that the different initiatives and creative ideas I have and want to implement can happen. I've got a staff that is now almost over-productive, and there are still things we're not getting done. We have started more outreach programs, and we'd like to fine-tune some of the programs already in place. Some could be national models if we had people dedicated solely to their success.
My final 2 cents is … Someone I admire greatly once said to me, "You give what it is you want to receive." I think about that whenever I'm worried or feeling stressful. Then I realize, "OK, wait. What I'm doing is thinking about what I'm not getting." It can really stop you in your tracks. What I really ought to be thinking is, "Life is short; you never know when it's going to end; and what is it that I can give?"