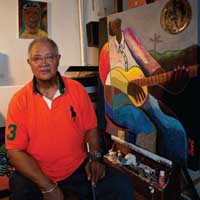 ©DPI Sep 2010 | Photo by Christopher Barnett
GEORGE HUNT
Visual Artist
I was born in 1940 in a French-named Louisiana parish near Lake Charles. No one ever told me the exact name of the location. I do know it was on a sugar cane plantation, and that's basically it.
My great-grandmother delivered me. She was a midwife and an herbalist. We lived in one of the sharecropper shotgun houses spaced around the farm. Three rooms. Me, my older brother, my cousin, and my great-grandmother shared the middle room. We three boys slept in one bed. My grandfather and grandmother stayed in the front room. The kitchen was the third room. There was a little shed off the kitchen where my grandmother cooked and washed clothes in a big pot. About 20 feet from that was the outhouse.
The front yard was weedy, but my great-grandmother always swept the front yard with her broom.
My mother did labor on the farm. In the beginning, she cleaned for the plantation owners. Later, she became a cook. She cooked and did maid work all her life. She sometimes had to stay with folks, such as when she waited on elderly people. She was like a nurse, but without a license. So my mother didn't really live with us much while I was growing up in the early years.
My daddy was nomadic. He was a gambler, and he spent a lot of time in different places, mainly Mexico. My mother and my father never married. He would come back to this area periodically, but I never knew too much about him.
Growing up, I was sickly. After I was born, I developed pneumonia. They sent for a doctor, who said there was nothing he could do for me. My great-grandmother put various herbal medications on me and tied a "nation sack" around my neck.
I lived, obviously, but because I was sickly, they didn't put me in the field to work. I used that excuse later on as a way of not going to the field! I "became ill" when they wanted me to go. I didn't want to be out there! My only memory of the field is when I was a little older, I carried water buckets to the workers. I didn't like that, either! We didn't wear shoes, and I didn't like the water splashing down on my feet because they would be like pancakes when the sun dried the water and dirt.
So I had to spend a lot of my time with my great-grandmother in the house. I was primarily her responsibility. She was also a cook for the family. When she went to the commissary, she'd get butcher paper and pencils. I'd sit on the porch where she could see me, and I would draw. I drew animals, trees, horses - things I could see on the farm. Every 15 minutes, I'd run to her and ask, "Grandma, how do you like this?" She got to where she'd ask me to do landscapes and bigger pictures to keep me from running in and bothering her so often! But that's how art first entered my life.
My mother often brought home magazines from the big house - Saturday Evening Post in particular. Woman's Home Companion, The Old Farmer's Almanac. I found them very interesting. My first association with an artist was Pablo Picasso. I read about him and saw some of his work. I had no idea that he got paid for creating art. I just thought, "He's an artist, and I can do that." I was about three years old.
Our family was rather nomadic. One year we moved about 10 times, going from farm to farm to work. My grandfather worked on shares. He was supposed to get 50 percent of the farm product, but it didn't usually work out like that, and my granddaddy was kind of stubborn. If he felt like he was getting the short end of something, he'd decide to leave the farm and move on. If he said we were going, we were going.
These people were my daddy's folks. My mother lived with another group of people. My great-grandmother took my brother and me to raise us.
Most of my schooling was done in church schools. We'd go here a little while then go there a little while. When it was time for cotton picking or cane cutting, you didn't stay there long.
When I was in second grade, my daddy came one night and told everyone to be quiet. We loaded all our belongings on his black Ford truck, and he took all of us to Hot Springs, Arkansas. From what I understand, he gambled there. He told my grandfather that black men had the opportunity to be waiters and bath attendants. My granddaddy got a job at a bathhouse.
We lived in the city. I started the second grade there and went through the 12th. But through that transition, a lot of things began to happen. My mother came to Hot Springs and took a cooking job at the Great Northern Hotel, where she cooked for many years. My grandmother, grandfather, and great-grandmother decided to go back to Texas permanently.
My mother bought some property in town and built a small house - five rooms, no telephone. There was a telephone on the corner, and it cost a nickel to make a call. We walked everywhere. Didn't own a car. Never had a driver's license until I got to be an adult. I read the newspaper at the school library. I spent all kinds of time in the library, and the librarian was a beautiful lady who introduced me to so many things.
So my brother and I stayed in Hot Springs with my mother. My mother's sister and her two children came to live with us, so now there were six people living in this small house. My daddy, meanwhile, was just steady going and coming.
But this is the way I grew up.
In the evening, I did chores at the house and for people in the neighborhood. When I was 8, I became an entrepreneur and shined shoes. I had a shoeshine box. I later started working for Blind Bill, shining shoes for him in the afternoon. He was a blind white man, but he had a shoeshine parlor, and I could make more money because I could work now even if it rained. My first "real job" was a water boy, pouring water in pitchers for the waiters at the Arlington Hotel in Hot Springs.
I grew up during segregation, so my schools were all black, and we lived in a black neighborhood. But we lived on the border of our neighborhood, and my best friend was a white boy. We played and fought together growing up.
All through elementary school and into high school, I was always active in the arts. I became the artist for the school, and I did all the artwork for the different holidays. I started to get known by the teachers.
The first time I realized that I could make money creating art was at Webb Community Center when I was about 14. A man from Chicago taught art classes there for a couple of weeks. He told us about all the art galleries in Chicago. I didn't know such things existed. He told us artists made money by selling their art in the galleries.
I also got involved in athletics. My coach saw me playing sandlot football in the 7th grade. Eventually, I got to be pretty good. By the time I graduated high school, I had 26 athletic scholarships and one art scholarship to various colleges around the country.
Ever since I was small, I was told that education was the way out. The one thing I never wanted to do was menial service. I didn't want to be a waiter; I didn't want to be a doorman. My Uncle Earl was a gambler. He wore silk shirts, had a diamond stickpin in his chest, alligator shoes, felt hat. I wanted to be like Uncle Earl, not like my grandfather and his menial jobs. So I looked at college as my out - it was also an opportunity to not have to work for the next four years!
I took a football scholarship at the University of Illinois in Champaign because I had high school friends there. But I got kicked out after just a few months. I was talking to a white girl about a class, and the guard on our football team told me to stop talking to her. He approached me in the fieldhouse one day. He was bigger than me, but I was quicker. I picked up a baseball bat and thought he'd back off. But he kept coming. I popped him upside the head with the bat, and he fell to the floor unconscious with a concussion. I was told to leave the university.
But I couldn't go home, so I went to Chicago. I was gambling, robbing prostitutes, living at the 8th Street Y. When my friend was on the road, I stayed at his apartment. When he wasn't on the road, I walked all night. I was homeless, basically.
One day I got tired of it all. Winter was coming on strong. I could hang around the bus station to stay warm or I could rob somebody and get a room. I called home. I told Momma that I was destitute, more or less. She said there was a coach at the University of Arkansas in Pine Bluff who wanted me to call him.
The coach sent me a bus ticket and five dollars. When I got to Pine Bluff, he got me situated in the dorm. I wasn't there a week before I was gambling. Coach said, "George, you can't stay if you're steady doing those kinds of things. You'll have to go."
Again, I didn't want to leave college, because it would mean I'd have to go to work at a menial job, so I quit gambling on campus - and started gambling in the city with grown men! One night, I was in an area where they were playing the blues and dancing. My friend and I were shooting dice, and we had some shavers - altered dice. One of the men snatched the dice and looked at them. He started reaching for a gun, and we hit the door and out through the cornfields. It was dark, and this man was shooting at us. Somewhere along in there I thought, "That's my last crapshoot. My luck's running out. I've shot my last dice and played my last card." I haven't gambled since.
I got married my senior year to Marva. Her mother owned a juke joint in Helena called the Dreamland Cafe. We'd go over there and listen to blues, watch people dance, and eat catfish.
I graduated with a teaching degree - the first in my family to graduate from college.
The chairman of the art department in Pine Bluff said he had a talented friend at the University of New York who could take me under his wing and teach me more about art, so I did post-graduate work there. There was no football playing for me at UNY; it was all art.
I moved to Kansas City because I wanted to work for Hallmark. They more or less said, "Don't call us; we'll call you." So I sent job applications to the Board of Education, fire department, and police department. I joined the police department. I really didn't want to be a policeman, but I needed a job. After my partner shot a man, I decided it was not the job for me.
I moved to Memphis in 1962 because my former roommate lived here, and my wife had friends here. I taught art at George Washington Carver High School for 36 years. One of those years I spent implementing a youth program for the governor. Coaching was something that was thrust upon me by the administration. I didn't care too much for coaching; I wanted to teach in a classroom.
My students and I were always doing art projects on the side. We'd do door and yard decorations and other community projects so that my kids had money in the winter. We did holiday decorations.
During the summers, I worked other jobs. For years, I ran summer youth programs for the City of Memphis.
When my son started school, I took a second job. I drove a courtesy car for the Best Western Motel by the river. They catered to truckers. From 11 p.m. to 7 a.m., I picked up truckers from various trucklines and brought them back to the hotel. I got off work at 7 in the morning, then had to be at Carver High School by 7:30. I'd teach my classes. In the afternoons, I coached. I'd go home to sleep then go back to work at 11 p.m.
Elvis Presley helped send my boy to school. One night, I was sitting in my car waiting for a call on the two-way for my next pickup. To keep from falling asleep, I'd always draw while I waited. This night, the trucker looked down on the front seat and saw that I was drawing Elvis. He said, "Do you want to sell that?" I said, "Yes, sir, I'll sell it." He told me he'd give me 50 dollars. Yes, sir! He told other drivers, and word spread. I put up a sign that said I'd draw Elvis for $50 - more, if they wanted it framed. I did that for three years, and it nearly paid all of my boy's schooling!
I started thinking about becoming a full-time artist in the late '80s, early '90s. There was a re-awareness, a re-awakening of African American art that hadn't been seen since the Harlem Renaissance in the '20s and '30s. So there became opportunities for African American artists, and I started participating in art tours and shows. I opened a studio on Beale Street.
In 1997, I was commissioned to create a commemorative painting in celebration of the 40th anniversary of the Little Rock Nine. At the celebration banquet, an old black lady told me she wanted me to meet someone. She shook this man's coat, and he turned around. It was President Bill Clinton. We started talking, and it turns out that a boy I played football with in high school had coached President Clinton in high school. Mrs. Clinton came up and said, "George, we sure would like to have your painting in the White House." I went to see it several months later. It was a bigger deal than I realized, having a painting in the White House. I thought maybe a lot of people had artwork in the White House. I didn't know. Eight years later, the painting was turned into a U.S. postage stamp. It was an honor.
I've been very blessed in life. I was named the official artist for the Year of the Blues in 2003, and my work toured nationally. My work has graced Radio City Music Hall in New York, and I received the Keeping the Blues Alive award from The Blues Foundation. I was commissioned to paint 24 portraits for the Blues & Legends Hall of Fame Museum in Robinsonville, Mississippi, and for 15 years, Memphis in May has selected me to paint an original blues image for its music festival posters. I've exhibited all over the country, and am honored to have received so many awards and recognitions. Most recently, I was blessed to be inducted into the African-American Hall of Fame in Memphis.
My first art studio … was at George Washington Carver High School. A man gave me an empty classroom where I could come and go and paint as I chose. That man was School Superintendent Willie Herenton.
The trick to being a successful artist … is to do you the best you can.
The main difference between creating art and appreciating art … is that one can afford it; the other can't.
The inside of my art studio looks like … an explosion! But out of the junk, you hope you can create something worth having a life of its own.
I know a painting is finished when … it doesn't interest me anymore.
The process of starting a painting … is a combination of things. It's whatever motivates you at the moment - wherever you can be transported in your mind - and you reach for a canvas.
A painting turns out differently than I envisioned … all the time! I never can create what I actually see in my mind. It's always incomplete, not quite finished. But it would take a bigger power than me to transcend it to the next level.
The importance of blues music in my life … is no more important than music, period, in my life. I love all kinds of music. First music I was ever exposed to was country and western - Light Crust Doughboys. My grandfather hooked up a rural, battery radio where we lived. They came on early in the mornings. My only attempt to be a musician was in senior high school. I joined a drum and bugle corps. The bandleader told me I'd probably do better at some other endeavor.
When I'm not making art, I like to … watch sports on TV. Whatever is interesting at the moment.
The artist I admire most … Pablo Picasso.
When I first saw my painting on the postage stamp, I thought … that it looked pretty nice. I'm a very emotional person, but I didn't feel emotional about that. I thought there were others that were a lot better than mine, but I was lucky to get one, and I was thankful.
The part of being an artist that requires the most stamina … is being alone a lot. Working by yourself. Thinking wears you down, too. It's mentally tiring and can be tedious at times.
My favorite home-cooked meal … fried catfish, turnip greens, and cornbread.
My greatest extravagance is … shoes! I have more than 100 pairs. When I was a boy growing up, I had to wear my brother's hand-me-down shoes, and I said that when I got to be a man, I would never again wear a pair of shoes that hurt my feet!
I like to collect … African American memorabilia, especially commercial entities that were prevalent during the 1800s to the 1940s. A lot of it is derogatory stuff - Little Black Sambo, black yard jockeys.
My first experience with drugs … I was about six. I put together some butts and made me a big ol' cigarette. We were living in an apartment building, and they used newspapers for wallpaper. My brother was supposed to have been watching me, but I took a piece of newspaper and reached it into the heater's pilot flame to light my cigarette. POOF! It startled me, and I threw it. It caught the wall on fire. I was trying to beat out the flames. Everybody's home burned down!
One of the toughest periods in my life … was when I lost my mother.
The most important thing in life … is having somebody care about you, and having somebody to care about.
The only time I would lie … is if it meant saving my life or someone else's.
My mother's influence on me … was that she gave me the opportunity to go to school. I didn't have to work. My job was to go to school. She placed emphasis on the fact that I had to go to school, whether I wanted to or not, but I always wanted to go. My mother was a strong woman. You saw it her way or no way, and you didn't have too much of an option for the highway, either!
My most treasured possession … is my life history.
My impression of Dr. Martin Luther King Jr. … I never met him, but I was in his presence several times. He had a glow about him that I've only witnessed in people who have been given a gift.
My biggest pet peeve … people who aren't on time.
My first experience with alcohol … I was about six. I got some beer, and it tasted like dishwater to me. Why would I want to drink dishwater? I experienced some whiskey, and that set my chest on fire! I never drank another drop of whiskey. I tried wine in high school. But there was a man who lived on the railroad tracks not far from where I lived who I would sometimes talk to. Come to find out, he was a graduate from New York University. He'd tell me how he got involved drinking and lost his position as an educator. I thought, "If I drink this wine, I could end up like him." So I never drank any more wine, not even at communion. To this day, I'm a teetotaler.
Growing up, I had a reputation for … being a bad dude; I'd fight anybody. But I was humble at the house. I knew my mother meant what she said.
When my first child was born … Haralyn was about the best-looking thing I'd ever seen. They say that a child is not born focused, but I'm positive that she looked at me and laughed. She's now an English teacher. Kylan is my second-born. I was glad to see him, glad that he was a boy. When I first saw him, he was asleep. Seemed he didn't care too much about what was going on in the world - and today, he's much the same way!
From my father, I got … nothing.
From my mother, I got … everything.
I have never … been to Africa. Would I like to go? Not particularly.
Growing up, the household chore I hated most … was retrieving eggs from the chicken houses. I had to walk through chicken manure, and I usually didn't have shoes on my feet. I disliked that intensely.
I start each day by … saying a prayer.
One of the questions I'd like to ask God is … Can I get a free pass to come through the gate?
The time I was most afraid … I don't remember being too afraid of anything.
Of all the awards, honors, and recognitions I've received, one that meant a great deal personally to me was … being inducted into the African-American Hall of Fame in Memphis.
The most valuable lesson I was taught … Treat others like you like to be treated.
I pay a personal price when I … forget who I am and begin thinking that I'm someone I'm not.
One of my favorite paintings that's not mine … anything by Dewitt Jordan.
Nothing can prepare you for … tomorrow.
My final 2 cents … Live your life on a daily basis and don't expect too much from others in doing so. By doing so, maybe you'll get the best out of them and yourself.