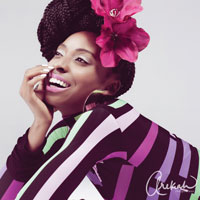 ©DPI Aug/Sep 2014 | Photo by Erica "Arekah" Dunlap
TRENYCE
American Idol Finalist, Singer, Performer
My full name is Lashundra Trenyce Cobbins. My parents just made it up. They said it sounded right and looked like me. When I was younger and thinking about becoming a performer, Mom and I decided to use my middle name because it's unique and stood out more. It's pronounced truh-NEESE.
I was born in Memphis in 1980 and spent the majority of my childhood in North Memphis. We lived in a middle-class, yellow home with a big oak tree in the front and pecan trees in the back. I had my own room, and I thought our home was beautiful — I still have dreams about it.
But the most important thing about our home was the music room. It was a spare room, and the only thing in there was my father's record player and our Christmas tree. The acoustics were phenomenal. The floor was wood, and so were the door shutters. You could sing in there, and it sounded immaculate — even better than singing in the shower! A lot of our family time was spent there, singing together and listening to music. Everything that was magical to me happened in that room.
My parents met in a singing group. They wanted to be signed to Stax, but my mom's mother and aunt talked her out of it, saying it wasn't of God, and the industry was evil. But my parents kept the music alive in our house.
My father, Jesse, was a huge Motown fan, and I used to sing with him quite a bit. He worked at St. Joe Container Co. on Third Street. He was such a hard worker that it took away from our childhood a bit because he was seldom around. But whenever we were together, there was always music involved. He'd teach me about different artists — Stevie Wonder, Michael Jackson.
The only real memory I have of him is the music; it's what bonded us.
My mom, Linda, worked at FedEx. She is very regal and ladylike. She taught me how to be a girly-girl, yet how to be respectful of others and myself. She was constantly singing. She'd make up songs to wake us up every morning — a different one every day. She still does it for the grandkids now. She went to all my auditions, all my performances. She rooted for me, wanted me to win, and encouraged me to do more with myself.
I loved playing pretend and dressing up — and still do! I am just as much into fashion now as I was back then. I liked being by myself and going into worlds in my mind and living them out. I loved acting, throwing my voice, becoming characters. I would spend a lot of time in my room writing songs, and I was constantly creative. I'd line up my toys as my audience and sing into the hairbrush. Mom said that sometimes I'd be so quiet in my room, she'd come check on me.
My first memory of singing on a stage, I remember like it was yesterday. In kindergarten, at Gardenview Elementary, we were preparing a Martin Luther King celebration program. The teacher asked who would like to sing the song. I immediately raised my hand: "I want to do it! I want to do it!" I sang the solo, and I received a standing ovation. I thought, "Wow! I like this feeling!" After school, I told my mom that I wanted to do that every day.
My mother didn't have to push me into performing opportunities; I wanted to do them. When I was 13, Mom was finally convinced that I was truly serious about performing as a career. She was then willing to really start committing time, energy, money, and effort into what I was doing. From that time on, I was constantly "in" something, from school programs and plays to local talent shows and the Mid-South Fair competitions.
A full music scholarship took me to the University of Memphis, where I immersed myself in every music- and singing-related group I could.
All my life, my mother had been my manager, but as I grew older and began developing my own identity, I felt I needed a professional agent who could carry me beyond what my mother could, and who could carry me beyond Memphis. Understandably, that hurt her, and we grew apart somewhat.
Then my mother started having second thoughts about my becoming a singer. She was concerned about the financial stability of such a career. She strongly believed that I should have a backup plan.
Well, my other passion was biology. Mom said she wanted me to be a bone specialist. "OK," I said, "I'll be a bone specialist." It was my way of appeasing her. After three years in the nursing program, I just couldn't continue. I called Mom after walking out of my microbiology class. "Mom," I said, "I don't want to be a bone specialist. I really, really want to do the music. Whatever this is inside of me, I've got to pursue it." She said, "I will give you one year to make it, and that's it. If you can't do it in one year, it's not meant to be."
I started recording, writing songs, meeting industry professionals, and learning more about the technical ins and outs of the singing profession.
Five months later, in 2002, I heard that "American Idol" was holding second-season auditions in Nashville. My best friend and I drove there, and we joined this huge line. If you left the line, you lost your place. More and more people kept joining the line, but the line wasn't moving. I asked one of the producers, "When is the audition going to happen?" She said, "We're not sure, but probably a couple of days from now."
A couple of days?
All we had with us was what we had on. It was raining and sleeting. We took turns in line, driving to the Burger King to wash up and eat. By the time I got in, I looked and felt terrible. I was allowed to do just one song. In three-day-old clothes and unwashed hair, I performed Whitney Houston's "I Will Always Love You."
We had eight more auditions in Nashville in the span of three months. For my final audition, I flew to Los Angeles alone — the first time I'd ever flown. The Hollywood round was like boot camp. We had to write a song, do a group number, do a solo number, and sing off the cuff. Each time, people got cut. It was the type of boot camp where you discovered whether you were truly cut out for this type of career. To me, it was serious, it was real, and I wanted it more than anything in the world.
Back home, weeks went by, and I never heard from anyone.
One night, I was watching "American Idol" and fixing my girlfriend's hair. At the end of the show, the announcer said, "Coming back is Trenyce!" I said, "WHAT?" They had forgotten to call me! My mother came to life. We danced around the room, and then I got busy! I got my hair done, pulled together an outfit, and the next morning, I was on a 7 a.m. flight back to L.A.
I finished in fifth place, and the entire experience served as a launch pad for what followed. The American Idol II Live Concert Tour in 2003 taught me that I love performing just as much as singing and dancing. After the tour, I took to the Broadway stage for a variety of shows and headlined in Las Vegas. I've performed in Canada and overseas, was nominated for a Grammy for the cast album "Ain't Misbehavin'," and added executive producer to my list of incredible experiences. From 2010 to 2013, I played the female lead in the Michael Jackson tribute show "Thriller Live," which toured Europe. I've appeared on national television and was even given a key to the city of Memphis by both mayors!
This past April, I moved to Macau, China, for a year to perform. Franco Dragone — who created Celine Dion's "A New Day…" residency show at Caesars Palace in Las Vegas — created a similar show titled "Taboo." I'm the host of the show, and we feature guest artists of all types.
It's been a journey so filled with blessings, honors, and thrills that I still have trouble believing it at times.
But I don't think I'll ever be completely satisfied, because what I want to do is ever-changing — and I am ever-changing. I just know that I want to utilize all of my gifts, because I think it is important to do that.
As much as I want to continue singing and acting, I also want to direct, be a correspondent, teach, motivate children, be a mother, be a wife — there are so many things that have now been tacked on to my initial bucket list — and I've already lived 10 lives!
When I first stepped out on the "American Idol" stage, I … felt a sense of belonging — as if I'd been studying and pushing for that very moment. I felt at home, like I'd connected with what I was meant to be.
My pre-performance rituals … My warm-ups are a series of crazy trills and animal-like sounds that are totally weird but open my throat and voice. I take a shot of olive oil before every show, and I also meditate.
I knew I wanted to be a singer … Since I was 6 years old, I knew that performing was what I wanted to do in life. Every chance that came up to sing or perform, I'd raise my hand. I'd bring scripts home, music scores — and I'd memorize them easily.
I protect my voice by … When I have a contract, I don't drink alcohol at all. Nothing. I've learned over time that alcohol takes away from how open my voice can be. The older I get, the more cognizant I am of the changes that happen vocally. I don't talk immediately after I wake. I let my voice naturally warm up. Sometimes, I don't talk at all; I write things down. And I inhale steam.
The first time I watched "American Idol" … It was the show's first season, in 2002, and I was in my living room. I remember thinking, "I can do that. Easy." I looked at the contestants, and I saw myself in them. I Googled the show and learned everything about it I could.
The "American Idol" judge who impressed me most … Paula Abdul. I already admired her and her music and dancing. Her strength. Seeing her in person was like a dream come true.
My least favorite part of performing … is missing the little things in life because I'm traveling. My niece and nephew are growing up; my family is getting older; my friends have gotten married and had kids. I don't feel that I've "been there for them" enough, which is one reason I haven't had kids yet. I'm still trying to figure out what the right balance is for me. Sometimes, though, I'd feel such regret. While I was touring, I had two friends pass away who were extremely close to me and instrumental in my life, and I wasn't there for them in their time of need. It's that imbalance that I wrestle with.
My voice is unusual in that … I can sing any genre. That is something I struggled with growing up — and do even now — trying to find a lane that I am most comfortable in, because to be quite honest, I love them all.
My proudest onstage moment … happened just recently. While I was shooting a live spot on Channel 3, my niece and nephew not only got to hear me sing, but they joined me on stage. It was pure magic. I love that we will have that moment documented forever.
My most embarrassing performance moment … was falling on stage in "Love in the Nick of Tyme." I could hear the audience gasp, but because my character was a bit of a juvenile, I made it work! I was definitely embarrassed.
A performer's biggest fear … If the mic is not "selling my sound," I am horrified, because I feel naked and exposed without a voice. The audience cannot experience performers without great sound.
The first record album I owned … was Anita Baker's "Rapture" and Janet Jackson's "Control."
Bad reviews … The whole time I was on "American Idol," I got plenty of bad reviews. We read them all. We cried, hurt, and cussed. After that, I learned not to read reviews at all. They don't matter.
I give back to Memphis by … I love singing at various fundraising events for charitable organizations, and I do that as often as I'm able. Any time I am in a contract, I make sure I mention my city. Memphis is a part of who I am, and I won't let anyone forget that. No matter where I am in the world, I share what Memphis has to offer.
My first thought when I was nominated for a Grammy … was, "REALLY? Oh, my God!" I wasn't prepared for the feeling. I screamed so loudly on the phone with my manager, and I remember sitting still in my living room, just soaking up the moment. The entire cast of "Ain't Misbehavin'" called each other and screamed some more. We suddenly realized that going forward, we'd be known as Grammy-nominated artists, and that was huge.
My singing career decision was sealed … at Central High School. I was a member of the all-state choir, acted, choreographed, danced, and designed costumes. I still knew that I wanted to be a professional singer, but when Whitney Houston came onto the scene, that was it! By that time, my voice had changed, and I realized that Whitney's tone, looks, regality, poise — that's who I wanted to be. I learned all of her songs, wore out all of her albums, and — for all my programs — sang everything she did. People started calling me Little Whitney.
I knew I was entering the "big time" when … In my high school senior year, my music teacher submitted a song I did to the NAACP Act-So awards competition. We flew to Atlanta for the finals. There, I met Usher. Ten-time Grammy Award winner Kenneth "Babyface" Edmonds gave me his business card. I sang for Tony Award winner Jennifer Holliday, who was the first person to tell me I was going to be huge. She said, "I'm going to see you among the stars, I know it." At that point, I realized things were getting serious. I felt a shift.
The celebrities I've met include … Patti LaBelle, Gladys Knight, Stevie Wonder, Chloe Moretz, Jim Carrey, Morris Chestnut, Oprah Winfrey, Jamie Foxx, Tyrese, Ne-Yo, will.i.am, Smokey Robinson, and a slew of others — too many to name!
My first memory of singing … was when I was a toddler. I'd sit in the back seat of the car or in front of the television, and I'd listen to commercials and sing along to the jingles.
When life gets hard … I run to the music. Music is always my safe haven. You can feel anything with music. If I need to cry, be enlightened, be happy — there are songs to help express every emotion.
My parents' divorce … taught me a lot about what you put up with from people and what you don't. And I saw that you can bounce back and be a whole person again without your other half.
One of my music experiments … Growing up, I'd sing a song's lead vocals into a tape recorder, then I'd record my background vocals, and then I'd record my harmony. I would keep switching tapes in and out until the complete song was finished on one tape — all voices mine!
I regret … that I didn't continue piano lessons. I enjoyed it, and right when I felt like I'd gotten my footing for it, we had to discontinue the lessons because of the cost. My parents' divorce meant we had to downsize. But I never stopped playing, and I taught myself to play by ear.
For my first "American Idol" audition, I wore … three-day-old clothes because I didn't know it wasn't a same-day audition! But I had on a white, collared dress shirt, an Express half-sweater, and pants. I thought I was so hip and cute! For the second audition, I wore a dress shirt that was cut off like a midriff with a tank top underneath, a tie, and pinstriped pants.
The traits I inherited from my father … He was very creative. Not only could he sing like Stevie Wonder, but he was an artist. He could paint you as you sat — every fine line, every mole, every hair. He'd draw album covers. In retrospect, what a shame that such a talented individual spent his life working as a laborer at a box company. He never followed his dream.
My temperament … is more like my mom's. We're both Aires women, driven, and know what we want. She loves helping people, as do I. She can be a bit stubborn — and I know I got that from her, too.
Pre-performance nerves … My parents' divorce taught me how to use stress to my advantage when singing. During the divorce, I would hold my feelings in, and then the stage was where I released them. Today, the more nervous I am, the better my singing is. I allow the nerves to build up, and then I release them when I sing.
I learned how to perform … in Sound Fuzion at the University of Memphis. Before then, I was a terrible performer; I'd just stand there and sing. My teacher said, "You suck! You sound amazing, but you've got to learn to perform." So I did. Sound Fuzion also taught me how to cross over into different genres. I learned that if you're going to be a great artist, you have to be a chameleon artistically, as well as vocally.
One of my favorite genres … Country and western! It's the best writing ever. No one paints a picture vocally like a country musician.
My siblings … I have two sisters. One is five years older than me, and she can draw and paint like my dad. My other sister is eight years younger than me. She can sing but chooses not to do so in public.
My first paying job … was working at T.J.Maxx. I loved the responsibility and contributing financially to my mom. I liked having my own money.
The character trait possessed by most good performers … Most good artists can command the stage. There's something about them that makes you watch whether you're a fan or not. You can't turn away from them.
My regular TV shows … "Scandal" — I am the gladiator, for sure. "House of Lies," "Suits," "Californication," "Nashville," "Modern Family," "The Big Bang Theory," and the never-dying "Sex and the City" — I watch that entire series once a year!
If I start feeling emotional during a performance, I … let the emotions happen. It happens all the time, in fact, especially if there are emotional things going on in my life. It connects me to the audience, because everyone is going through something.
The biggest mistake I made and learned from … When I was 16, I witnessed a co-worker stealing from the company. The manager said, "If she'll just return the bags to me, I'll let it go." My co-worker asked if I would take the bags back for her. I said, "Sure." When I returned her bags, the manager said, "Your co-worker said that you stole these things." There was no way I could dispute it. I got arrested and spent the weekend in the women's jail. I was stunned, of course, but ultimately took it as a learning experience. Today, this is what I talk to teens about. Everybody has a past, but it's not about that. It's about what you do with your life after you've been given a second chance.
If I could sing only one song for the rest of my life … "I Will Always Love You."
People might be surprised to learn that … Growing up, I didn't like the way I looked. I was really skinny and awkward. I didn't wear makeup — didn't want to — until my senior year in high school, when Mom insisted I wear a little lip gloss to prom. So the curvaceous girls were the popular ones, and boys and I tended to be just friends. But I learned the importance of getting to know a person as a friend before deciding whether to date them.
If I could spend an hour with any performer … it would be the late Whitney Houston. I had a chance to meet her when she was alive, but I was scared. I wasn't sure who she was outside of my mind, and I didn't want to have a bad experience with her that would change the way I saw her. If I could, I'd go back now and seize that opportunity.
Voice lessons … I still take them and always will.
The part of this job that requires the most stamina ... The dancing! In London, I was performing in "Thriller Live," and I had to sing and dance at the same time, in 5-inch heels, every single night. We had eight shows a week. But I loved it. It was my cardio workout.
When I'm not being Trenyce the performer, I like to ... travel and find new restaurants around the city I'm in. I love doing hair — few people know I can do full weaves and cuts. I like to paint, as well as cook. In fact, cooking has become my most recent obsession, and hosting a dinner for 10 is a tradition for me every Christmas.
The "American Idol" experience taught me ... to remain humble and disciplined. Show people your greatness from the moment you walk through the door. Believe in yourself from the moment you wake up till you go to bed, because no one else can do that for you. Stay focused on your entire package — how you sound, how you look, how you're coming across on television, how you're answering your questions. So, so much I learned from that show.
My final 2 cents ... Be the best version of you possible, because a good name shines forever. Being a reliable friend, a shoulder to lean on, a person who makes others feel better — those qualities are what I love most about people I admire. Most of my memorable moments came from acts of kindness by people who wanted nothing from me. I hope that I leave this earth with someone saying the same things about me.