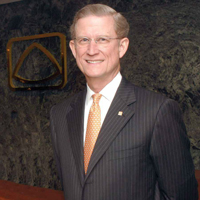 ©DPI Oct 2011 | Photo by Greg Campbell
Stephen C. Reynolds
President and
Chief Executive Officer,
Baptist Memorial Health Care
I was born in 1946 and raised in Little Rock. I'm the product of a wonderful, loving, Christian home, and my parents were very strong in their faith. My younger sister and I shared one of the two bedrooms in the home, which had one bathroom, a small living room and dining area, and a tiny kitchen. I imagine the house was less than 1,000 square feet. We didn't get our first automobile until I was in junior high school. We didn't have much from a material standpoint, but we were rich from nurturing, encouragement, and love from family and church.
I went through the public school system, and we lived about three blocks from Woodruff Elementary School, and I walked to school until I graduated from Little Rock Central High School.
I grew up in a nice neighborhood. When I walked out the screen door to play, my mom didn't expect to see me back until suppertime. We enjoyed the freedom of roaming around and playing with neighborhood kids, stomping in the water in the street, playing baseball and army — a wonderful childhood.
My dad was one of 12 children, and his family grew up in rural Arkansas near Greenbrier. So I had a lot of cousins, aunts, and uncles! My dad moved to Little Rock with my mom when he got out of the Navy, and he was an automotive machinist until he became executive vice president of a machine company. He passed away in 2004.
My mother was the daughter of a banker in Madison, WI. She worked for Baptist Hospital in Little Rock for about 35 years. She started there as a volunteer, then worked her way up to become the hospital's personnel director and ultimately the assistant to the CEO and the board of the hospital.
So growing up, a lot of the friends of our family were on the leadership team at the Little Rock Baptist Hospital.
When I was old enough, I became a junior volunteer at Baptist and learned how to make beds, empty bedpans, and wash laundry. It was my first inside-envelope exposure to a hospital. My first paying job was also at Baptist, and I worked in housekeeping. I also worked in the laundry room, the business office, the storeroom — I got to see the workings of a hospital from the ground up.
I went to Arkansas State University in Jonesboro, where I earned a Bachelor of Science degree in business administration. But the best part is that I met my wife, Ann, there. I saw her walking down the street, and that was it! Within a week, we had probably already named our children! We were married in 1969, so we have now been dating for 45 years and been married for 42.
I went through ROTC in college; therefore I had a two-year military service requirement. I entered the Army in 1968, which was a very active time in the Vietnam War. I went to quartermaster school in Ft. Lee, VA. There were 90 men in my officers' class: 88 of them went to Vietnam, one went to Korea, and I went to Ft. Polk, LA, for my entire stint. I never figured out why I was so lucky, although I had expected to go to Vietnam, and I would have gone. Again, I learned an incredible amount of things by the time I was discharged in 1970 as a 1st Lieutenant Company Commander.
Now I needed a real job!
My career fate was sealed in the military. I had a lot of time to think about what to do with my life after the Army. I recalled the positive experiences I had growing up, volunteering and working at Baptist Hospital. I recalled a group of people who really had a genuine concern for others and were able to apply their business skills to help care for patients. It just seemed to be a warm, rewarding environment where I could really help others and contribute something significant.
I sought counsel from the CEO of Baptist Hospital in Little Rock, who was a family friend and great leader, John Gilbreath. He encouraged me to follow that path and suggested I get my master's degree in health administration from Washington University School of Medicine. So Ann and I moved to St. Louis to do just that.
John said, "Once you finish your education, if you can go anywhere in the country to get your fellowship training, I recommend Baptist Memorial Hospital in Memphis, Tennessee."
Dr. Frank Groner was the CEO in Memphis at the time — he was CEO from 1946 until 1980 — and was considered probably the most outstanding health care executive in history. A remarkable man, and I was fortunate to not only secure a residency at Baptist in Memphis, but to have such a mentor as Dr. Groner. Ann and I moved here in 1971, and during my residency, I learned everything possible about Baptist and how it operates. Whenever Dr. Groner called and said, "Mr. Reynolds, whenever you have a minute, I'd like to talk to you," I considered that "minute" travel time!
It was not my aspiration to become president and CEO of Baptist Memorial Health Care Corporation — I just wanted to be a member of the leadership team, and I felt extremely privileged to work here and learn from such great leaders — but my career just worked out to this end.
I was named to this position in 1994, two years after being named president and CEO of Baptist Memorial Hospital. I'm only the fourth CEO since 1912, and Baptist is one of the largest not-for-profit health care systems in the U.S., as well as one of the top-rated integrated heath care delivery systems in the country. This is exactly where I was destined to be and should be. I've been incredibly fortunate, and I'm thankful for this blessed life I'm living.
Being a corporate health care executive is similar to being a medical professional in that … we're both here to take care of patients. We care for them in different ways, but always as members of a health care team. It's really a unique combination of skills and talents that all come together, and we're all in this to take care of patients.
When I was first named president and CEO in 1994, I wanted to … When you work in a successful organization, you like to continue to build upon that success. That's really what I hoped to do. But one of the things I felt could be expanded upon was something called "succession planning," so we began developing an executive succession plan for the corporation with a set of steps and some potential candidates that could step into leadership roles throughout the organization.
My biggest challenge today … is probably the same two-fold challenge facing most health care organizations. One is just maintaining and growing the financial strength of the company so that we can continue to carry out our mission — which parallels the three-fold ministry of Christ: healing, preaching, and teaching. Although we're a frugal organization, the bad economy has still affected us. Employers and the federal government want to pay less, which means we must make adjustments in the delivery of care, which we have worked diligently to do over many years. Second is developing new and longer-standing partnerships with physicians. We're both trying to achieve the same objectives, but we may not be coordinating that approach as well as we could if we were working together. The winner in all of this will be the patient.
My favorite elementary school teacher … was my third grade teacher, Mrs. Brashears. One of the interesting things I learned later in Memphis is that Ira Lipman, who founded Guardsmark, and I both share her as our individual favorite teacher of all time. When I went to Ira's mother's funeral services, I gave Ira a hug, and he whispered, "Do you think Mrs. Brashears would have been proud?"
My first job taught me … the inner workings of a hospital and the importance of the team. I didn't realize during those teenage years what I was doing to build upon the career I have today.
As a child, I wanted to grow up to be … a sanitation worker. I'd sit out behind our house and watch these guys come up the alley in this big truck, and they were nice, seemed to be happy, and I was impressed by the mechanics of the truck! After I got through school, I thought maybe I wanted to go into hotel management, but I just wasn't sure.
When I first came to Baptist Memorial Hospital in 1971, the hospital was … considered the largest private hospital in the world. We were licensed for almost 2,000 beds. Baptist was located on Union in the Medical District, with a satellite rehab hospital about six blocks away. This was six years after Medicare came into play. The main tower was only three years old when I came, and we didn't have a regional hospital system yet.
Baptist moved to East Memphis because … the city began moving east, and there was a growing demand for care in that area. It was in the late '70s that we opened Baptist East, which was a pretty daring thing to do at the time. That 400-bed satellite hospital was across the street from a swamp, and this whole area was fairly undeveloped.
Growing up, my favorite cartoon character was … the Road Runner. What I loved about it the most was that it made my dad laugh. I got more pleasure out of watching him get tickled.
The public's biggest misconception about health care … is probably that health care is only available for people of financial means. As I learned a long time ago, most health care organizations — especially not-for-profit ones like Baptist — provide care for people despite their ability to pay. And there are institutions like The Med and the Church Health Center that were created specifically to take care of patients with lesser means. Hospitals and physicians have had a rich tradition of helping those who are in need regardless of financial circumstances.
One of the most memorable lessons my parents taught me … There were so many, but I remember when I was 11 years old, they drove me around Little Rock Central High School to see a person hanging in effigy. It was 1957, and the Little Rock Nine had been integrated into the school. My parents discussed with me the lessons of what the Civil Rights Movement meant. I didn't quite understand it all, but my parents are strong believers that all people are created equal.
I made my profession of faith as a Christian … when I was 15 years old. Our family was very involved with our church growing up, which had a profound influence on my life.
I manage my stress by … hunting. Deer, turkey, duck. I like to fly-fish, and I've taught my three daughters how to do it, too. Now I'm teaching my nine grandchildren. I like sports and I like the outdoors, which is why I've served on the board of Ducks Unlimited for years.
The lessons I learned in the Army … Many of them came from the noncommissioned officers. They took me under their wing as a 2nd Lieutenant, and I learned better how to apply management and leadership skills and how to work as a team. I met all kinds of people. My childhood was rather sheltered, and in the military, I had a chance to spend time with people of all races, all religions, all socio-economic backgrounds, and all kinds of intellectual abilities. Preparing 300 trainees for combat, I learned a type of discipline that would prove important to me as I entered into the next chapter of my life.
In grade school, I got in trouble for … Well, where do we begin? The one and only time I got marched to the principal's office was in fifth grade for hitting a softball on a dare into the third-floor window of the school. I had to work to earn the 50 cents to pay for that window. But having to face my parents about what I had done was the worst of it!
One of the highlights of my board chairmanship at Dixon Gallery and Gardens … is our partnership with the Petit Palais — the museum of fine arts in Paris — to produce our current exhibit, Jean-Louis Forain: La Comedie parisienne. The relationship actually began well before me, and we already had a substantial collection of Forain's art at the Dixon. But Kevin Sharp, the Dixon's director, established a relationship with Florence Forain, who is the artist's great-granddaughter. They were about to have a Forain exhibit at the Petit Palais, and we convinced them to bring that same collection to Memphis. They were intrigued by the idea, and that's what we struck.
From my father, I got … Well, I hope there's a degree of gentleness, because he was a gentle man. I would hope that I took away from him the skill of listening and a concern for others that he demonstrated.
From my mother, I got … She, too, is very concerned for others and strong in her faith. Both of my parents were mentors and encouragers, but my mother is especially encouraging. I probably thought I could walk on water, thanks to my parents.
My personal experience with lack of health insurance … was when our first daughter was born while I was getting my master's in St. Louis. We couldn't go to Barnes Hospital, which was associated with Washington University, because we didn't have health insurance. So we had to go through the charity system at St. Louis University, which was actually a wonderful experience. Ann was attended by a nurse midwife — sort of a rarity at that time — who had a master's in nurse midwifery. But it was a little bit different experience for us to go to the charity service. We got food stamps that January for the first time — our total income was $230 a month!
What captivated me about Memphis … many things. As an individual and as a family, we have felt welcome here since we walked in the door. We enjoy all the cultural diversity and the can-do spirit.
Health care in the United States … Having seen what is provided in other countries, we have the finest health care system in the world. Yes, we need to make it more affordable and accessible, and we're working on that.
One of my most memorable career moments … there have been so many. I've been fortunate to be a part of a lot of "firsts" and a lot of great advances in my career. One of the ones that really touched me was the development of our residential hospice house in Collierville. And, we developed the area's only acute hospice program at Baptist Memphis.
My final 2 cents … I believe people need to focus on their family, their faith, and their career — and then take time for themselves. I guess I'd add a P.S. to that: Don't take yourself too seriously.