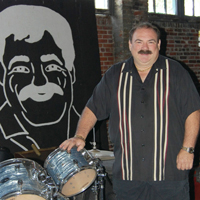 ©DPI Jun 2012 | Photo by Chris Strain
Kris Kourdouvelis
Party Host of The Warehouse
I had a typical Midwestern upbringing in Centralia, IL. I was an only child, but I was not a lonely child — I had lots of friends, and it was important to me that I make a lot of friends so I'd have someone to play with. I liked people.
When I was about four years old, we lived next to an electronics shop. I loved junk and trinkets, and I'd climb into their trash container looking for anything that was interesting — timers, clocks, motors, and things. I put them in my wagon and took them home, where I'd take them apart just to figure out how they worked. My parents spread newspapers out on the kitchen table for me so I could work. It gave me a great feeling to learn how things were supposed to work.
About the time I was six, we moved toward the edge of town, where there were even more kids — maybe 50 or so — and we lived in a big oval neighborhood. I always wanted to find out what was going on around me, and I'd roam all over town with my friends. There was always something going on. I was very curious about life and much enamored with it.
My grandfather came over from Greece when he was 12. He eventually opened a dry cleaners. My dad and his brother worked there until it closed. My father then got a job as the executive housekeeper at a state institution for mentally disabled children. While there, he created a workshop where the kids performed tasks and jobs for different companies in town — sorting parts, packaging, assembling. He used to bring the kids to our home for meals and holidays, so everyone had the experience of interacting with different people.
My mother worked as a secretary for her father, who owned the oil business that I would eventually lead.
Throughout grade school, I was really into science and found the world of medicine fascinating. I thought I wanted to be a doctor. I taught myself to type blood and run other tests. I often talked my babysitters into letting me draw blood from their fingertips, and by the time they went home, they would know their blood type, Rh factor, and red blood count! My mother had a friend who ran a doctor's clinic lab, and in the eighth grade, I helped out on weekends and learned how to use a microscope and count white blood cells, among other things. I also helped with X-rays and ran tests.
I never had a "punch-the-clock" job in high school or college. I photographed weddings to earn money, and it was a lucrative business.
By the end of my junior year, I had enough credits to graduate, but I was having too much fun! Besides, I had been elected the senior class president — in large part because everyone wanted me to be in charge of all the reunion parties. By that time, I had thrown quite a few successful get-togethers.
I chose the University of Tennessee at Martin because I wanted to go to a school that was smaller, where I could talk to my teachers one-on-one and be able to make friends easily. I wanted to get to know everyone and not just be a number lost in the crowd. I made several lifelong friends there — two of them were from Memphis.
After a couple of years, I decided I didn't want to be a doctor, and I changed my major to geology. My mother's father was a successful, independent oil producer, and there was some opportunity for me with him. Upon graduating from Eastern Illinois University, though, I went to work full time for a local oil well promoter as his chief geologist, where I gained a lot of experience as we drilled wells all over southern Illinois.
I struck out on my own at age 23. I did all the geology, picked the locations, leased the land, and sought out enough investors to drill wells. It was exciting, and we hit oil, but in the end, the wells didn't make enough oil to be profitable.
My grandfather convinced me to join his firm in Illinois as geologist and vice president in the mid '80s. He had a Depression-era work ethic, and he was really tough. We spent hours on his porch, where he groomed me to take over his firm. When he died in 1991, I became president and CEO of Seip Oil Properties and Seip Service and Supply, a position I hold to this day.
All during this time, I'd visit my two UT–Martin friends in Memphis at least once a year. In the mid '80s, they got involved as volunteers for Memphis in May and persuaded me to sign up to volunteer with them. I started coming for three extended weekends in May, renting a Downtown apartment. It was a great gig because I got to spend time with my friends, hear great live music, and eat incredible barbecue in between working the beer stands.
I started meeting more and more people, and I grew to love Memphis. I got to where I started renting a place to live on April 1 and staying here until after the Sunset Symphony. But I loved my hometown in Centralia; I knew everyone there, and everyone knew me. I never thought I would leave there.
I purchased The Warehouse in 1999 and started converting it into a space where I could stay when I came into town every year. It wasn't in the best neighborhood at the time — although the neighborhood built up into a wonderful community — but it was close to Tom Lee Park. That year, my Memphis friends wanted a place to throw a millennium New Year's party, and because The Warehouse was so big and open, we figured we'd have it here. I suppose that started everything, and I've been hosting parties and charitable fundraisers here with the love of my life, Sharon Gray, ever since.
The very first party I ever hosted … was in eighth grade, when I volunteered to host our graduation party. Some college students who worked for my dad had a rock 'n' roll band, so he talked them into playing. I enlisted some girls in my class to decorate our basement. The teachers wanted me to plan games and other activities for the party, but I told them I had things under control. When everyone got to the party, they were really blown away with the setup and the entertainment. We danced and had the best time. I kind of caught the bug for entertaining then and became known as the guy who threw a lot of the parties throughout high school and beyond.
The first party I hosted at The Warehouse after moving to Memphis … was for my friends and neighbors. Growing up an only child, I always made lots of friends so I'd have people to play with. When I moved to Memphis, it was just the natural thing to do to invite all my neighbors over so we could become friends.
The hardest part of throwing a party … is attending to the details. For example, setting a date that doesn't conflict with other events. As for the physical party preparations, we pretty much have that down to a science!
A good party always includes … good music and good people.
The Warehouse began taking on its "party place" persona … I guess it was a couple of years after I moved here and met Sharon. I was already hosting my birthday party here each year, but that was pretty much it. Sharon and I would let musicians come here to rehearse, and I guess that's how it got started. The musicians would put on a show just for the experience of getting in front of people, and Sharon and I decided we'd just make a party out of it and share the music with others.
The public's biggest misperception about The Warehouse … is that it's just a public event space. People want to rent the space for functions, and we have to tell them, "But we live here! It's our home!" To this day, people don't understand that this is a private residence!
The average number of parties we host per year … is about a dozen — and that's with us being out of town for four months out of the year.
I purchased The Warehouse because … it appealed to me in several ways. Foremost was its location Downtown, near the river, which is where I wanted to be. That was also a drawback because this was kind of a dangerous neighborhood then, and The Warehouse had suffered from neglect. There were only eight condos in all of Downtown when I was looking at property. The building was originally built as a post office, and later housed Wellbrock Supply, a janitorial and dry-cleaning supply company. It was filled with shelving, which is what we eventually used to build the music stage. But when I bought The Warehouse, it was not for the intention of having parties.
My favorite party food … Personally, I love hot wings! As for the food we offer at a party, our staples include popcorn, pizza, and hot dogs.
The part of party hosting I like least … is not being able to fully enjoy the party because I'm working to make sure it is a success — but I love that part, too, so it all works out fine.
The first thing I do after the last guest leaves … is have a beer! During the party, I drink very little or not at all, so I drink a beer while Sharon and I relive the party together.
The cleanup starts … that night and usually continues the next day.
Most people don't realize that … hosting a party requires a lot of work and preparation. It may <<look>> like all fun and games, but that's not 100 percent true.
My love for live music came from … My parents enjoyed live music, and when I was young, they often took me to see local bands, even if they were just rehearsing in their garage. Mom often told me that "music is the universal language," and that really stuck with me.
Most people don't know that … despite my love for music, I can't play an instrument or sing. I'm fascinated by those people who can. I tell people that I taught myself how to play the piano, only to find out that I am a horrible teacher!
Outside of supporting music, one of my favorite hobbies … is photography. When I was in grade school, a friend gave me a photo enlarger, so I set up a darkroom in the basement and learned how to develop pictures. When I got to high school, I became a photographer for the school paper and also started a business photographing school events. I'd sell the photos to the parents. As a junior, I took a course in wedding photography, and I shot weddings throughout college. It was good money, and it helped pay my way through college. I still enjoy taking pictures.
In high school, I was named … most comical.
My father taught me … how to memorize. When I was in first grade, I memorized things like the preamble to the Constitution and the Gettysburg address. I can still memorize things fairly easily, although that's not much needed in these times when everything is at your fingertips.
One of my personal dreams … is for all of the city's music-related organizations to work together as a unified team.
I never … understand pessimistic people. If you look hard enough, you can find good in everyone and in almost any situation.
One of the biggest risks I took … was shortly after becoming president and CEO of Seip Oil Properties. I borrowed more than $6 million to purchase a portion of a large German conglomerate's U.S. holdings. I had never had a bank loan in my life! I guess I was too young to be scared, so I did it. The purchase tripled the amount of producing wells and increased our output fivefold. We were able to pay off the loan in four years.
From my father I got … my wit and thirst for knowledge. To this day, I want to learn everything.
I bought the former Motion Picture Laboratories building … as an investment. It was close by — 777 South Main — and I owned other properties in Illinois. I began renting office and studio space to companies and individuals in the music and film industry, providing an incubator-type environment. Scott Bomar's Electrophonic Studio and Chris Scott's Studio 777 currently operate out of there.
I decided not to become a doctor because … my mother told me, "You know, if you become a doctor, people are going to call you at all hours, and you'll be constantly bothered in the middle of the night. You have an opportunity to be in the family oil business if you become a geologist." Ironically, after I became a geologist, and when I had to be at oil well sites, it was always at 2 o'clock in the morning!
From my mother I got … She is very outgoing — doesn't know a stranger. I got my smile from her, for sure!
In grade school, I got in trouble most for … talking, which they termed "visiting with my neighbors"!
I met the love of my life … in 2004. I was in Memphis for Memphis in May, and at Silky Sullivan's invitation, I led a Cotton Carnival parade. I saw Silky help a beautiful girl off one of the floats, and he said, "You should meet Sharon Gray." I discovered how interesting and intelligent she is, and I learned that we share — among many other common interests — a real love and passion for live music, especially Memphis music. We hit it off, and I did some soul searching. I decided that Sharon was "the one" — and Memphis was, too — so I moved here.
People might be surprised to learn … that I'm actually quite shy, really.
When I'm not busy being The Warehouse party host, I like to … listen to music! Sharon and I go out in the city and listen at various venues.
If I could meet one person … I would choose a great inventor like Thomas Edison because I am so interested in how and why things work, and I love to build gadgets and inventions. Also, he is the father of the music and film industries, which I have such a desire to be involved with.
Memphis started growing on me because … of the people, more than anything else. People here actually remembered me when I came to visit. Everyone was so inclusive and friendly. I fit in better here, and I am living a dream.
The little building at the west end of my property on the corner of G.E. Patterson and Front … was originally a Pure gas station. I restored a few things in there and now use it for storage.
My most recent venture … I partnered with some friends and opened the Double J Smokehouse and Saloon on G.E. Patterson. The last thing I ever thought I wanted to be involved with was a restaurant, but my partners know what they're doing and love what they do. What really cinched it for me was that they put in a stage so we can showcase local musicians.
If I could make one change in the world … I would add an "undo button" — Ctrl+Z!
My final 2 cents … Success is having what you want. Happiness is wanting what you have. Satisfaction is being smart enough to know how to be happy with the results, even if they aren't as grand as you might have thought they would be. Life is too short not to be happy.