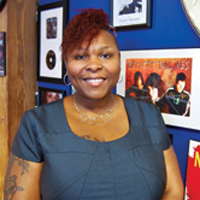 ©DPI July 2013 | Photo by Jodie Vance
Pat Mitchell Worley
Memphis Music and Arts Activist
I was born in Memphis and grew up all over town. My mother came from an affluent African-American family. My father grew up in South Memphis and went to Booker T. Washington High School. They were completely different people from completely different backgrounds. They divorced when I was five, so I lived back and forth between them — as well as stayed with my grandparents — and I had the best of all worlds.
With Mom, I grew up as an only child; with Dad, I grew up in a big family, with a strong, intelligent stepmother and five brothers and sisters. I loved both sides of it.
My mom comes from a media family — they founded the Defender newspaper chain, which includes the lead paper, The Chicago Defender, and the Tri-State Defender in Memphis. My mother was the first black female video-photographer in the state.
She always provided me with an experience in the arts. In the third grade, she took me to the opera —Le Boheme — and I loved it. She kept me very active: swimming, children's theater, karate classes — she wanted me try everything to see what I liked. With her work in television, though, the news does not stop — not even for a single mother — so she often had to miss some of my events. To this day, I give her a hard time for not seeing me in my first starring role in my high school play. "I can't believe you didn't see me!" I tease her. "I was brilliant!"
My father always lived on the cusp of Germantown. He was all business and very strict. My bringing home C grades was absolutely not acceptable.
Growing up, I knew I wanted to go into journalism and be a writer. My grandfather would take me to the newspaper office with him, where I had my own little desk and typewriter.
In high school, I tried forensics speech competitions, but I was terrible in the acting categories. I thought, "I've got to find something I can win at; this is ridiculous." My theater teacher suggested I try TV news. In TV news competitions, you put together a complete newscast in a certain amount of time. In my first competition, I placed. In my senior year, I placed at the state competition. I thought, "I really like this. Maybe this is what I want to do in life."
I went on to Oral Roberts University, but only stayed for a year. Although I loved the friends I made and my professors, I didn't fit in — let's just say I was a bit more liberal than the university's culture. I mean, women couldn't even wear pants! Women had a curfew; men did not! Anyway, I came home, intending to go to University of Memphis.
But I got sidetracked. I was 19 and there was all of this music that I really loved. I thought, "Some of these acts are so good, everyone needs to hear them." The bands kept talking about how hard it was to "get out there" and become known to a wider audience. I decided I would start writing stories about them.
The Memphis Star was the first publication to accept my work. I kept sending them material, and I started sending my stories to the wealth of other regional music publications, too. The internet was not big at that point, which meant these publications were. I built up a large list of music clientele, from big magazines to independent specialty magazines. It was fun; it was cool. I started writing musician and band bios on the side, and that led me to handling public relations for some Memphis music talent. Once I got involved in music, I knew I wanted to stay in that world.
In 1990, I took a part-time job at Memphis in May as the seasonal receptionist. I planned on staying six months, but I ended up staying for six years, eventually moving into the media/PR department. I learned so much. Working under the leadership of Deanie Parker and Cynthia Ham really formed who I am today.
Back in high school, I had created a list titled, "Things I Want to Do During My Life." Included on that list were doing radio, P.R., writing, public speaking, and hosting activities and events.
A friend of mine, Tommy Davis, had a heavy metal music show on WEVL called Left of Center. I used to go on the air with him to do a news segment about what was going on in the national rock scene. I also often helped interview bands. The show was so popular that Flinn Broadcasting's WDRE hired him. One day, Tommy told me that George Flinn wanted me to take a radio slot. I thought, "Ah! Radio is on the 'Things I want to Do During My Life' list!" So I left Memphis in May and went to WDRE 107 to host a noontime show that the station broadcasted to Memphis and Little Rock. I built quite a following.
After a year of my being on the air, Dr. Flinn decided he wanted to do an all-blues station. He wanted me to be the music and promotions director. Blues? I knew a bit about the blues, but it was my "grandmother's music." Flinn talked me into giving it a try. Meanwhile, I was still working on the side as an independent publicist and writer for record labels such as Warner Brothers, Atlantic, and RCA. I was 24 years old.
One day my grandmother called me. She said, "There's an opening at The Blues Foundation, and I think you should apply for it." I thought, "The blues again?"
But I had gotten tired of commercial radio by then, so I applied. I joined the international Blues Foundation in 1996 as an assistant to Sid Selvidge, the executive producer of Beale Street Caravan. After six months, my duties shifted to the general foundation programs, and I ended up overseeing all of the communications and education efforts for events such as the W.C. Handy Blues Awards, Lifetime Achievement Awards, and International Blues Challenge. I also helped program events for the Rock and Roll Hall of Fame and the National Association of Music Merchants.
David Less, who was executive director, and Sid became my next two serious mentors. In 1999, Sid needed a host for the Caravan. He asked me and Daren Dortin, the engineer for Beale Street Caravan, to cohost it. We got a lot of positive feedback, so he kept us. We went to festivals and major blues events — it was an exciting, knowledge-building time, and I got to experience a lot of great music moments.
After I left the foundation in 2003, I continued to host Beale Street Caravan, but I felt that I needed a break from so much music. Music was my work, my play, my life, and I wanted to do something completely different — if only I knew what that was.
My skill set matched what MPACT Memphis needed at the time, and I became the program director in 2004, furthering its mission to engage area, young professionals in the city. I didn't realize until after I left three years later just how many people I had become close to because of that organization.
While I was at MPACT, I got married, had my daughter, and realized my priorities had shifted. I no longer wanted to work these insane hours and go to meetings five nights a week!
Susan Schadt of ArtsMemphis called me out of the blue. She asked if I'd ever thought about doing fundraising. Honestly, it had never crossed my mind. But I admired what ArtsMemphis was doing for Memphis. A thriving arts community is vital for any city to be great. It was also a vital part of my life. The arts are often considered dessert, but they are part of the main course, necessary for a well-balanced life.
I would have stayed at ArtsMemphis, but Dean Deyo, president of the Memphis Music Foundation, called me in 2009 with a job offer. I thought, "If there is ever a chance for an organization to truly help the success rate of musicians in this town, this is it. And if this is such an organization, I damn well want to be a part of it." I became the director of development and communications.
Am I where I want to be? I don't think I'm ever going to be where I want to be. I am rarely satisfied with my contributions, and I figure I can always do more. I've got a lot more in me, and I'm certainly not finished yet. I will keep moving for as long as the Lord lets me.
In radio, a good host always … introduces listeners to new artists and experiences and tells the story behind the song.
The first time I hosted a radio show … was in my early 20s for Flinn Broadcasting. I was excited rather than nervous because with radio, you can't see your audience. It's just you having a conversation with yourself, by yourself, in the studio, so it's easy to forget that people are out there listening. I've said things on the air that I didn't mean to because I forgot I had an audience.
The biggest challenges with my job at the Memphis Music Foundation ... We serve a lot of different people, which is tough just because their needs are all different. You have to remember that each member is their own little company of one, and they're trying to get the resources to do what they need to do, and they're trying to figure out what's best for them and their business. It's hard to serve that many people, but it's incredibly rewarding at the same time.
My favorite part of what I do … is when one of our artists signs a publishing deal because of our help. We've had three artists on The Voice, artists who have been on <<American Idol>>, and groups who have become lifetime artists and realized their dreams.
When I stage a production, I love … the feel of backstage. I want to be behind the curtain, making the magic happen.
The worst music review I gave … I think I've given only two bad music reviews in my entire life. One band still hates me to this day! They had invited me to come cover their show. My review started with, "When I first heard this band play, only two words came to my mind: Please stop." I went on to write that I stepped outside and stood in the cold rain rather than listen to them! They were horrible! I mean, I can find good in anything — but not in this band.
Radio today … doesn't have as many DJs who are passionate about the music they play.
The best part of working at The Blues Foundation … I did all the communication and education programs for the foundation, and as a music lover, I had one of the most impactful experiences working there. There were still a lot of blues legends alive, and to be able to spend time with the likes of Rufus Thomas, Ruth Brown, Etta James — I always got the stories about the musicians and their life.
A story that exemplifies my personality … When I was 26, I had a car wreck and broke my hip in three places. I remember being put in the ambulance and the police officer sticking a ticket inside my pocket. The doctor told me that with therapy, I might be walking again within a year, but "you'll never rollerblade." Well, I was walking within six weeks, and a year later, I taught myself to rollerblade. I had no desire to rollerblade, but because he said I would never do it, I wanted to prove him wrong. If someone tells me I can't do something, that just means it's most certainly going to happen.
The magic of music is … that one melody can express exactly what I feel, which would otherwise take me forever to explain.
One of my biggest career challenges … was to make a name for myself in hard rock music. As a black female from the South, it was tough to get the respect I was due in that industry.
Beale Street Caravan … is a one-hour, no-commercial radio show that broadcasts live recordings of Memphis music to a worldwide audience. The show airs on more than 400 stations. I love that we get to expose people to new music. That is the thing that makes hosting that show awesome in every sense. The Caravan's archives are phenomenal. They've got pristine recordings from current artists to musicians who are no longer with us. I'm so proud to be a part of that legacy and to be a part of introducing people to new, live music. It's based out of Memphis, and it belongs to Memphis.
Live music vs. studio music … Live shows are organic. I enjoy the live experience more than I do recorded music, where every flaw is "corrected" to make the song "perfect." With live music, the same song is different every time you hear it.
I didn't realize how popular Beale Street Caravan was until … I was checking into a hotel in Syracuse, New York. I was hosting a festival there, and the woman at the front desk said, "Your voice is so familiar … Oh, my God! Are you Pat Mitchell? I listen to Beale Street Caravan every week; it's my favorite radio show!" It blew me away! Throughout my stay in Syracuse, I was treated like a rock star! I've never had more fun! I had the same experience in Detroit and in <<Davenport, Iowa>>!
Working in development is like … being a tour guide. I take potential donors to the places they want to go and allow them to make their presence known monetarily to support something that's bigger than they are.
One of the funniest things that happened on air ... One day during my show at Flinn Broadcasting, folks started calling in from all over town with "Courtney Love sightings." I stayed on the air, having fun with a "Where's Waldo" kind of thing, and finally this woman called in. She said, "This is Courtney Love. Would you people stop talking about me?" I responded, "I've got to prove you are Courtney Love, so answer this question: Why did you kill Trent Reznor's dog?" You see, a friend of mine was friends with Trent. My friend told me about Trent's dog dying while Courtney was dog-sitting. Anyway, Courtney freaked out that I knew about that! We ended up going out to have drinks. One night, Courtney and I decided to take over the radio station and play whatever we wanted to play. Being the rebel I am, I called my program director and told her. The program director called Flinn, and he said, "Sure!" For two and a half hours, we played everything we wanted to play. Courtney was cussing up a storm on the air, but Flinn didn't care. He paid every FCC fine! He thought it was cool that his independent radio station got one of the biggest stars in music to come on and just do her thing.
I feel proud that … even though I missed the heyday of Stax and Sun, I handled the planning for the Soul-A-Thon fundraiser for the Stax Museum of American Soul Music. I've done PR for The Bar-Kays, the Isaac Hayes Restaurant, and Willie Mitchell. I've been able to work with so many of the legends that helped make up the legacy of Memphis music.
My family … I met my husband, Billie, in Little Rock in 2003 when he was touring with an old friend of mine. He's a freelance producer and director of a band called the Candy Company. We fell in love over barbecue ribs and guacamole, and one month after we met, he moved to Memphis from Los Angeles. We have a beautiful eight-year-old daughter, Violette, who is a miniature version of me. In fact, when we're both in a talkative mood, Billie escapes from the house! I have five amazing brothers and sisters, and we are all very different, yet in many ways, very much the same. My dad is my rock, and I'm lucky enough to have two mothers, as my stepmother has always treated me as one of her own. I count myself pretty blessed.
I'm affected by … how other people feel about things and why. It's magnetic to me. I'm very curious.
When I'm not being Pat Mitchell Worley, I like to ... read. I'm a big history buff — especially about the Civil War and Knights Templar.
People might be surprised to learn … that I don't play a musical instrument. I remember taking piano lessons, and I was irritated that I had to miss my Saturday-morning cartoons to go to this lady's house, with her ruler marking time against the piano's edge. I begged my mother to make it stop.
The lesson that stuck with me from childhood … Never stop learning. My stepmother instilled that in all of us children. It's out there, and all you have to do is dig for it. You can always better yourself in doing so, and learning never stops.
I don't do well when … I have idle hands and am forced to sit down and be still. Wherever I go, I want to have a job to do.
As a child, I wanted to be … an astronaut. But then I realized that I really didn't want to discover places that nobody else would be at. The idea of being in space alone with no one to talk to, not knowing where I was going or who I was going to meet, and with no one to share the experience — I thrive off other people. My personality test from Leadership Memphis showed that I was highly inclusive. I like to be involved; I like there to be an activity involved. I am externally motivated by things.
I was very geeky about … the U.S. Constitution. I could tell you anything you wanted to know about it.
If I could spend an hour with any person ... Leonardo da Vinci. I would love to be inside his brain for a little while. Eleanor of Aquitaine is one of my favorite historical heroines. These are my easy answers.
Most people don't know that I ... can't type the conventional way. I've had a typewriter since second grade, and I've been typing for so long that the way I do it feels natural. Because I spent most of my formative years typing on a manual typewriter, I'm very hard on today's keyboards. I go through at least one keyboard per year.
The biggest lesson I learned from my father … Learn all the rules because that's the only way you know which ones to break. If you want to do anything significant and live your life to the fullest, you have to break some rules — which means you need to know what the rules are to begin with.
The traits I got from my mother … She believed in hard work and was always champion of the underdog. How many things have people missed out on just because they wouldn't give someone a chance? People will prove themselves — or they won't — but give them a chance. The value of believing in someone and giving them a chance, empowers you.
My final 2 cents ... We stand on the Memphis music legacy, but Memphis music is a living, viable organism. Here, where popular music was really born, we've got to continue that legacy while also continuing to tell our story. The maxim speaks of standing on the shoulders of those who came before us. We just have to remember that we stand on those shoulders so we can move up — not to stay in the same place.