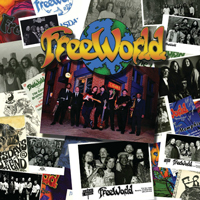 ©DPI July 2012 | Photos courtesy of FreeWorld
Freeworld
Oldest Consistently Performing Local Rock Band
As I reach my 25th birthday, I'm pretty old, as rock bands go. In Memphis, there aren't many — if any — bands as old as I am that perform as often as I do. I was born in Memphis in 1987, thanks to a chance encounter.
My roots started in 1981 just after Richard Cushing graduated from Christian Brothers High School. He met Mark Jenkins, and the two of them were like brothers from different mothers — and still are. Mark had a band called Free World — two words — but it was basically a garage band. It never played many gigs or released any records. The first songs Richard learned on the bass guitar were Mark's originals.
At the University of Memphis, Mark met Willie Waldman, who formulated me. At the time, Richard was playing in a country-rock band that had started playing more country than rock, so Richard came to Beale Street in 1986 to scout out other options.
He met Don McMinn — the bandleader of the house band at Rum Boogie Cafe — who turned out to be as responsible for the formation of FreeWorld as anyone. At that time, Beale Street only had Rum Boogie, Lafayette's Corner, and maybe Club Handy. That was it. Don told Richard about Chris Lea and the Moonlight Syncopators that played weekly at Lafayette's, and Richard joined as a bass player/vocalist in August 1986. The drummer was David Skypeck, who is my drummer to this day.
The Syncopators featured a horn section, but by that November, the horn players had left the band. Although they no longer had a horn section, the band still set up as if it did. One night, in the middle of the second set, veteran jazz saxophonist Dr. Herman Green and Stax trumpeter William "Nokie" Taylor walked in off the street, pulled out their horns, walked up to the mics, and started playing as if they'd played with the band forever. So the core of my existence — Richard, Herman, and David — was cemented at that moment.
In September 1987, Willie Waldman decided to put a band together. A group of them — including Richard — went to talk to Herman Green. They wanted someone who could give their band instant credibility, because at the time, they just were a bunch of young, white hippies and college jazzbos.
They asked Herman if he would become a member of the band they were creating. Herman said, "I will do this, but you've got to be serious about the music." So there I was, a band of six: Clint Goodwin (later Wagner) on guitar and vocals; Richard on bass and vocals; Ross Rice on keyboards and vocals; Jimmy Ellis on drums and vocals; Herman Green on sax and flute; and Willie on trumpet. Now they needed a name for me.
On the first two gigs they called me The Herman Green and Jimmy Ellis Blues Revue. During rehearsal, a few weeks into it, they start brainstorming for names. Jimmy Ellis suggested "Free World," and as the guys started whittling down their lists, "Free World" made the final cut.
Richard and Willie looked at each other and said, "Well, we can't really use that name because it's the band name of a friend of ours."
Ross asked, "What is the band doing now?" They're not playing. "Did they ever put out a record?" No. "Did they play many gigs?" No. "You'll have to give me a better reason why we can't use that band name."
So they decided to use the name, but stick the two words together to make one: FreeWorld. I had officially arrived.
There wasn't really a jam-band scene in '87, so we didn't really have anything to pattern ourselves after — nor did we try to pattern ourselves after anything else. We knew Dead tunes and jazz songs. It was exploratory music and exploratory times. We were all trying to find what FreeWorld was going to be.
We quickly became a band that played a blend of Memphis funk, jazz, soul, blues, and psychedelic rock that could only be found in our community. Improvisation became the key to our identity, and each performance took on its own distinct personality depending on the lineup of players.
I went through some personnel changes, although my core group always remained. In 1991, we started a regular Sunday-night gig at Blues City Cafe on Beale Street that we still play every week. Here again, Herman was such a help to the band. Musicians who happened to be visiting Beale Street came to our gig to see Herman and sit in — which has always been another hallmark of our band. I never knew who was going to come up on stage and play with the guys.
We released our first CD — FreeWorld — in 1994, when I was seven years old. Next came You Are Here in 1996, Diversity in 1999, Live From Memphis in 2003, and From the Bluff in 2008. We will release our first DVD documentary/retrospective on the band at The Levitt Shell on October 6, 2012, to commemorate my 25th birthday.

FreeWorld is an entity unto itself. We've made it 25 years with no thoughts of slowing down. I don't see us folding up or going away anytime soon. The band is what it is, and it's a powerful force that we hope will continue to perpetuate itself. Memphis is home to cultural diversity, and nowhere is that more apparent than in its music. FreeWorld is a proud embodiment of that tradition.
My first gig as FreeWorld … was Downtown in October 1987 at The South End, a music-heavy bar and restaurant on the corner of Front and Calhoun. We played there every Tuesday, and from the beginning, we were a hit. We were a bunch of Deadheads and a couple of jazzbos, so we naturally combined jazz and the Grateful Dead.
We practiced … initially at Clint's grandmother's house. Then Willie moved into a place near the University of Memphis, and we practiced in his living room for a while. Eventually, several of the guys moved in together in a big house on Madison, aptly nicknamed the FreeWorld House.
Our challenges in the early years … are the same challenges we've always had as a band: personnel and continuity. People come and people go, and it's difficult to maintain the essence of the sound and what the band is about when we have interchangeable parts. The list of people who have played a full gig with FreeWorld over our 25 years contains hundreds of names.
Our most requested song … is "Earth Mother." It's a Herman Green composition that came very early in the band's life. It's very powerful and intense, so we usually use it to close the second or third set.
My typical set list … Initially, my set lists were an eclectic mix of songs by other performers, but it wasn't long before the guys began writing original material. We've seldom sat down and mapped out a specific set list before a gig gets started, but we do have a master song list of more than 400 songs that we choose from on the fly. Generally, our choices depend on who's there and the overall vibe of the crowd.
When we play cover tunes … they usually don't sound anything like the original. We put a definite FreeWorld spin on them.
Whether we play an encore depends upon … the enthusiasm of the crowd. If just one or two people yell, "Woo-hoo!" and it's 2:30 in the morning, we won't. But if the whole place is going nuts, you can't walk away from that. Nokie Taylor taught us to always leave the audience wanting more. "Do encores," he said, "but don't do too many."
One of the earliest lessons we learned as a band … was to take the music very seriously but not to take ourselves too seriously.
Our travels have taken us … We've toured extensively throughout the southeastern United States and have completed two European tours and a tour of the U.S. Virgin Islands.
Some of my wildest times … were during the late '80s at the New Daisy Theatre. Those were back in the days of FreeWorld being more of a psychedelic band. The psychedelic thing was pretty big then. We'd have these big shows where we'd do crazy, liquid light productions on the walls behind us, and people partied in insane ways. At that point, the gigs were more of an "experience." Youth and the lack of responsibility allowed for more freedom in our musical expression. As the band members got older, real life imparted children, families, careers, and other responsibilities.
Getting a record deal … is not like becoming a doctor, where you go to school, pass the tests, and become a doctor. To get into the upper echelons of the music business, you have to know somebody. If you want to be in the "big-time" music industry, the fairy godfather has to tap you on the shoulder, and then you still need a lot of luck.
My mentors included … Probably our main influence was Herman Green. He was 57 when the rest of the band was in their early 20s. At that point, Herman was in his prime. He not only taught the group musically, he taught them how to treat people, run a band, do the business side, keep their minds open, and keep their world free.
An early change we had to make … The bass player was very experimental at the time and had lots of special effects and contraptions that made crazy noises. One day Ross, the keyboardist, put his arm around Richard and said, "You know, someone in the band has got to play the bass, and since you're wearing it, what about you?" Shortly thereafter, most of the outlandish special effects were gone!
A typical gig consists of … 30 songs, four hours, and two 30-minute breaks. But on Beale Street, we play as long as we possibly can play before taking the first break because that's when people are most apt to leave.
Our biggest groupies … Jam-band aficionados, music lovers of Memphis soul, funk, jazz, and blues, and our longtime loyal fans — known affectionately as "Freeloaders."
The first thing we do when the gig is over … The guys put their instruments away. When you're playing something worth thousands of dollars, the last thing you want is someone accidentally knocking it over or damaging it.
Guest artists include … U2's Bono; Levon Helm; Billy Preston; Timothy Leary; James Cotton; Jim Dickinson; Ann Peebles; Marvell, Vaneese and Carla Thomas; Steve Cropper; The Memphis Horns; Phineas and Calvin Newborn; Ace Cannon; Lynyrd Skynyrd's Artimus Pyle; Eric Gales; and Little Jimmy King, just to name a few.
Being a regular Beale Street band … means that we take very seriously the fact that we're representing our city. People come to that street from all over the world every day. We take them on a walk. We start in the '40s when Herman started playing on Beale Street, then move into the Stax and Hi years, and eventually we end up at FreeWorld insanity.
Our most unusual venue … Oh, we've performed at The Pyramid, The Orpheum, Levitt Shell, FedExForum, and on a flatbed truck on a farm.
The public's biggest misperception about being a band … is that there's no work involved, that it's all fun and games. There's loading in the gear, loading it out, rehearsing, booking gigs, arranging travel itineraries, and handling personnel issues, among other things.
Our least favorite part of performing … load-in and load-out. Each one takes about an hour and a half. And some venues can be difficult to access and might require the musicians to haul the gear onto a loading dock, through a kitchen, around a corner, up the freight elevator, down a long carpeted hall, and up some stairs …
FreeWorld would never … perform like a jukebox. Even if it's the same blues song we've played a million times, we truly feel it, and therefore the song is just a little bit different every time we play it. We pay attention to where the essence of the song wants to lead us. When it's done right, the band doesn't play the music, the music plays the band.
My most embarrassing moment … Because we're an exploratory band that's not a jukebox, we experience the occasional musical train wreck, where what was building into a nice crescendo suddenly comes crashing down all around us. Thankfully, that doesn't happen very often!
During breaks … some players go out in the parking lot, some get something to eat or drink, and some play host, going table to table, talking to people, thanking them for being there, and making them feel like they're an integral part of the evening, because they are.
Our biggest honor … is getting a brass note on the Beale Street Brass Note Walk of Fame. Our name, engraved in a chunk of metal embedded in a rock that people will walk over for the next thousand years on one of the most storied streets in the world — that's hard to wrap our brains around. It's more meaningful for us than winning a Grammy, truly.
The future holds … The creative push forward is essential for the band members and me. We don't want to become a tribute band to ourselves!
My legacy … Who knows? But when a band is dead and gone, all that's left behind are the sound recordings, press releases, photographs, posters, video recordings, and other miscellaneous items that populated its existence along the way. Richard is the band's archivist and has maintained a collection of items related to the band since its inception. He donated these materials to the history department of the Memphis Public Library and Information Center. The FreeWorld Collection is chronologically arranged so that it not only gives our history, but also gives insight into the local music scene from the late 1980s through present day.
My final two cents … We want to be remembered primarily for providing joy and happiness through ourselves and our music. If someone, for 20 minutes, can escape and forget about their problems and worries and just groove to the music, then we've succeeded. We see ourselves as a community service. That's something Herman imparted to all of us. Music has a magic about it that transforms lives.