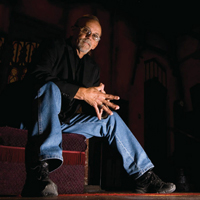 ©DPI Sep 2012 | Photo by Amie Vanderford
Jackie Nichols
Founder/Executive Producer
Circuit Playhouse Inc.
I was born in Memphis in 1947. My father was a motorcycle cop, and my mother was a bookkeeper. I was fortunate enough to have caring parents who made a lot of sacrifices so that my younger brother, younger sister, and I could have the opportunity to explore whatever we wanted to do with our lives. Mine ended up being in performance. Dad spent his summers sewing sequins on my dancing costumes.
My first instance of putting it all together in terms of seriously pursuing theater was at Overton High School. I was doing tap-dancing shows at Front Street Theatre, which was a professional theater located in an old movie house on Madison that had just closed. Back then, it was called the Idlewild Movie Theatre; today it's called The Vine.
Front Street needed kids for Gypsy. I went down and auditioned. Of course, teenage boys who could sing and dance got a lot of opportunities in theater. I thought it was a lot more fun to be in shows with all these beautiful girls than being on a football field with a bunch of guys slapping each other on the butt!
As I spent more and more time in the theater world, it was implanted in my mind that here is this collective of people coming together — kids/adults, rich/poor, black/white, young/old, gay/straight — and everyone is treated equally in this environment. Everyone is expected to perform at a very high level of responsibility, and as long as you perform that — whether it's coming on stage, learning new music, moving a piece of scenery — everyone is equal and a part of creating this show. I knew at that point that I enjoyed the environment of theater and that I wanted theater to always be a part of my life — somehow — but I still didn't think it would be my profession.
During the summer of 1963, before my senior year at Overton High School, Walter Slaughter and I started Circuit Players, a vagabond troupe of high school kids who did shows in the summer. We learned as we went along: how to sell ads, figure royalties, rehearse plays, rent facilities, build scenery. I discovered that I preferred producing shows to performing in them.
Memphis did not need more performers; it needed someone who enjoyed the idea of making it possible for people to have a place to do shows. I got much more joy out of that than performing.
Front Street Theatre closed in 1969, and when it died, so did professional theater in Memphis. By that time, I was the only member of the original Circuit Players remaining in the troupe. We all pitched in money to rent the closed Memphis Civic Ballet Academy building on Walker near Memphis State and started producing plays there. Circuit Playhouse Inc. was born on Nov. 20, 1969, in our new rented/permanent space, The Circuit Playhouse.
At the time, I was carrying 14 hours at Memphis State, was running the theater, was working 20 hours a week in the warehouse at General Electric — which, incidentally, printed Circuit's flyers, brochures, programs, and posters as a donation — was training in the National Guard, and was working road shows that came to the auditorium.
I graduated with a degree in education. I thought I might teach, but I still didn't know what my profession would be.
In 1975, we opened Playhouse on the Square at 2121 Madison in Overton Square, complete with a resident company of professional actors and a paid staff. That marked the first time in seven years that Memphis again had a professional theater.
We bought an old movie house at 1705 Poplar in 1981, which marked Circuit Playhouse's first permanent home. It was 10,000 square feet — huge, compared to the 3,000 square feet at 1947 Poplar — and we would no longer have to worry about landlords forcing us to move to another location.
By 1985, Playhouse on the Square was outgrowing its Overton Square home. The old Memphian Theatre at 51 S. Cooper was for lease, but we ended up purchasing it — then facing the daunting task of raising $150,000 to renovate it!
Now that the two theaters were in permanent homes, we focused more on enhancements and outreach. The Theatre for Youth program started in '86 and is today a full-scale youth conservatory with year-round classes and a touring program. We opened the city's first independent theater school with classes for all ages. To make theater available to people on limited incomes, we instituted the Pay-What-You-Can program.
In 1994, we started building TheatreWorks, one block west of Playhouse, to house a variety of small performance groups that couldn't afford their own venue. And three years later, we began a new theatrical entity, the Memphis Black Repertory Theatre. That same year, Jeanne and Henry Varnell, longtime supporters, donated a building at 1711 Poplar, which is now our education building.
And along the way, the theaters, actors, and personnel received numerous awards and honors, which continue to this day.
Most recently, of course, is our state-of-the-art Playhouse on the Square theater, built across the street from its former location. Modeled after the world-renowned Steppenwolf Theatre in Chicago, our new facility seats 347 and is capable of taking Memphis theater to the next level.
The growth of our organization, which has $15 million in property assets that include four theaters, an apartment complex for guest actors and interns, a 25,000-square-foot warehouse for storage, and an education building, is nothing short of amazing. We have a $2 million endowment, and we have no debt. It's almost unheard of.
The success of that has been due to slow, calculated growth over our 43-year-history. Every year, we build on what we did the year before. Our fiscal policy is simply: Don't spend money we don't have. Also, this community has been very generous to us. We've done well because of dedicated staff, a dedicated board, and dedicated patrons.
My first name … "Jackie" came from my maternal grandfather, whose name was Jack Edward Nichols. I was Jack-E, and they just added an "i": Jackie.
The name Circuit Players came from … our troupe was on a circuit, renting school auditoriums and churches to do our shows in. We did not have a home venue; we were a nomadic troupe.
People might be surprised to know … that I was not really that good as a performer. Looking back, I was tolerable. I more enjoyed producing shows, making it all come together. In fact, after starting Circuit Players in 1963, I never performed again and have never missed it.
The Circuit Playhouse's first year … There were about 12 of us in the company, and we were in college by that time. We received our nonprofit, tax-exempt status, and our first year's budget was $17,000.
The first Circuit Playhouse production … was The Fantasticks, presented in a rock musical format.
Our early shows in the '70s … Most of us were politically active, but we were not on the streets protesting. Instead, we explored the social conscience of the community by presenting theater. So a lot of the shows spoke to that social conscience: The Boys in the Band, one of the first shows to deal with the gay community in the city; Marat/Sade about political corruption — and which gave Memphis its first onstage nude scene; We Bombed in New Haven, an anti–Vietnam War play. We also did classics, of course. We did theater that we thought was relevant and that the community should see.
My very first performance … In kindergarten, I performed as a reindeer, marching around the school gym during some Christmas pageant.
By nature, I am … an overachiever. Whatever I get involved with, I proceed to overachieve in that area.
From my father, I got … determination, compassion. One of the things he was proudest of was that he never had to fire his service revolver in the line of duty. He worked long hours, and he worked hard. He believed that a person was only limited by his own initiative.
From my mother, I got … stubbornness — but in a loving and caring manner. Like my father, she was salt of the earth, hard-working. Both parents were committed to working however many jobs it took to provide for — and make a good life for — their children.
I thought about quitting theater when … There was never really a time when I questioned whether I should be in this business. Maybe 15 or 20 years ago, I had a brief period of, "Why am I doing this?" which was quickly followed by, "Well, what <<would>> I do, if not this?"
My salary … never appears on GuideStar, I assure you! It's much less than the industry standard!
One of the biggest lessons I learned … Throughout the many unplanned moves the theater had to make in the early years, I stayed up many nights worrying about where I would find a new space. Only recently have I realized that all these losses — from losing the house on Walker to losing the Overton Park location to losing key people — in every single case, led us to something better. Whatever dilemma was presented, the gods of the theater gave us a better option that we couldn't have seen at that time. That's a lesson of life, that whether it's your job, your relationship — good things often come from trials and tribulations.
The term "professional theater" means … the troupe gets paid for what they do.
The annual art auction … Dolph Smith came up with that fundraising idea 35 years ago. It's an exchange arrangement with the artists. They give us art to sell; we give them tickets to all the theaters we have. We also have six galleries in our theaters where they can display their work, and we don't take any commission on it.
One thing we do differently from other theaters ... Part of our mission is to create an artistic home for actors so they can have continual employment. That concept doesn't really exist in our field. There used to be resident companies in regional theaters all over the country, but now actors are typically jobbed in for one show and are gone. We started UPTA — United Professional Theatre Auditions — and there's nothing else like it in the U.S. You can read all about how it works at upta.org.
The average number of actors in our resident company is … eight. How long do they stay? We have some who are still with us after 20 years.
During construction of the new theater, I often … wandered about the theater alone at night. I felt proud — it was my first and only time to build a theater, and it had to be right — but it's also my nature to think, What's next?
I met my wife … Leah Nichols owns Evergreen Yoga and is also an actress. She came to Playhouse as a performance intern 18 years ago. I have two children by my first wife. My son, Jordan, is in the national tour of Les Miserables right now, and Katie is in real estate and just gave me my first granddaughter.
People might be surprised to learn that I … was a promising tap dancer, growing up. My brother and I won the Mid-South Fair Youth Talent Contest in 1964. I still teach tap dancing for non-dancing adults. Once a year we do a tap class, and you learn a bunch of tap steps that you can show off at a cocktail party without spilling your drink!
The key to Circuit Playhouse Inc.'s success ... The people.
If I hadn't made theater my career choice, I would have … chosen forestry and conservation. My father took us hiking, canoeing in Canada, scuba diving, cave exploring, and camping on Boy Scout trips. As a scout, I won a couple of national awards for the work I did in conservation. I was really into the outdoors and am still very passionate about it.
My favorite play we staged …Next to Normal, because it's a powerful story that has a groundbreaking musical score and explores life's challenges, hopes, dreams, and fears.
One of our big balancing acts … We try to be as artistically liberal as we can get away with in Memphis, while at the same time being very fiscally conservative. We've done a lot of controversial stuff. In 2007, we did the first American production of Jerry Springer—The Opera. It was picketed every night in London, but in Memphis, nary a picket. I couldn't even <<buy>> a picket to get some press!
My formal training in theater production included … nothing but hands-on, learn-as-you-go education. I flew by the seat of my pants — and I still do!
Looking back over 43 years, what surprises me most … is the willingness and generosity of the Memphis community to come along for the ride and support us in what we do.
My final 2 cents … Memphis is a clean slate when it comes to opportunities. You're only limited here by your own imagination.