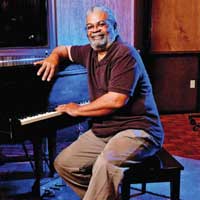 ©DPI Jul 2011 | Photo by Steve Roberts
Marvell Thomas
STAX Records Pioneer,
Memphis Sound Musician
I was born in Memphis in 1941 and grew up three blocks from Beale Street. We lived in a public housing complex. They wound up being called "the projects" later, but it was fun growing up there. Nice people and a lot of kids to play with.
I am the oldest of three children. Carla was born one year after me, then Vaneese followed 10 years later.
My mother, Lorene, was a stay-at-home mom until I was about six years old, and she decided to go to nursing school. I admired her sitting up burning the midnight oil studying medical textbooks. It was a lot of very heavy stuff. She became a nurse at John Gaston Hospital and was a civil rights and political activist. To this day, I think she holds the record for getting more membership commitments for the NAACP than anybody in the history of the organization.
My father, Rufus, worked at a textile factory called American Finishing Company — a pretty miserable place to work. My understanding is that because this factory supplied a lot of the cloth for military uniforms, and because that was such an important component of the war, most of the factory employees got a pass from being drafted into World War II.
That textile mill was almost an aberration, because from the time Rufus was in his middle teens, he was an entertainer. But the mill was something he did to put food on the table. Rufus entertained on weekends at different clubs. He was an extraordinary dancer — tap dancing, in particular. So the whole "entertainer" aspect of him never stopped.
As a result of the entertainer part of him — and partly because his history teacher in high school was a disc jockey at WDIA — Rufus wound up being the second black disc jockey on the very first radio station in the country with an all-black music programming schedule. His history teacher was the first black disc jockey; his name was Nat D. Williams.
Record companies would send copies of their records to the hot disc jockeys around the country, so there were 18 million records in our house! We had a turntable, and I listened to everything — every feasible music form that you can image. And I learned a lot.
When I was 11, we moved to Kerr Street. To this day, we call the people who lived on that block the Kerr Street Gang. We grew up with three partial generations. The oldest kids were mentors to the younger ones. They kept us out of trouble, and they never allowed any older, bully types to give us any grief at all. In retrospect, it was a great neighborhood to grow up in.
I participated in music groups throughout school, but I never considered music as a career. Playing the piano came quite naturally to me, and it was something I had an intense interest in. I took lessons from the daughter of a famous high school bandleader at that time, Tuff Green. We ran out of things she could teach me pretty quickly.
I started playing weekends and nights in clubs when I was 16 or 17 and going to school during the day. I wouldn't get home until 3 a.m., and my mother was not at all fond of that. Rufus just stayed out of the way and let my mother argue the point.
Throughout high school, I was taking science- and math-oriented courses in preparation for medical school. But my interest in being a doctor stopped the minute Stax Records opened its doors in 1959, and I made my first recordings. I thought, "Wow! I want to do this, too!" I had just graduated from high school.
None of us at Stax knew anything about anything! It was all brand-new territory for everyone. But there was a nucleus of folks starting to form who would end up being with Stax for a long period of time: Booker T. Jones, Donald "Duck" Dunn, Steve Cropper, Andrew Love, Wayne Jackson, Howard Grimes, Floyd Newman, Robert Talley, and others. We were just kids fresh of out of high school who enjoyed coming in and making music.
The Army drafted me in '65, and I returned to my duties at Stax in '67. While I was gone, though, I missed Otis Redding's coming through Stax and his formative years. That's one thing I regret. Like most of us, I stayed at Stax until it closed its doors in the mid '70s. It owed quite a few people quite a bit of money.
While I was at Stax, I established my own publishing company, Sweet Chariot Music Company, so after Stax, I spent more time with that. I also appeared in two movies, Watts Stax and Mystery Train, and I was instrumental in arranging the sound track for the Craig Brewer hit movie Hustle & Flow. I founded my production company, Marvell Thomas Productions in 1980, which provides entertainment and technical support in a variety of areas. So I didn't stop working — not by a long shot. I just didn't work at Stax anymore.
Music led me to my wife, Naajee. I was playing at a conference for educators, and she was attending. She is the best thing that ever happened to me. My daughter, Leah, is 24 and she is artistically gifted, as well. She was interested in piano until she saw a ballet practice. Now dance is her focus — much like her grandfather, Rufus — and she's also quite the ham — just like Rufus.
I'm honored to have played an integral part in developing the "Memphis Sound," and honored to be part of such a talented, musical family who has played such a seminal role in Memphis, which I consider to be the cradle of the music that has influenced the music of the entire world.
The name Marvell … came from my mother, but I don't have any idea where she got it.
Being a musician is like … nothing else in this world. But that's probably true of any profession a person has a passion for. There's no one else like you. Nobody can be you, but you. And certainly nobody can be better at being you than you!
My first piano … came from a friend of my mother's, whose daughter took piano lessons under duress. As soon as the daughter went off to college, the mother offered the piano to my mother. I was 9 or 10 years old. I remember six guys pulling up in the driveway in a truck and unloading a huge player piano. I saw them, and went outside. I was playing on that piano before they could get it into the house.
My first memory of Beale Street … I used to run around there, beginning when I was five years old, although my mother would have killed me if she'd known. I wandered around and listened to the music. I walked to the river, where Tom Lee Park is today. I'd sit on the bank and watch the barges and just be fascinated with it all. I'd catch the bus and ride the loop route forever.
As far as I know, my father, Rufus Thomas was the first … person to record for two record labels — Sun and Stax — and make the very first hit each record label had. For Sun, it was "Bearcat"; for Stax, it was "Because I Love You," written by Rufus, sung by Rufus and my sister, Carla, and accompanied on keyboards by me.
My father's fame … was something I had to deal with psychologically. When he started working at WDIA, he became a local celebrity, and then when 'DIA became a 100,000-watt station, a regional celebrity. When he started recording at Sun and Stax, he became an international celebrity. Rufus was my father, but he was also a star. What do I do with that? He enjoyed the spotlight, enjoyed being a celebrity. There are very few people I've met in my life who were as good with people as he was.
One thing that never changed … I'm still typically introduced as "Rufus's son." My own name might be included — as an afterthought. It's not a big deal, but it took some getting used to. It is what it is.
From my father, I got … confidence.
The first gig I got paid for … was at a North Memphis club called Currie's Club Tropicana, when I was 16. I was legally too young to be in there, but one of the guys in the band, Floyd Newman, convinced my reluctant mother that he would make sure nothing happened to me. My first night, I got paid by Ben Branch, who wound up being an extraordinary bandleader. But Ben had this habit of folding everyone's money 300 times, down to the size of a postage stamp. By the time the musicians unfolded their money, Ben was long gone home. I was supposed to get paid $15, but when I unfolded the money, there was only $7 there. Fortunately, Ben's girlfriend had stopped him at the exit because she was mad at him. I told Floyd about my short payment, and he got the rest of my money for me. So I got paid short on my very first gig — and it's been the same way ever since!
From my mother, I got … an inner strength, a tenaciousness that is hard to describe. She was extraordinarily giving and helpful to people. She was always there for them, selfless — and she expected her children to be, too.
One early lesson I learned … is that the upfront person you see or hear — the "star on the stage" — is almost never the person who is responsible for pulling together the performance. It's the "background people," such as the players, songwriters, producers, engineers — there is an army of people who make it happen.
While I was in the army, I … organized and performed in a band that toured military installations all over the world. I used to irritate my commanding officer because I got to go places all the time and wasn't under his thumb 24/7!
What I remember about Isaac Hayes … there are a lot of things I remember about him. We worked together a lot, and I co-produced and played on his multi-platinum album, Hot Buttered Soul. Isaac was incredibly creative. He was eventually swallowed up by his own success, his own celebrity. I watched him morph from the good ol' Isaac we all knew to this star who began to believe his own press clippings. He became the description of who he was, and it caused a lot of pain for him and others who knew him well and cared for him. And yes, I rode in his Cadillac several times — and he rode in my Chevy!
The Teen Town Singers … was part of the WDIA thing. AC Williams, one of the jocks and also a high school biology teacher, was a huge music buff. He formed the after-school choral group, which, over the next couple of years, grew to include maybe three or four kids from each of the black high schools in Memphis. I was 12 and Carla was 11 when AC asked my father if we could join the group. We were the two youngest kids to ever be in that group.
Growing up, I thought I wanted to be … a doctor. When I was nine, I had several different kinds of pneumonia simultaneously, and I almost died. My mother rushed me to the hospital with a 105-degree temperature, and I was really sick. I was in the hospital's children's ward for about a month. I started getting better, and I began running errands and doing chores for the interns, such as getting blood samples and doing blood count studies. I was fascinated with it! I also got to watch operations with the surgical students. I thought, "I want to do this!" That childhood goal lasted until STAX Records opened its doors.
My mother and I liked to … cook. She and her sister and first cousin would all cook together, and I'd watch them: How did they put all these separate things into one place and out came such a wonderful result? How do they do that? The first thing I cooked was a coconut cake from scratch — my mother's favorite, but not nearly as good as hers.
My sister, Carla … was more interested in singing than I was. I was more interested in playing. We'd bang things out on the player piano, growing up. When she was 16, she had written the song "Gee Whiz" and had it on tape. My daddy took that song to a couple of record labels, then took it to Stax when it opened. It was Stax Records' very first national hit record.
My least favorite part of being a musician … having to break down and load all the equipment at the end of the gig!
I'll always remember … when Roger Daltry came by the house one night. Nine o'clock. It was me and Daddy. Daddy looked out on the porch and saw a skinny white dude standing there. Daddy didn't know who The Who was. He opened the door, "May I help you?" Roger Daltry, in his nasal cockney accent, told Rufus who he was and said that he wanted to meet Rufus Thomas because the band had just finished recording "Walking the Dog." We all sat there and talked for a long time.
My least favorite music … I don't think I have one. I like it all. Rap? That's not music. That's not to say that rap is not a viable entity. Rap is what it is, but one thing it is not, is music. Music is an entity that consists of at least three primary features: rhythm, harmonic content, and melody.
When Rufus and I had our differences, it was most often about … control.

Many people may not know that Stax … started out as a country music label. Jim Stewart was a country fiddler kind of guy. That didn't fly, of course, but he knew nothing about black music. His sister, Astelle Axton, changed the whole notion of what kind of music they should be doing. Jim wasn't sure what to make of mixing black and white musicians — or what to do about it.
My biggest pet peeve … badly conceived and badly performed music.
The musicians who "wowed" me the most … At Stax, one was my sister Carla, who sings most folks under the table. Also, the singing group The Emotions. And the gospel singer Rance Allen, who was so phenomenal as a singer, it was hard for us to concentrate on playing while he sang.
What most people don't know about Beale Street and Memphis … is that it was a big, serious jazz city prior to its being the "home of the blues" and "birthplace of rock 'n' roll."
As father and son, Rufus and I … made homemade kites. From the textile mill, he would bring home heavy brown paper and string. We'd go out in the woods, and he'd cut twigs to use as the framework; we'd use some of his old ties for the kite's tail. We'd do that all the time. Rufus also played semi-pro baseball, and for a couple of summers, I was the batboy. Occasionally, he would take Carla and me with him to the Palace Theatre, and a fellow worker would keep an eye on us while Rufus emceed the weekly "Amateur Hour." Through that show, he discovered some famous people: B.B. King and Bobby "Blue" Bland, to name a couple. They sometimes played movies before the show. I saw the first Mummy's Curse with Boris Karloff — scared the hell out of me! I love scary movies to this very day.
When Stax closed, I felt … two things: sad and lucky. Lucky because the money Stax owed me — and couldn't pay me — wasn't nearly as much as some of the other musicians. But it was enough to make me worry about paying my rent for a while.
Being the kid of a celebrity … has some perks! Doors open more easily.
One of the rising stars today … Kirk Whalum. He's a local guy, has made a few records in his lifetime — he's wonderful. Most singers today are not musicians. Just because they are singing on a record, does that make them a musician? No. It makes them exactly what they are: a singer. And in a lot of cases, not even that.
One of my best performances … was with Rufus at the '96 Olympics in Atlanta. Everyone was on their feet, and we were all in top form.
Elvis … the whole Elvis thing is a mixed bag of feelings and experiences for me. When I was in high school, I used to slip off from church along with some other kids, and we walked around the corner to the COGIC church there. One of the frequent visitors to that church was a little white kid who sat in the back pew and listened. It was Elvis. He was soaking up the groove. COGIC churches, you see, had bands. He was learning. But everything Elvis did he learned from Jackie Wilson. If you watch footage of them side by side — identical.
What I miss most about Rufus … is that at a moment's notice, he could cheer you up and make you laugh.
When I learned that I was being honored with a brass note on Beale Street, I … had mixed emotions. I stepped outside myself for a moment and said, "It's about time." Because there are some people whose names are on brass notes on Beale Street that no more belong on Beale Street than this table. That said, I was honored, of course. I realized that I didn't have to be on that list at all, so it was an honor to be included.
The song I don't particularly like to play … "Rocky Top." Dumb song.
The band I would pay big bucks to see live … well, I've already seen them — and worked with a lot of them, too. Any group of people that you may think is huge or larger than life — I don't, necessarily.
My final 2 cents … I wish all of the young people who are making "music videos" these days would pay attention to some of the people who actually sing and actually play. Instead of marketing the singing or playing, the marketing emphasis now gets placed on style and individuality. It's all physical. So you can get away with not being able to perform very well just because you're very attractive or different or physically interesting. I'd like the young people to observe the greats who truly make music.