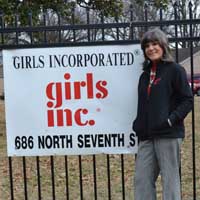 ©DPI Mar 2011 | Photo by Heather Witt
Deborah Hester Harrison
President/CEO of
Girls Inc. of Memphis
I grew up in the Crosstown area of Memphis, and I lived with my maternal grandparents. My grandfather — I called him by his first name, Herbert — was uneducated, and he worked for the railroad. My grandmother didn't work. They weren't especially loving to one another, but they were loving to me. The house was a two-bedroom, one-bath, and the dining room was my bedroom. We weren't at poverty level, but not too far from it.
My mother and father divorced when I was still a baby, and my father lived overseas, so he really wasn't in the picture. My mother was a nightclub singer who traveled a lot. She sang with big bands, and she'd sing at the Peabody Skyway with the Bob Morris Orchestra. They did Glen Miller–style music. I have the most wonderful memories as a small kid of going up and seeing her at the Peabody, and what a cool thing that was. She was a great singer — Billie Holiday style — and I felt proud of her. I thought of her as a movie star!
She owned a club here — just like in Cheers — at the corner of Union and East Street, across from the University of Tennessee. There used to be a Sheraton Motor Inn there, and in the basement was her club, called Beale Street East. They had a jazz trio there, and she would sing. I worked there waiting tables — although I shouldn't have because I was too young. To this day, I can tell you the names of the people who went there and what they drank!
I got married at the end of the ninth grade in May 1968. I started 10th grade at Tech High studying cosmetology, but dropped out after the first semester because I was pregnant. My son Christopher was born June 1, 1969. It was an extremely difficult time, and we were incredibly poor, leaving some apartments in the middle of the night to dodge eviction.
But I took my G.E.D. in 1972 when I was 18 and passed it on the first try. I went to Draughon's Business College, and Ida Belle Barker, who taught fashion merchandising, took me under her wing. She saw potential in me, encouraged me, and helped me with my class work. I even stayed at her home some of the time.
My marriage ended when Christopher was one year old, and I was a single teen mother trying to care for a toddler. Christopher had to go live with his father because I had no support from my family. My grandparents were too old and not willing to help raise a great-grandson, after having already raised a granddaughter. I ended up working in my mother's bar all night, sleeping during the day, and trying to be with Christopher as much as I could. It was a very tough couple of years.
I was bartending at Pancho's Mexican Restaurant in 1973 when I reconnected with Joe Hester, who I knew from working in my mother's club. He was an FBI agent and much older than me — by 27 years. We got married in 1974, and I became a stay-at-home housewife who played a lot of tennis.
Three years later, on June 23, 1977, Christopher died from a brain tumor. He was eight years old. Obviously, this had a great impact on my life, and it was then that I decided I needed to do something more with my life than just play tennis. After a couple of years of grieving, I began to do some volunteer work and held some odd jobs.
I discovered that I liked working, so at age 28, I decided to go to college. I graduated summa cum laude from Memphis State at age 32 with a degree in finance. That was one of the proudest days of my life. I wanted to go into banking, thanks to a good banking professor I had, Wayne Pyeatt, who used to be president of National Bank of Commerce.
I became a bank examiner for the Office of the Comptroller of the Currency, a division of the U.S. Department of Treasury tasked with ensuring a safe and sound national banking system. They make sure banks are complying with federal regulations. I got that job because of Pyeatt, who told me, "The best way to learn the banking industry is to be a bank examiner." It turned out to be excellent advice.
When I went to work in the audit department at Union Planters Bank in 1988, I had a macro understanding of the banking industry. I just loved my work at U.P. and stayed there for 12 years, rising to senior vice president responsible for community and employee relations.
In early 2000, I was asked to serve on the board of the Greater Memphis Area Workforce Development Agency — now called the Workforce Investment Network. It was struggling and in need of new leadership if it was going to succeed. I was very concerned that Memphis would notch up another failure, and I didn't want that to happen. I mentioned my concerns to Elaine Sanford, the board chair at the time, and the next thing I know, Memphis Mayor Willie Herenton — who knew me from the banking industry — said that the job was mine! So I ended my banking career in December 2000.
We did turn that agency around, and many of the systems we started and implemented are still in place. In 2003, after two and a half years, politics and bureaucracy told me it was time to move on, although I loved and believed in what we did. All these Memphis Area Career Centers you see around town? We helped put those together. It was the most challenging job I've ever done, and it was the hardest one to walk away from.
I immediately started getting phone calls from different organizations asking me to help with various projects: Memphis Regional Chamber, Hyde Foundation, Seedco, Urban Youth, and Memphis Business Academy Charter School, to name a few.
I also served on several boards — one of which was Girls Inc. In 2007, about a year and a half after my second husband died, I was asked to be the interim president/CEO for the organization. Within three months, it hit me: This is where I'm supposed to be. I told the board that I wanted to throw my hat in the ring to be considered for the permanent president/CEO position. In July 2008, that's what I became.
I'm so passionate about this job on several levels. I was a teen mother, so I feel a connection with the girls in our various programs. I can also see the difference we're making. I hear the stories; I see the faces — I just know, without question, that we make a difference in these kids' lives. We all have our callings. My calling and my mission are Memphis and the girls of Girls Inc.
As Girls Inc. celebrates its 65th anniversary, I want to … increase the number of after-school locations so we are accessible to a more diverse population and able to serve more girls. I also want to help build great brand awareness about the organization so that more people are involved in what we do and will want to support us monetarily, which would help bring about greater financial stability. Measuring and analyzing results better is also critical to our future success.
My favorite way to interact with the girls … is to give them hugs.
I'm proudest of … the incredible difference we make in the lives of the girls we serve, and I feel privileged every day to hear their stories about how Girls Inc. changed their lives. I'm also proud of the growth we've experienced over the past two years. We've gone from two after-school centers to six, which allowed us to serve an additional 225 girls.
As a child, I dreamed I would be … When I was a kid, it was before women's lib, so I really just wanted to grow up, get married, and have someone take care of me. I had no career plans whatsoever. At that time, it just wasn't the thing.
The biggest lesson Girls Inc. has taught me … is perseverance.
The baby doll in the baby carrier next to my desk … is part of our Preventing Adolescent Pregnancy program. The teens end the program with an overnight retreat called Baby, Think It Over. These baby dolls are computerized to simulate a real baby, so they cry, need to be fed, want to be held, need to be changed, etc. A computer printout tells us if any harm was done to the baby — shaking or hitting, for example. The girls are also given an economics scenario so that during the retreat, they learn the consequences of becoming pregnant, and they learn that babies are not only expensive, but they're a lot of work! It's very effective.
Sometimes I walk through the offices after hours and think … how blessed I am to be here.
I have no … creative or artistic ability at all!
I'll never forget … when I took over as executive director of the Greater Memphis Area Workforce Development Agency in 2000. I had to go annually to Nashville and make a presentation before the Tennessee Department of Labor. The first time I went, I was telling them about all the things the agency was going to accomplish. One of the panel members said, "I'm tired of hearing what Memphis is going to do. I want to hear what you are doing." I looked him straight in the face and said, "I promise you this: Next year when I come back, I'll be telling you what Memphis has done." And we did.
My biggest regret … is I wish I knew the names of all of the girls we serve.
In business, I am … an implementer. I'm not your strategic thinker. But if you give me a plan and tell me what needs to be done, I'm good at organizing and making the plan happen.
The most humbling part of my job … is seeing the dedication and sacrifice of the Girls Inc. team members who I work with every day. Their commitment to this organization and the girls we serve is a continuous inspiration.
The biggest challenges facing young women today … peer pressure, media — including adult-themed music lyrics, television programs, movies, entertainers — sex is everywhere and it's glamorized. When you're young, you just don't know that is not reality.
The biggest misperception people have about Girls Inc. … is that we only work with low-income, at-risk girls. Our programs are for all girls.
What surprised me most about this job … are the incredible variety of programs and once-in-a-lifetime opportunities we offer our girls, such as traveling to New York and ringing the closing bell at NASDAQ, traveling to Washington, DC, and meeting Speaker of the House Nancy Pelosi, and having their photography exhibited at the Memphis Brooks Museum of Art, just to name a few.
The part of this job that requires the most stamina … fundraising.
From my mother, I got … it wasn't her voice, unfortunately!
When I need to totally clear my mind, I … dance. I love to dance. Bop, East Coast swing, and West Coast swing saved my life. About a year after my husband passed away, a friend told me about the Bop Club, a local dance organization that dances weekly on Friday nights. One night when the walls were closing in, I went. They welcomed me in, and I decided to take lessons. It truly saved my life.
In the face of adversity, I … pray.
I have never … done anything that is more rewarding than what I am doing right now.
One of my true loves today … is my husband, Tom. We met at Alfred's on Beale. Alfred's has a 17-piece jazz orchestra that plays Sunday evenings from 6 till 9. Of course, I've loved big bands since I was a child, and I live Downtown. I also knew a few of the band members, so I felt safe going. One night, Tom walked in. I noticed him right away. The drummer happened to know both of us, so he made introductions. We got married in 2009 and had a '60s-themed wedding on the roof of the Center for Southern Folklore with a reception at Alfred's where the Memphis Jazz Orchestra played.
My greatest extravagance … I'm really not an extravagant person. I just have no interest in material things. I'd rather give them away.
I get most discouraged when … things don't go as fast as I want them to. And that happens a lot!
I'm not very good at … numbers. Yeah, I know I've got a degree in finance. What was I thinking? I actually took the test for my C.P.A. and passed three of four parts. What I did not pass was "practice," which is the number crunching.
Most people don't know that I … got married in the ninth grade and became a teenage mom.
One of the most valuable lessons I was taught … was from my grandfather: Have a good work ethic.
The one characteristic about myself I wish I could change … I wish I was able to take things a little more in stride. I'm working on that!
I'm not easily … deterred. I am very strong-willed, and when I make up my mind to do something, I usually get it done.
One of the questions I'd like to ask God … oh, there are so many that we think we want to ask, but I don't think we're going to care when we get to Heaven and understand it all at last.
Looking back now, I realize … that everything that happened to me, all the work I've done, and the relationships I built along the way have all prepared me to be where I am today — this is where I am supposed to be. It's remarkable to me to see God's hand in it.
My final 2 cents … Trust God, and everything else — faith, obedience, perseverance — will fall into place. During a recent sermon, my pastor challenged everyone to pick an area in their lives that they wanted to change and then find one word to focus on in that area of change. We made the commitment to focus on that one word for a year. The word I chose was "trust." If you trust God, everything else in the world falls in place. Trust is the bottom line.