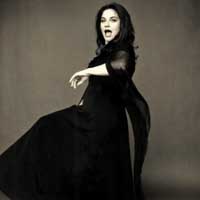 ©DPI Sep 2009 | Photo by Christian Steiner
Kallen Esperian
Operatic Soprano
I'm named after my grandfather, Kalouste, who escaped from Armenia when the Turks invaded. In this country, people called him Kal. My parents were so sure I would be a boy! When I was born, my father said, "What about Kallen?"
My mother — Mary Anna — grew up in a place called "Goose Holler" in Tremont, Mississippi, during the Depression. Her mother raised 10 children after Momma's father died, with no running water, no electricity. Momma was one of the strongest people I've ever known. Wise. She told me stories every night — not read them, but told them — and she'd recite Edgar Allan Poe, her favorite poet.
Momma loved glamour. She should have been an actress. She'd lay out an outfit days before an event. She loved looking beautiful, but was always very noble. Momma had class.
She was also very liberal-minded and very direct. When she said something, you never wondered what she meant. Everyone loved her. She had a great sense of humor.
My father died at 44 when I was 11 months old. I have no memory of him, but I feel I know him from the stories I've heard. Momma and I moved in with her sister, Aunt Ruby, who ran a rooming house in Waukegan, Illinois. Big 1800s house, three stories, narrow. Aunt Ruby had no children, so while Momma worked at the Goodyear Tire factory, Aunt Ruby took care of me.
Momma met Ken Parquette, my dad who raised me from the time I was two years old. He was renting a room. Ken was raised in a Catholic orphanage, and at 17, he joined the Marines after Pearl Harbor was hit. He was a doughnut maker.
When he asked my mother to marry him, she said, "But I don't love you." He said, "But I love you, and you can learn to love me. I will be a good father to Kallen." My mother said, "Then these are the things I want: my own home" — she had never had her own home — "in a community where Kallen can get a good education." He said okay. At one time, he worked three jobs to make that happen, and Momma never worked again as long as he lived. She also came to love him more than any other man.
They were older when they married. Momma was 41 when I was born. My sister, who is 18 years older than me, was from my mother's first marriage. She was already out of the house when I grew up.
My parents bought a home in Barrington, Illinois, a beautiful suburb of Chicago. It was an affluent community, but we were middle-class. Our home was very modest. There were lots of kids, and we rode our bikes. I walked to school. I didn't realize how privileged I was to grow up there.
Ken never knew a stranger. He provided me ballet lessons from the time I was three. Voice lessons. The piano he bought me is sitting in my home. All of these things, and Momma always behind me, encouraging. Ken was a saint — and my hero.
I started entertaining the neighborhood kids when I was three, and I never wondered what I wanted to do — I knew. I wanted to perform.
My high school choral director encouraged me to be a voice major. I didn't know what that was! My piano teacher told my mother, "Piano is not going to be her instrument. It will be her voice."
I started studying voice when I was 16 — the same year I lost my dad. I never in a million years dreamed I would be an opera singer.
Tom Machen and I married in 1982 during my senior year at the University of Illinois. He was there working on his doctorate. We had planned a 1983 wedding, but Opera Theatre of St. Louis offered me the role of Flora in La Traviata — my first professional role! I wasn't going to miss that for a wedding! Tom took a job in Memphis, which brought us here.
I was 24 when I won the Luciano Pavarotti Vocal Competition. Luciano was very much larger than life, and not just because of his size. He was a personality. What made his competitions so great was the prize: a leading role opposite him. So my first full soprano role in Italian was Mimi in La Boheme opposite Luciano Pavarotti.
I was beyond nervous! But he brought out the best in me — he demanded it. I know he believed in me, and that is why he was tough on me. But always kind.
I was 32 when my son, John, was born. I was singing the first aria of Verdi's Luisa Miller when I felt my son kick for the first time!
Tom and I divorced a few years ago, and I pulled back from my opera career. My Aunt Ruby had died around that same time, and my mother died five days after Aunt Ruby. They're buried side by side and share a headstone. "That way," Momma told me before she died, "when you come visit us, you only have to make one stop."
This past spring, I started reconnecting to the opera world. There will come a time — and I will know — when it's time to stop. But it is not now. And then? I think I have a lot to offer as a teacher because I learned from some of the best.
Opera singers are like gladiators.
It takes a lot of stamina. I did a performance in Munich staged on a giant staircase, from the lip of the stage to the fly space. I felt like a mountain goat, and we did the entire opera without intermission! By the end of that production, we were all in shape — or dead!
One of my guilty pleasures is you know, I'm a woman of excess! [laughs] Moderation is not really in my vocabulary, so I don't really feel guilty about my pleasures — I just do them!
It takes nerve to stand up for yourself.
Memorizing a foreign language is so much easier if you put it to a song or a rhythm. You associate the words with the melody. It came pretty naturally for me.
The performance of which I am especially proud was my debut in La Scala because it was very traumatic how that happened. I was the understudy to a famous soprano who was playing the title role in Verdi's Luisa Miller at Milan's legendary opera house. She wasn't singing well, and the audience literally booed her off the stage! I had never seen that happen in a theater, and it brought me to tears. I was a 28-year-old no one, but the next night when I debuted, I got 17 curtain calls, and it was a big deal!
Opera singing is like walking a tightrope.
The best advice I received was from Charles Nelson Reilly and soprano Gwyneth Jones, who said basically the same thing: You must have the courage to look your audience in the eye.
I don't let anyone steal my joy. And there are people who try.
The highest note I've hit is an E-flat above high C, but I wouldn't do it in public without backup! I sing a lot of high C's and high C-sharps.
I'm always mistrustful of whatever my gut tells me to be mistrustful of. But I'd rather be one who trusts and is proven a fool than one who doesn't trust. I will trust you until you teach me otherwise.
My favorite memory of Pavarotti is oh, there are a lot. His voice is in my head all the time. I think, "What would Luciano tell me?" His markings are in most of my opera scores. The memory I have of him is as a human being. The one thing he really was, was honest.
I pay a personal price when I give more than I have to give and try to be all to everyone. I'm a pleaser. All performers are.
An opera singer's voice is a very fragile, valuable instrument. It's not like you can put it in a case or take it to the shop and have it repaired. Renata Tebaldi, after she retired, was standing out on the balcony of her apartment in Milan. Her secretary, alarmed, said, "Why are you standing out here?" The singer smiled and said, "Because I don't have to worry about my voice anymore."
My mother always said, "Where there is a will, there is a way." I have lived by this.
When I first met Placido Domingo, I was overwhelmed by his charm.
My most challenging role… They're all challenging if you try your best to sing them well.
My favorite costume is anything made by Dawn Austin of Dawn's Couturiere. She makes all my gowns, and she's local!
I will never again compromise my happiness or say yes when I want to say no.
When I make a mistake on stage I just keep going! You leave it. It's hard. It may have been just a few seconds, but it seems like an eternity. But you have to leave it and move on. You have to always be focused and stay in the moment. That's a challenge.
My parents' marriage wasn't a romantic relationship; they were best friends, partners in a journey toward a common goal.
I have never been unwilling to try.
When I do romantic scenes on stage I'm always the character. A lot of people don't understand how I can walk into a first rehearsal and do a scene from Tosca where she comes into the church, and she's with Cavaradossi and they're so in love, and at the end they're making out — I don't think the slightest thing about that. I'm just Tosca!
The role I enjoyed most … It depends on the production, on a lot of things. I loved Tosca — perhaps because she's most like me! Bellini's Norma. Desdemona in Otello — perhaps because I would love to be like her.
I performed in my first operatic role in Mozart's The Magic Flute during my freshman year at the University of Illinois. Before that, I'd never even heard an opera!
I don't easily give up. There have been many scores that have been thrown across the room. Traviata is one — I've thrown it across the room many times.
My worst nightmare is a world without nature, beauty, art, music, love — things that make us cultured and put us in touch with the animals we are. I don't want to be in the "cement society."
When someone recognizes me in my personal life it never annoys me. It always pleases me — how could one not be flattered? — and it always surprises me.
My least favorite role was I've honestly loved every role I've ever done. I don't love Micaela in Carmen because she's kind of wimpy. I tried to make her strong, but she just can't compete. Frankly, Micaela is more rewarding vocally, but Carmen! To do that character — wow! I like strong, challenging characters.
The biggest hissy fit I've ever thrown in the opera world? It wasn't about me. I was standing up for someone who I felt was being mistreated.
The time I was most frightened was before a lot of first entrances! But Luciano always said, "If you're not scared, there's something wrong with you." Nerves are good.
I knew I had it made when I don't know that I know that yet. I've always separated my personal life from my professional life. When my son is happy, it's a sunny day. As far as my professional life goes, you're only as good as your last performance. I've never felt like some big deal. I know that God gave me a gift, and I had nothing to do with that. It feeds my soul to use it and to share it. I'm grateful.
My final 2 cents… Live life, for it is truly a gift.