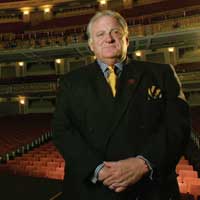 ©DPI Feb 2011 | Photo by Tom Sanford
Pat Halloran
The Orpheum Theatre,
President and CEO
I grew up in a middle-income neighborhood in Omaha, Nebraska, where everyone walked to school. I attended the same school from sixth grade through high school. I was the oldest of five children, and we were a handful!
My father worked for the Walt Disney Company selling Disney movies to theaters throughout the Midwest. I loved the fact that he worked for Walt Disney — I used to think that ol' Walt was just right down the hall from my dad's office, when Walt was actually 2,000 miles away! When my dad had the opportunity to buy the neighborhood theater that was closing, he did. He and my mother — a stay-at-home June Cleaver type — ran the theater.
My family owning a theater made me popular with the other kids. When I was 14, Dad hired me to be the janitor, which I did all the way through high school. During my last two years in high school, I was promoted to nighttime and weekend manager so my parents could take some time off.
I didn't realize it at the time, but that's when I got this bug for Broadway musicals. The King and I, The Sound of Music, Carousel, Oklahoma!, and all the movie musicals. Dad always booked each of them because they were good family shows, ones I sat through time and time again until I knew the scripts and the music by heart.
I went to the University of Nebraska– Omaha where, as a freshman, I took a part-time job at the local TV station — CBS affiliate WOW-TV — as a production assistant. It was the same station where Johnny Carson began his career. I set the lights, ran the teleprompter, gave newscasters their signals, and poured the local beer into a frosted mug during the live commercial. Television was such a phenomenon in those days — the early '60s — and it was just exploding. That's why I decided to major in mass communications. With that degree, I could be a newscaster, a TV director — I could do so many things.
I was also a fraternity man in college. I was athletic director, pledge trainer, and president for Pi Kappa Alpha. I graduated in three years, and during my last semester, I was a student teacher for a freshman Introduction to Television class.
When I was 22, I was appointed assistant dean of men at the University of Miami, where I went to earn my master's degree. Imagine — I was in charge of all male student discipline and was the advisor to the cheerleading squad!
After graduating with my master's in 1969, I was about to take a job in the university president's office as his administrative assistant. But at the same time, a job offer came through to be my college fraternity's executive director at its national headquarters, which is still located in Memphis. The fraternity was bankrupt, and they asked me to help turn it around. I was only 26, and it was a big challenge and opportunity, but it was a tough decision. I really liked Miami and my life there. The university president encouraged me to go to Memphis and give it a try for two years. He would hold the administrative assistant job for me until I came back. So I moved to Memphis on the 4th of July 1969, and stayed in that job for 11 years.
During that time period, I started getting involved in local politics. I still had that "John Kennedy thing" that college students and young people had in those days. I became friends with Gov. Clement's son, Frank Clement Jr. He asked me to help him run Franklin Haney's campaign for governor, and he put me in charge of Shelby County.
After that campaign, I was encouraged to run for Memphis City Council. So I did run for a citywide position in the 1974 election. But many thought me a newcomer, an outsider, and a long shot. To everyone's surprise, I won. I served four years, and then resigned my job at the fraternity to run for city mayor in 1979. I didn't win, but I did beat Prince Mongo!
I knew about The Orpheum Theatre and that it had been closed in 1975. I was paying attention to it because there was an Orpheum theater in Omaha almost identical to this one, designed by the same architects.
The Memphis Orpheum was set to be demolished to make way for a parking lot. A group of prominent Memphians bought the theater and formed the Memphis Development Foundation in 1977 to save and hopefully operate The Orpheum. They knew what they wanted to do, but they weren't having much luck raising money and were struggling.
After losing the mayoral race in 1979, I was trying to figure out what to do. One day in 1980, Deloss Walker, my dear friend and political advisor, called and asked me to meet with the Memphis Development Foundation about a new position. "We need someone to help us figure out what to do with The Orpheum," he said. "Right now, we just know that we want it to be something special."
This looked like an interesting opportunity, and it was the toughest thing I had ever considered. I accepted with the understanding that I'd do this for two years. If I didn't raise the money they needed by then and pull this together the way they wanted, then they needed to find somebody else.
That was 30 years ago, and I'm still here.
We did raise the money to renovate the theater, which meant gutting the building; taking the salvageable components such as seats and chandeliers to be cleaned or repaired; replacing what couldn't be salvaged; removing all the grit and grime; and then building it back up. We renovated the bathrooms, rewired, installed new carpeting, applied new paint — I mean, this place was in horrible condition.
The Orpheum opened its doors to the public in January 1984 with Champagne with Gershwin.
My wife, Anne, and I met sometime around 1990. I had a son and daughter from a previous marriage, and my son was attending Christian Brothers High School. Anne had two sons who were also attending CBHS, and that's how we met.
Looking back, I've been so incredibly lucky. I've had the pleasure of serving on numerous boards over the years, including the Board of Governors of the Broadway League in New York, Memphis in May International Festival, the Memphis Convention and Visitors Bureau as Chairman for three years, and the Memphis & Shelby County Music Commission. For the past eight years, I've been busy serving as president of the Independent Presenters Network, a consortium of 100 theaters across North America and Japan. And, of course, I'm proud to have received three Tony Awards and The Outstanding Broadway Executive Award. And now, I'm really having fun and loving every minute of it. Looking back over the past 30 years, I recall all of those who have supported the theater and my efforts. We really did something special.
The Orpheum Theatre's Broadway shows are selected by … As president of the Memphis Development Foundation and The Orpheum, I am the one who selects the Broadway shows and some concerts.
The most difficult Broadway show we produced was …Phantom of the Opera in 1997 because we had to knock out the back stage wall and spend $9 million renovating the theater to accommodate it and other new shows, such as Miss Saigon and Sunset Boulevard. Watching Phantom on opening night was one of the most rewarding moments of my career.
My favorite Broadway show is … for a long time, it was Les Miserables. But now, Memphis, the 2010 Tony Award–winning musical, has moved to the top of my list. I have many favorites, but these two I could see over and over.
Sometimes I walk through the empty Orpheum when it is dark and think … we've come a long way, but what are we going to do next?
The biggest difference in the entertainment industry today versus 30 years ago … There are three major differences. First is the cost of the shows and concerts. For a one-week Broadway production, we need to sell more than half a million dollars in tickets before we break even. And the cost of the concert entertainers is out of sight. Second is the competition today for the entertainment dollar. Back in 1980, there were no Grizzlies, Redbirds, or casinos within 1,800 miles. The third challenge today centers around society's fascination with and commitment to computers and all the other technological gadgets that usurp people's time. There are still only seven days in a week, and people are being pulled in many more directions than they were 30 years ago.
The short list of Broadway stars I've met … Cary Grant, the coolest man I ever met, Robert Goulet, Dorothy Hamill, and Stacy Keach. These were and are special, lifetime friends, but I have met hundreds of others who made a positive impression, and I enjoy meeting and working with them.
The most humbling part of this job is … when a show fails, nobody comes, and I know I picked it!
One of my funniest memories … happened at the television station where I worked during my freshman year in college. They did live commercials. One of our big sponsors was a local beer manufacturer, and we had to pour beer into a glass while the camera was rolling. But the head on the beer had to be just right or the sponsor would throw a fit. So we practiced before the commercial take. By the time we got finished rehearsing, pouring became a real challenge!
The biggest flop this year … was The Color Purple on its second run. We brought it back too soon. It sold out so fast the first time it was here — we set records! I mean, we brought Cats back 16 times, so we thought surely this one would be good for at least one more. But, it was not to happen.
My father taught me … how to be a father. He taught in a way that was a learning experience but not a lecture. He was a very funny man and had a lot of friends, and I wanted to emulate him. He was my hero. He coached our junior league baseball teams; he gave me that first job. He was always warm and caring — he was always there. I learned much of what I think is part of my personality and character from my dad.
When I first moved to Memphis … you couldn't buy a cocktail here, which was very different from my life in Miami! There were no bars in Shelby County. The only way you could get a drink in Memphis was to go to a liquor store and buy it, wrap the bottle in a paper bag, and take it to a restaurant where they'd serve it to you in a glass for 50 cents. Or could you belong to a country club, and I wasn't being asked to do that. I think Memphis knew I was in town because four months after I arrived, the law was changed to liquor by the drink!
When I ran for mayor … I was a little bit ahead of my time. I was in favor of consolidation, with the idea of keeping the school districts separate for the time being so that emotional topic was set aside. I also thought everyone in political office ought to list all the people they did business with who might present a conflict of interest. When I ran for city mayor at the end of my council term, that was my campaign platform.
I wanted to be mayor of Memphis because … I could see that's where change occurred. I could see that if I were ever going to have an impact and bring new ideas to the table and nurture them through, I'd have to be mayor.
I took this Orpheum job even though Downtown was in rough shape because … Although department stores and other retail outlets were leaving for the suburbs, I saw that the government and banks had a strong foothold in Downtown, and there were these jewels like The Peabody and The Orpheum that were beginning to make a comeback. Beale Street was developing its strategy for renewal. I knew it was something we all had to pitch in and try to change. I don't know of a great city in the world that doesn't have a solid downtown. I knew this was going to be a tough battle, but I was excited by the challenge.
When I received my first Tony Award in 2003 as a producer of Thoroughly Modern Millie, I … was really surprised. Producers raise money, and that's what I do with a little input on the marketing plans.
When I received the third Tony Award in 2010 as a producer when Memphis, The Musical won for Best Musical, I … felt more involved with this one because I saw how excited and proud this show would make Memphis.
Most people don't know … that I owned an art gallery Downtown on North Second Street, the Pat Halloran Court Square Gallery. And how smart was I? The day I opened the gallery in 1976, the big department store Woolf Brothers located across the street announced it was closing! Not a good omen.
The entertainment business is … for the most part, filled with wonderful people. Yes, you run into some asses sometimes, but generally, the people in this business are most giving. They want to make you smile, make you happy.
My star on The Orpheum's Sidewalk of Stars … will be set between Robert Goulet and Cary Grant, two of my best friends in the business.
People might be surprised to learn … that I love thoroughbred horse racing. I currently have a percentage of four Phillies, two of which are getting ready to hit the track and start their career.
My fondest childhood memories were … when Dad and I cooked together. He and I would cook the entire Thanksgiving dinner. My mother, quite frankly, was not a good cook. We'd joke that the flies took a vote one day and decided to mend the back door screen when Mom was cooking!
My favorite restaurant … I think Memphis has outstanding restaurants that can compete with other big cities. I have six favorites that are absolutely as good as it gets, and I would put them up against the best six in New York, San Francisco, or any other city in the country. I can't pick one because the owners and chefs are all friends, and I don't want to lose their friendship. However, I will tell you my favorite restaurant in New York. It's Chin Chin on East 49th Street. I eat there at least once a month.
My final 2 cents … There's still much left to do on my watch. We need to take The Orpheum's educational programming to the next level. We have a phenomenal education department and 17 programs that require a minimum of half a million dollars per year to fund. That's really the future of our industry, to reach each new generation and expose them to the performing arts. Education in America, at least for the masses, is in deplorable condition. Those in charge keep reducing the role of arts in our education programs. I think The Orpheum, in its limited way, is helping fill the void. We are committed and working toward a positive end.