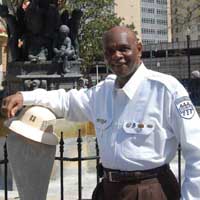 ©DPI Apr 2011 | Photo by Jodie Vance
Gaston Davis
Manager of
Blue Suede Brigade
I was born in Memphis in 1948 and named after my father. For a long time, I thought I was named after John Gaston Hospital, because I was born there.
We lived at 222 Wisconsin in Ft. Pickering, over by the bubble gum factory. I was the third son — the ninth child — out of 14. We had a wonderful family. I didn't realize we were poor until I was grown because we had such a joyful time in the family.
We'd go barefoot in the summer — except for Sundays — because we had to save our shoes for school. We'd walk from our home to the stockyards to get some five-gallon buckets they'd discarded, and then we'd walk out to Presidents Island. We'd gather berries and plums, and then take our filled buckets to the highway, where we sold what we'd picked. In the fall, we'd gather walnuts and pecans and do the same thing. We gave the money we made to our mother.
My father was a local truck driver for Jones Truck Lines, and he was an alcoholic. I didn't realize that until I got older, too. But he was a functioning alcoholic — went to work every day. He didn't drink around the house. He was home every night, but on Fridays, he'd give Mom the money he had earned that week, and then he'd disappear for the weekend. He was strictly a money provider. Later, when he was dying of cancer, I had a chance to really talk to him, and I realized then that he did all that he was able to do.
My mother was a wonderful, spiritual, nurturing lady. She taught all of us how to cook. She was a teacher — not a schoolteacher, but had a teaching manner. She read the Bible with us and helped us with our homework. The whole family went to church three times a day on Sunday, and we enjoyed going to church — until we got older!
We moved from Ft. Pickering to the Walker Homes development on Third when I was 12. I believe it was the first brand-new neighborhood built for blacks. Beautiful homes. Our three-bedroom and one-bath house cost $7,000. My mother was very savvy with what money Dad brought home.
There, I entered an environment where other people had more than we did — new, nice cars and not as many children in their home — and I first realized that our family struggled. I didn't like that my mom had to struggle. I always worked somewhere, doing something, and I always tried to provide. I'd buy candy at the Hershey candy factory at the corner of Wisconsin and Kansas and take it to school to sell so I could give Mom some money.
My first paying job was when I was 13. I used to walk into the neighborhood grocery store, and I'd see a stocker stamping prices on the cans. I just started helping him. Every time I saw him, I'd help him. He finally gave me a job. Everything I earned, I took to my mama, and she'd buy my school clothes with it.
Out of high school, I went into the U.S. Army. As a child, I dreamed I would be some kind of designer, and the Army said they would educate me to be an engineer. But the Vietnam War was going on, and I went AWOL when I found out they were planning to send me there. I wasn't afraid to go, but I was disappointed and angry. I was given an undesirable discharge in 1970 — and they never did teach me engineering!
I went to a vo-tech school for seven months, worked a few different mediocre jobs, and then got a job as a forklift driver at Diesel Recon. It was while I attended the vo-tech school that I started drinking. I'm actually a very shy person. When I drank liquor, it was a different story. I'd dance with every girl at the party, walk the nicest girl home from the party, and got a kiss when I got her to the door.
After 12 years at Diesel Recon, a friend of mine and I went into business together as general contractors, building homes and buildings. By this time, I'm in my early 30s. Still drinking. We couldn't manage the work crews, so we took the little building we had our offices in and decided to make it into a nightclub — King's Lounge at Mitchell and Daggett. It sounded good at the time!
I was doing well — had a nice home in Whitehaven, a marriage of 17 years — but my friend and I hung around the nightclub all the time, just messing around. We didn't want to go home, and our marriages started to go down with us. I didn't realize how blessed I had been; I didn't realize I had an addiction.
In my mid 30s, my mother fell ill, and that was the trigger that sent my life down the chute. I got divorced, kept drinking, and started snorting crack cocaine. I lived with my father until he passed away eight years after my mom. My family caught on to my drug dealing, and they told me to find help or leave the house.
I was walking down Horn Lake Road at two in the morning. I came to a bridge, and something told me to jump. I stood there and thought about it. I was in so much pain. But God gave me a vision of my three children. I walked to my sister's house, and we stayed up all night calling different places that could help me overcome my addiction.
When I came out of rehab, I went to live with my brother — who was a drug addict. Of course, that didn't work, and I relapsed. So there I was, 44 years old, and I'm living in a rooming house on Fourth Street. I woke up one night. I hadn't paid my rent, and I knew I was going to be evicted come Monday morning. I looked at myself in the bathroom mirror — I looked terrible. I walked down the street to Memphis Union Mission. But they were closed, so I walked to The Med and sat there all night, and then came back to the mission the following morning. I gave my life to God.
When I got out of rehab, I went to Shelby State to get an associate degree in addiction counseling. Loved it. I learned so much that I still use today. I enjoyed working a variety of counseling jobs.
In 1994, I was living in the Exchange Building Downtown, and the resident manager hooked me up with the Center City Commission, who was looking for a program starter to help them develop and launch the Blue Suede Brigade project.
I did all the training of the brigadiers, using what I had learned from my addiction counseling education, to help them learn how to interact with people and how to act and react in various circumstances.
Today, I'm the manager of Downtown Environment, Parking, and 13 brigadier ambassadors — and I'm a brigadier myself. We are the eyes and ears for Memphis Police Department and the Downtown community, reporting problems and needed repairs we see — street lights out, trash bins overflowing. I love this job. I like being a part of something that helps people and is good for the city. I like solving problems, and I love Memphis. Memphis has so very much to offer, and I want people to know that.
A good Blue Suede Brigadier … First, they have to be mature — that takes care of a lot of things. You've got to have a love for your city. You've got to support it even when something is wrong. You've got to be open-minded when it comes to interacting with people because you're going to meet every kind of person there is. You've got to handle rejection well, and you've got to be able to retain a lot of knowledge about Downtown and the city overall.
My favorite brigadier motto … "If you encounter a problem, you own the problem until you solve the problem or give it to someone else to solve." I always try to solve it!
The question tourists ask most often … "Where's the best barbeque?" I answer, "Well, you're in Memphis, Tennessee, and all of it is good!" I recommend different places depending on their tastes and the time of day.
The second question tourists ask most often … "Who are you, and why are you dressed like that?"
I tell the brigadiers … I try to paint the picture that everyone is different. Everything that you hear and think is not necessarily what you believe you hear and think. You've got to give it an opportunity. In dealing with people, see them as you see yourself. When they leave here, they need to remember you, what you said, your city — and feel good about it. And there are a thousand ways of doing that.
I'm always looking … to learn something new about the city so I can share it with others.
We teach brigadiers … the "5 and 10." When a person is approaching, and they reach 10 feet from you, acknowledge that person, no matter what you're doing. When they get 5 feet from you, extend your hand and ask, "Is there anything I can help you with?" If they don't want to be bothered, you wish them a good day. But you'll usually see them again — and they're walking a little slower!
The biggest lesson I learned from my father … He'd say, "If you wake up in the morning and your eyes open, stand up. Don't lie back down. If you do, you're lazy." I didn't want to be that. So every time I woke up, I made sure I stood up. Once I stood up, I'd go from there. I've done that all my life.
When I quit drinking … I found peace, strength, and God. If you ever watch Wild Kingdom, when the wildebeests or zebras get complacent and forget they're in a dangerous world, that's when the tiger attacks. With alcohol, you have to be on your guard all the time. When cocaine comes to my mind — and it probably always will — I see death.
A brigadier should never … Whoa! There are a lot of things brigadiers are never supposed to do! They can't smoke or walk down the mall talking on their cell phone. No eating or drinking. They can't congregate for long periods of time — that's why we've got radios.
Some of the things we routinely recommend … a trolley ride. We give free walking tours.
My biggest challenge as a brigadier … is convincing other agencies of their responsibilities. There are so many things that need to be done Downtown, and so many want to pass the buck and not own up.
When the weather is really bad … In the military, we had a saying: "It doesn't rain in the Army; it rains on the Army!" We'll dispatch the brigadiers to an indoor location — perhaps a hotel, a museum, or the trolley.
If a situation becomes dangerous … the first thing we do is try a deterrent — by our presence, and then by the radio. We'll call a Code 1 on the radio — Code 1 means I'm only radioing because I'm trying to deter a situation. Brigadiers will reply, "Is backup necessary?" and I say, "Stand by." People usually take off when they hear the radio. If they don't? We call security.
The number of uniforms each brigadier owns … Probably 10 — or more.
The part of the uniform I dislike most … the sash! I don't know why. I just don't see that it's necessary! But I wear it. Now, the females, they don't like the hat!
I'm proudest of … my brigadiers. We maintain and recruit the best quality. Many of them have been with us a long time.
One of my most embarrassing moments … I came up on a group of tourists, and the children were all carrying musical instruments. They asked me to sing an Elvis song. I wanted to say no — I didn't want any part of it! But being a brigadier, I did it. I made a fool of myself! What did I sing? Why, "Hound Dog," of course!
The number of miles we walk … I imagine 25 or 30 miles a day.
What angers me most … is when I see a man being disrespectful to a woman. I try to detour it or eliminate it, and I'm usually successful. I comfort the person being violated, then I mic my radio as loud as I can mic it, and I call for security. Normally, that clears things up.
The type of weather that's hardest to tolerate … Rain. It's so messy.
One of the best Christmases I had … My father was working on the docks instead of driving a truck because of a DUI he received, so he wasn't making much money. My mother told us children to each pick out something we owned and treasured — a sweater, a coat — and give it to a sibling. We went out and cut down a small tree. We brought it home and put it up. We strung popcorn and made our own Christmas tree decorations out of paper and crayons. Other kids made fun of us, but it was one of the best Christmases ever!
One of the worst things that happened to me while on patrol … A guy was drinking beer on Main Street, and I told him he wasn't allowed to do that. So he threw his cup of beer on my uniform and took off. I really wanted to hit him with my radio! That just ruined my day!
The secret to staying comfortable while on patrol … is being neat. If your clothes fit and you look presentable, you feel comfortable. In the summer, I encourage the brigadiers to wear cotton T-shirts. In the winter, don't over-dress.
The biggest misperception people have about brigadiers … People have no idea what all this job entails and how much ongoing training and knowledge it requires. Most people probably think we're just out there pointing directions. We're actually highly trained, educated professionals.
My final 2 cents … I do love this job, and I love this city. It's a blessing to me. I enjoy it, I'm dedicated to it, and I believe in it.