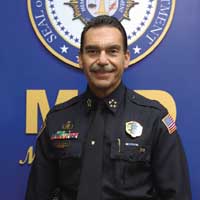 ©DPI Jun 2010 | Photo by Shannon Maltby
Larry A. Godwin
Director of Police Services for the City of Memphis
My maternal grandparents emigrated from Italy in the late 1800s. My mother and her nine sisters and brothers went to St. Patrick's Catholic Church Downtown. They lived on Vance at Third. My father was a self-employed refrigeration repairman and, in 1951, took a job in Borger, TX, where I was born. Shortly thereafter, my mother said, "It's time to go back to Memphis."
When we returned here in late 1951, we lived with my grandparents at 119 Market, which is where the Memphis Marriott Hotel is today. There was no front yard. All the houses were very small. One family lived downstairs, and one family lived upstairs. We lived upstairs with my grandparents. We had a large back porch that overlooked Downtown Memphis. The police station was at 128 Adams, and we could see it from our porch. We played in the alley that ran down by it.
I have a picture of myself standing on that porch.
You look at what I'm wearing and at the bench we sat on — we all thought it was the neatest stuff in the world! Today, it wouldn't be good enough for some. Back then, it was perfect.
My grandmother spoke very little English. My grandfather could speak a couple of languages, but he didn't say a whole lot. Both of them were really strict — but they loved you. And man, could my mamaw cook!
Growing up, you just behaved yourself, stayed out of the house as much as possible, and went outside and played because it was too hot in the house or you were in the way.
I remember walking down to Barzizza's with my grandmother. It was on North Main Street. It had old, wooden floors, and the whole place smelled like salami, olives, and baccala, which is salted codfish. I hated the smell of that fish! Real salty. But all together, everything smelled really good. There'd be a big barrel of candy almonds, and the owner would let me have one — and I mean just one!
I remember standing at the meat counter listening to my grandmother tell the butcher what she wanted. I couldn't understand them; they were talking Italian. He put a block of meat up there, and we took it home. My grandmother got out her grinder. She'd sit there and grind and grind that meat while I held the grinder on the table. I asked, "Mamaw, why didn't you let the butcher grind this?" She slapped me upside the back of my head and said, "You listen to me, laddie. Butcher grind, butcher put meat on scale, then butcher take." In other words, he'd weigh the meat, charge her, then grind it up and keep a little bit for himself.
At Christmas, it was spaghetti, ravioli — all homemade. Homemade wine, too. My grandmother sold it to buy food. My momma would stomp the grapes because she was the heaviest. We rarely drank a soda; we drank water. There was never a candy bar in my life until I was 9 or 10. Instead, at night, you were allowed a piece of cantaloupe, some watermelon, and grapes now and then.
When my grandparents watched TV — which was rare — my grandfather would turn the sound off because they didn't understand English very well. We'd watch TV with no sound at their house — there wasn't but three channels, anyway! He'd also give me a dime once a week and tell me to go to the store and get him an RC Cola. There would be a penny or two left over, and he'd let me have it. Shoot, I could get two pieces of candy for a penny!
I had an older brother, Allen, who really looked after me, and a whole lot of cousins!
After that, we lived in a shotgun house on Peabody at Belvedere, then a small rental on North Parkway, then a place on Chelsea. Chelsea was the nicest house we ever had. My brother and I got to share a bedroom. Before, there had been only one bedroom, so we slept on the couch. We had lived there about a year when my father was murdered at Thomas and Chelsea — right in front of me.
I was 10 years old.
They took me home to bed. My mom woke me up in the middle of the night and brought me in the kitchen. There were police officers everywhere. She asked, "Do you know your father died?" I remember looking around at the officers standing in my kitchen, and I remember I never felt more secure and safe. I told my mom then, "When I grow up, I want to be a Memphis police officer."
After that, we lost the house because there was no money. We moved to Thomas Street and lived about a block from where my father was murdered, and that would be the home I grew up in: a shotgun house right next to the fire station. In the winter, we did homework in the bathroom or kitchen. Mom would turn the gas on in the oven to warm the kitchen. In the bathroom, I would get a TV tray and turn the heat on in there to stay warm. The only other heater we had in the house was in the living room. Nothing in the bedrooms. I can remember when I was an 11-year-old, she'd give me a stapler and hammer to put plastic over the windows. Those old plaster walls would sweat, and the wind would come whistling through the walls. During the colder months, I'd have to stand on a ladder and pour hot water over the pipes to thaw them so we could have running water.
But it was always clean. My mother was a perfectionist and kept everything neat. We were very poor financially, but very rich in many, many other ways.
We played baseball in Bickford Park. Six, seven Italian-Americans, a few white guys, and the rest African-Americans. We didn't have any issues. We had nine gloves, one ball, and one bat. When you came in from the outfield, you threw your glove up in the air for the next outfielder. In the winter, we played football. Holy Names Catholic School had a gym, and the priests let us play basketball there. Neighbors took us fishing from time to time.
I was really big into the Marines when I was a kid. All I would watch were war movies. I liked the camouflaged helmet they had. I liked the globe and anchor that said "USMC," and I liked that they were the best. We played mostly war games. The police who rode the neighborhood were like father figures to us. They structured and influenced me.
We all went to Holy Names Catholic School. Being poor got harder on me in the 7th and 8th grades. At the beginning of the school year, everyone got a new coat, and the first time it turned cold, they'd all wear their new coats. I wanted one so bad.
My mom had a Sears credit card, which was very rare for a single person raising two boys on a fixed income. It was a paper credit card, and the limit was probably around $200. She knew I didn't have the clothes I wished I had. She'd give me that card and say, "Go get you two pants, two shirts, and a coat — and if the shoes are on sale, get a pair."
I walked over to Sears Crosstown. They had three shirts I wanted. They had a tie I wanted for Easter and Christmas masses. I used a store phone and called Mom to see if it was okay that I bought them, and she let me get them. Then I'd get to school and notice that my coat was a little different because theirs came from Goldsmith's and mine came from Sears.
I got a job at Montesi's Supermarket when I turned 16 — my first job where I could make a little bit of money and buy a few things I wanted. I was a sacker. I begged to be one of the basket guys outside. They got to load groceries, and that meant tips. We had contests to see who could make the longest train of baskets to take back into the store. So it was more fun, and it made your nights go faster. My plan was to join the Marines, then the Memphis Police Department. I was afraid the Vietnam War might end before I could get there.
In my senior year, I wasn't old enough to join the police force — you had to be 21 — but at 17 years old, I could join the Marines. We were still fighting in Vietnam, and I'll never forget begging my mom to let me join. I wanted her blessing, also. I was sworn in Feb. 26, 1969.
I signed up for four years, which would put me at 21 years old when I got out. I was in a staging area in Okinawa, within days of being deployed to Vietnam, and a guy looks over at my enlistment papers. He says, "Why are you going to Vietnam? You get out in 1971." I thought, "No way!" Turns out my mother had signed me up for two years, not four. Her signature overrode mine because I was only 17.
The Marine Corps influenced me heavily — all the things they instill in you. To be part of the 1st Marine Division made it even more special because you were the best, the toughest, and the bravest. I was meritoriously promoted to corporal, which was quite an honor. I was also selected Marine of the Year in 1970, representing my base.
When I was discharged, I was 19. Knowing there was a gap of two years before I could join the police department, I thought about enlisting for two more years. It meant more money and, man, did I want a new Chevelle! But something told me I should just come home.
I went to work for Westinghouse Elevator, installing elevators at buildings like NBC and Clark Tower. I worked hard and dated my future wife, Nina. In December 1972, we married.
During this time, I was visiting the police station Downtown almost weekly, trying to get hired. Finally, Inspector Wannamaker called me into his office, picked up the phone, and said, "I want this kid in the next class." He asked how old I was. Turns out that the class graduated one week before I would turn 21. They couldn't take me. I tried to bargain with them, but no going. That was August 1972.
At the beginning of 1973, I heard there was going to be another police class starting, so I called Downtown to ask about it. Lt. Fred Warner talked to me about being an undercover officer. I told him I'd do whatever they wanted me to do. A couple of months later, I was instructed to meet two policemen at a hotel, where I took the test. Then I heard nothing, and I continued working for Westinghouse Elevator.
Nina and I had bought a little house in Frayser, and Nina was going to school while I worked. I grew impatient because I wasn't hearing anything from the police department. I told Nina I was going to quit Westinghouse, that I had to be a police officer.
So I quit and went straight Downtown and into metro narcotics. I said I needed to see Lt. Warner. I'd never met him. He asked me what I was doing there. I said I wanted a job. He said, "You've got a job! Now get out of here and don't let anyone see you down here again! We'll call you! You're hired! We'll swear you in tonight or tomorrow." I ran out of there! So I began my police career as a Metro Narcotics Undercover Operations officer. I was sworn in May 2, 1973.
My first paycheck was a shocker! At Westinghouse, I brought home $220 a week. My first paycheck with the MPD was $446 — for the month. I asked, "Are you kidding me? This is it?" I hadn't asked how much I was going to make because I didn't care! I wanted to be a cop so bad! But how was I going to tell my wife? I told her, "We're making about half of what we used to." She said, "Don't worry about it. I'll go to work."
We struggled for a while. On Thursday mornings, she'd leave $8 on the stove. That was my spending money for the week. We ate at her parents' as often as we could. We ate eggs, the cheapest thing we could buy. My mom dropped off care packages of pasta and spaghetti gravy. Then, all of a sudden, we were better off than before. We were eventually able to buy Nina a car.
My wife went through a whole lot with my undercover work. We didn't go out very much, anyway, but it all had to stop. People started seeing me out on the street. They'd talk about me. "Where's his wife? Have you noticed how he doesn't shave anymore? I think he's dealing drugs." My sister-in-law called Nina one night and said, "I don't want to be the one to tell you this, but we saw Larry hanging out with a bunch of thugs in Overton Square. If I didn't know better, I'd think he's over there buying dope!" Which I was! So the family finally had to be told.
Our friends quit calling us. We really didn't have anyone to go out with. Nina was by herself until I got home. If we did go out, Nina was always dressed like a hippy girl to match the rough way I looked. She was really something else, as I look back on it — really intelligent and could do it all.
There was a bar in Frayser called Bachelor and Three that was known for wild bands and drugs. You could buy all the heroin you wanted. Thuggish guys with long hair. I had worked my way in there big time. One night, one of the guys said, "Man, you know we like and trust you, Nick, but we think your friend is a narc." I told him he was crazy, that we were in Vietnam together and he was cool. The guy said, "I see you two together all the time, but no girls." I said, "That's because she's at home waiting on me. I'm supposed to pick some stuff up and take it to her." He said, "I tell you what. Why don't you just go get your girl, and I'll see you later." It made me so mad! I went home and told my wife, "Put on the most ragged jeans you've got, mess your hair up, put on a flimsy T-shirt. Your name is Judy, and my name is Nick — don't forget it! We're going to walk in this place. I'll treat you half like crap but you need to hang all over me. Somebody is going to come up and want to sell something to me. You let me handle it." We weren't in there three minutes, and the guy said, "Hey, Nick, listen. Sorry about earlier. I've got your stuff right here." I said, "I don't need it now. I already got what I need. "We then left and I told my wife, "We're not ever doing this again!" But that was the only way I knew to save my butt. That was just the scene back then.
I worked undercover for five years and four months before they surfaced me. I worked in the narcotics bureau for 10 months, then I went to the police academy. I have worked numerous assignments and through various promotions during my career, including uniform patrol, multiple task forces, TACT unit, and training academy instructor. I received my sergeant's promotion in 1988, lieutenant in 1992, major in 1998, and inspector in 2001. I was appointed to deputy chief in early 2003, then interim director of the Memphis Police Department in August 2004. I became the director three months later.
Since then, I think we've brought some esprit de corps back, some spit and polish. All in all, I have made some significant changes in this department. We've come a long way, and we are going in the right direction. There's not a better police department in the country. I'm happy about what we've accomplished and with the great job our officers are doing for the citizens of Memphis.


If I couldn't have been a police officer, I would have been a career Marine.
The trick to a successful career in law enforcement is to do your job. Be consistent. Be objective — always. Be honest and up front, because they're going to find out the truth anyway. Don't be afraid to mess up in your career, because you will. If you learn from it, it's okay.
When you do your job right you don't have to tell people about it. They know.
The basic difference between police officers and firefighters … Police officers aren't always the good guys in the eyes of the public. Firefighters are.
From my mother I learned to care. Be respectful to people. Don't lie. Mom and I were very close. She was my best friend. As an adult, I'd go over and pay her bills. She'd make me write a check for $2 and $3 to the Association of Miraculous Medals Children's Orphanage. As poor as she was, she'd still give money to others. She bought only what she needed. When she died in 1996, she didn't have much money — but she was happy in life.
The battle I get most tired of fighting is the political one, legislative entities, the media. Everyone has a right to question us because we are paid by the citizens of Memphis, and we are accountable to the taxpayers. But when questions start challenging my integrity and the integrity of the department, it's tiresome — especially when we're doing the very best job we can by delivering the best possible service to the citizens.
Have I ever shot someone? I don't think so. In Vietnam, it was a little different. If we flew into a "hot area," we were told to lay down a line of fire, so I guess there was the possibility we hit someone. But just point-blank shot someone? No. Shot at someone? Yes.
My favorite home-cooked meal … Just one? It'd have to be my mom's spaghetti gravy with meatballs. And homemade ravioli.
The first time I put on a police uniform I don't know if my feet were touching the ground! Being undercover, of course, I didn't have a badge, uniform, or anything for years. When I got the badge on the shirt — I couldn't imagine doing anything else then. I was so honored and proud to wear that badge, and I still am today.
My biggest fear on the job … I think the first time my heart really pounded was as an undercover officer. I was sent into a club to see if the drug dealers I'd been buying from were in there. When I walked in, they unplugged the jukebox, which is what they do to identify a narc. I asked, "Is there a problem?" I picked up a pool stick to shoot some pool. Next thing you know, the music is plugged back in. I threw the cue stick down and walked up to buy a beer. The bartender said, "God dang it, Nick. You know we're crazy about you, man. They're saying you're a narc. Is that true?" I said, "I can't believe you'd even ask me that." He said, "Never mind. The beer's on me."
I'm not very good at hiding my emotions. I'm very passionate about what I do.
My favorite cop show … Well, it wasn't Miami Vice or any of those. Some movies that have been very realistic and I can relate to are Serpico, Donnie Brasco,The Departed.
One of the most disgusting things I witnessed was as an undercover officer when I'd go buy heroin and watch everyone shoot it up. You act like it's nothing and start shooting the breeze about something else. But deep down, you're going, "Oh, my God! I can't believe they put the needle there," because they're looking for a vein anywhere they can find one.
My biggest vice is I love sharing a good glass of Chianti with family and friends — and wearing custom-tailored suits.
When our first child was born it didn't change the way I felt about the dangers of my job. As a matter of fact, I think it made me hungrier and want to do more. About the time he was born, I was asked to remain undercover a little longer. We set up the first video apartment, wired the first automobile, and we did drug deals in the apartment. I had to live in that apartment. It was awful. That was the worst assignment I ever had because I lived in two places. I'd get home at 9 at night. Nina had to work the next day, and the baby was in bed. This lasted almost a year before we closed it down. Then they surfaced me, and I started the academy. Finally, I'm a cop — and not just any cop, but a Memphis cop!
The part of this job that requires the most stamina is when we lose a police officer in the line of duty. I'm supposed to be the strong one, but it hurts inside.
I'm quickest to anger when we deal with discipline in the department, and it's overturned because civil service or an arbitrator didn't see the same facts we did. Not only is it an injustice to the citizens, it's an injustice to that person. It's time to stop embarrassing this department, the citizens, and your family. What is it going to take for them to get the message that it means something to wear this badge?
I start each day by saying one Hail Mary in memory of my mother and my brother. Rex — our 11-year-old Border collie — and I go get the newspaper. I feed him, and then we split a waffle with nothing on it.
I miss just being a cop in uniform patrol. That was fun and rewarding. I didn't know how much I had it made!
The closest I came to dying … well, the time I was most concerned about it was when we walked into a house and a motorcycle gang put shotguns on us. They wanted to know which one was Starsky and which was Hutch. With my hand on my pistol, I was thinking, "Do I shoot, draw down on him now, or wait?" I waited. They ended up putting the guns down.
I manage the stress of this position by going to the gym three days a week and venting on my fabulous assistants and chiefs. After I yell, rant, and rave, they say, "Okay, Director, now you're ready to deal with this."
One of the men I admire most is Gen. Norman Schwarzkopf. He could strategize, he could win a war, and he was respected.
The advice I'd give my successor is first, never forget where you came from. Second, you'd better have good character because at times, it will be all you have to lean on.
I have never grown tired of coming to work. I've never regretted the path I took, and I have never accepted losing.
My children grew up to be … Anthony works for the Memphis Police Department, currently assigned to the Organized Crime Unit. Lucian graduated from the University of Memphis in May and wants to go to graduate school. After Angelina graduates from the University of Memphis next year, she wants to go to the University of Tennessee's pharmacy school.
I don't always make everybody happy. In this chair, you have to make hard decisions. I try to get the best advice I can and make the best decisions possible.
My final 2 cents is first, I've been extremely blessed in a rewarding life. I would like to think that I've made a difference, that I will leave this department a little better than it was when I got here. I hope that God will help me accept that when it's my time to leave the department, I'm ready — that I'm not still hungry. I feel like I've played ball for my favorite university, and they made me the head coach. How did 37 years go by so quickly? I'm extremely honored to be the director of the finest police department in the country, and it is truly a privilege to serve the citizens of Memphis for so many years.