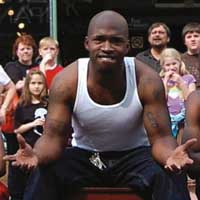 ©DPI Apr 2010 | Photo by Shannon Maltby
Rarecas Bonds
Founder, Beale Street Flippers
My neighborhood growing up was dead-end. Population was like 50 people. We lived in the Cleaborn Homes housing project in a two-bedroom, one-bathroom apartment. My mom and dad were in one bedroom, us 10 kids in the other bedroom and the living room. We slept on the couch, on the floor. I've never had my own bedroom.
I learned to flip because where we come from, we don't have money, so we create our own sports. When I learned to flip, everybody was already flipping in the 'hood. A lot of people get put out at the housing projects, so when people threw out their mattresses, we'd meet up and start flipping on them until the repo man came — a week or two. You can't imagine these mattresses — nasty! But you still go at it.
Vance Middle School separates Pontotoc Avenue from the 'hood. We were staying on the Pontotoc side, so I had to walk across the street to the 'hood.
One of the adults always took all the neighborhood kids walking on Friday, Saturday — somewhere across town to keep us out of trouble, no matter if it was McDonald's. It became one big family of 50. But every weekend, we'd walk somewhere. That's how we found Beale Street in 1987. I was six years old.
I never will forget it. We walked down Linden and hit the back of Church Park. It was Memphis in May, and we started dancing because the band was right there. Everyone was dancing — white people, black people. One of the guys said, "Flip, Rod!" and I started flipping at the top of Fourth and Beale. My brother ran through the cut by the pizza place and got two red chitlins buckets. He put them out, and people started giving us jewelry, spare change — never forget it!
On the way home that night, somebody grabbed my brother, who had the tip bucket. Everyone took off running. He's running with the tip bucket; I'm running right behind him. We cut behind the credit place on Linden and Lauderdale, hit Pontotoc, and we're home.
When I woke up the next morning, I see Momma on the couch counting the change — and only the change. When you count money around the 'hood, you don't show the real money. You throw people off by counting the pennies while hiding the hundreds. People won't rob you for coins.
I went up to her and said, "Let me have 50 cents, Momma." She gave me 75 cents. That's the fastest she ever gave any of us kids money! I thought, okay, I need to go back to Beale Street!
That money and that day changed our life. I wanted to live like that forever. So the times I was supposed to be in school or going to the YMCA — I went to Beale.
Back then, it was illegal for us to flip on Beale Street, but we flipped anyway. The police ran us off or took us to jail — it all depended on when we got caught. If it was on the weekend, you'd automatically go to juvenile court. So our thing was: Don't get caught on weekends!
If you notice, I kept a lot of guys on Beale Street with me. One guy stayed in front of the tip bucket. His job was to always run off with the bucket no matter who comes in. The other Flippers flip from the top of the street, so the police can only catch one flipper — one goes to jail, not six.
Where FedExForum stands used to be a flat field. We'd lay in that field, playing dead for, like, 30 minutes every night. Hiding in the weeds while police searched with their cars' lights, looking for the flippers.
We collected Flippers through the years. Our oldest is 28 — me — and the youngest is five. The "big" Beale Street Flippers run the street now — Jessie Williams, Keviorr Taylor, Ernest Simms, Tommie Bonds, Eldridge Bonds, and Travis Bridges — and they get the street any time they want. The young Flippers know to move out of the way and give the world-famous Beale Street Flippers the street. There's only one boss man, and that's me. Everybody knows their place, and everything goes in order. It's been like this for years!
Beale Street taught me manners, how to say "please" and "thank you." Beale Street taught me how to be around people: Smile. Don't talk loud. People don't like fast talkers, so slow down. You begin to learn what people like, and at the same time, you're able to be around them. And that's what we're teaching the Flippers now. Manners are a big part of what we do. At the same time, you introduce black guys into another lifestyle.
I started this with no knowledge, thinking it was all about tips. Before you know it, we're setting world records, flipping on America's Got Talent, doing NBA halftime shows, performing in Germany — come on! I didn't plan this! We're just young black guys thinking about flipping. Those other things were not our plans! Not what I planned. My plan was just to flip and get something to eat; flip to keep money in my pocket.
So where do we go from here? What do I do? The best thing that ever happened to us was getting an agent, Resource Entertainment Group, because it put us on another level. They show me what can happen next and what will happen next.


The trick to good flipping is speed.
The part of the body that tires first are your arms.
The funniest thing that happened to me while flipping was Butch Mudbone, blues guitarist on Beale Street. I was a kid. He asked me, "Do you want to see a trick?" I said, "Yeah!" He told me that when he clapped his hands, turn around and look at the wall. Feels like there's about 20,000 people around. He clapped his hands, I turned around to look at the wall, and he pulled down all my pants! I'm butt-naked! Right in front of Alfred's! Funniest thing that ever happened.
Before we do a show, we pray.
My mother was like that little lady in the shoe — so many children, she didn't know what to do! She'd wake up at six in the morning and go about visiting all 10 kids the whole day. Before you know it, everybody had seen Momma!
When a Flipper falls he gets back up! We know we're going to hit the ground, so get back up!
I wouldn't be where I am today if it weren't for my family and so many people who helped us along this journey. There are a lot of people that, without their help, we wouldn't be here. Everybody on Beale Street. Tommy Peters from B.B. King's was always like a father. He was never about the money, never about black or white, never about he's rich, I'm poor — none of that. It's always been, "Rod, you want something? Come in my place." And that's been going on 17 years.
The most valuable lesson I was taught was to say "thank you" and "please."
As a child, I dreamed about being famous.
The time I was most afraid was when I got shot in the hip. I knew this guy, David — went to school with him. Every time we'd see each other, we'd laugh around. He had joined a gang, but I didn't care because it had nothing to do with me. This day, I felt things weren't going right. David and I are laughing and wrestling. One of his guys gets in my face. What do I do? I looked at David. David looked back at me, but never said nothing. The guy asked David for his gun. I'm like, gun? Gun? I don't want to take off running because I can't beat this bullet. I turned around and took my first step, and he shot me in the back then took off running. It all happened like [snaps fingers]. The police asked who shot me, and I said, "I don't know."
I get most discouraged when I'm not getting tips!
My biggest vice is You mean bad habit? Hot wings!
My favorite memory is B.B. King, when he told me to sit on his knee. We flew into Los Angeles — me and Tommy Peters — when he opened up the B.B. King's there. I was 15. Up this escalator was B.B. King having his picture taken with like 17,000 people. Cameras everywhere! B.B. King said, "Hey, Rod! Come over here!" He starts hugging and kissing me. I'll never forget that.
From my father, I got my smile.
My parents found out about me flipping when I did The Firm with Tom Cruise in 1992. I was 11. Word got to my momma that the movie people were looking for me. What's so amazing is how she heard because we didn't have a phone. We never had a stable phone. Still don't! I was a drum major for Emmanuel Center Church. Momma ran in there real fast — she's not but 4 foot 10 and I'm 3 foot 1 — and said, "Come on! Come on!" We went straight to Rum Boogie Cafe. The one-legged man who was always there is sitting at the bar smoking a cigarette. I sat on his lefthand side. He tells me, "I need you to go to the Radisson Hotel, 16th floor, and they're going to put you in the movies." I said, "Okay." We went straight there. As soon as the elevator doors opened, people running everywhere. "Are you the flipper? Are you the flipper? Stand here! Take a picture! Go put this on! Sign here!" When I got home, Daddy bought me a red scooter. That's all I got out of it: a scooter and some shoes!
I have never I don't know; I've done everything!
I'd like to ask God to increase my mileage.
Waking up hungry is like waking up and a dog just got hit on the freeway. In the 'hood, nobody is taught to help you; they're taught to laugh at you. So you have to make decisions based upon that.
I stayed out of trouble by … I had all the money. Remember, I'd done The Firm when I was 11. Plus, I'm going on Beale Street every night. I didn't worry about getting robbed because I have nine brothers and sisters!
When I was in high school … I dropped out when I was 18. It was one of those days when I went to school hungry. Hungry as hell. Got to the schoolhouse early because they served breakfast from 7:00 till 7:30. By 7:15, though, students would start coming to the schoolhouse, and you didn't want them to know you'd been eating at the school. So to avoid that, you want to be through eating by 7:15. I'd come back out the door in time to walk to school with everybody else. Anyway, the Globetrotters had earlier asked me to tour with them, and on this particular day, I was just tired and so hungry. I thought, "Man, with the Globetrotters, I could go home full and eat and live nicer than what I'm doing now." Plus it would help the family out. So I left and went on tour. From that day forward, I've been doing my own thing. And I wasn't hungry no more, either.
My children … Rarecas and Angelique, eight and five. My boy plays football. My girl is more of a flipper. She's more like me. But they both know they own the Flipper!
The hardest part about what I do is traveling. Sometimes it's two days of travel for a five-minute show.
A Beale Street Flipper should wear nice Nikes and nice, clean shorts — and make sure your Nikes are clean. Know why? Because then you feel good while you're flipping. It takes you to a whole other level.
Flipping has taught me that the sky's the limit.
If I could do one thing over it would be The Firm. What 11-year-old black kid from the 'hood knows who Tom Cruise is in 1992? I didn't!
What I like least about being a Flipper is when you get famous, it's hard for you to go on with a normal life. I can't just go get a Walmart job; I can't just go get a normal McDonald's job.
I quit flipping because I'm not Michael Jordan anymore. I'm not going to go out there and embarrass myself. I was there first, and it was all about me. Now I find that life is bigger than "all about me." Sometimes life goes fully different than what you planned.
My final 2 cents Beale Street brought the country together — white people and black people. The Flippers represent Memphis all over the world. We show people that Memphis is not what they may have been taught. We talk to people about Memphis; we talk to people about Beale Street. We tell people to come to Memphis.