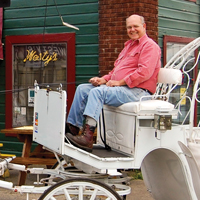 ©DPI Aug 2013 | Photo by Jodie Vance
JAKE SCHORR III
Downtown Memphis Entrepreneur
I was born in Memphis on the day the Japanese attacked Pearl Harbor, December 7, 1941. Mother said no one paid much attention to me in the hospital because they were all talking about the war! Maybe being born on such a historic day was fitting, because I've always been curious about history and stories from people of all walks of life. I grew up near East High School with my younger sister and, aside from my time in the Navy, have lived in Memphis my whole life. I enjoy telling people about the history of Memphis — stories that they couldn't hear just anywhere.

I come from a long line of brewmasters. The first in the U.S. was Great-grandfather Schorr, who founded the Tennessee Brewing Co. in 1885. The brewery was passed down to my grandfather and then to my father. My father was both a brewmaster and an avid hunter, who taught me many skills — such as eating a raw potato on a hunt for more energy. As a brewmaster, he understood the importance of both product quality and a strong work ethic — traits he instilled in me.

Growing up, I played at the brewery — which still stands at Tennessee and G.E. Patterson — on the weekends, and that was an education. I endlessly watched the operations and was fascinated by all things mechanical and electronic. I marveled at the steam engines that powered the belt-driven plant. I drove around in a forklift with my name painted on it and went up and down the hand-controlled elevators for hours on end, just to see how they worked. My cousins and I even slid down the conveyor belts in beer boxes. The brewery closed in 1954, but the castle-like building still overlooks Memphis's river bluff today.

Life at my house changed after the brewery closed, especially when my parents later separated. But my experiences at the brewery had a great impact on me, and I never lost my curiosity about how things work nor my interest in building things.

My mother, a kind woman, was a housewife until the brewery closed. After that, she had to go to work. She did a number of things, but found her niche at a beauty salon. She eventually ran the salon — another example to me of how determination and a good work ethic have their rewards. Mother also taught me compassion and how to be kind and caring.

Even outside my parents' work, I was surrounded by many other business operators, family, and friends who knew how to fix things. Many weekend mornings, I visited my best friend, Robert Williams, and sat listening to his father, Buster Williams, conduct business for his company, Plastic Products. I was mentored by my uncle, who repaired refrigerators, and by my maternal grandfather, who supervised production at the Wabash Screen & Door on Florida Street. These experiences helped form my entrepreneurial mindset.

Around my peers, I was a bit of an outcast — or in today's vernacular, a "geek." I preferred the adult world of business, where I learned to take chances and think unconventionally. By the time I was 11 years old, I was earning money by delivering newspapers and cutting yards with a push mower.

These experiences gave me a great education, but when it came to school learning, things didn't come so easily. It took me 13 years to complete 12 years of schooling because I wasn't interested, didn't see any use for it, and was easily bored. In the end, I only needed another half credit to graduate high school, but I couldn't be bothered.

Instead, I joined the Navy Reserves in 1961 and went on active duty about a year later. While in the Navy, I went to electrical school and loved it. When I graduated, I scored the second highest grade in the history of the school — missing the record by one one-hundredth of a point. I had so many amazing experiences during my time in the Navy. While on active duty, I traveled more than 500,000 miles, visited many Pacific countries and islands, swam in the Panama Canal, and was stationed off the coast of Cuba during the Cuban missile crisis.

After I returned to the States, it took me a while to figure out what I wanted to do. I earned my GED in the Navy, and I ended up working as a technician for Opus 2, a new stereo company with the best products in the area. I learned the business and talked them into opening another store, which I managed. Later, with the help of three partners, we opened Lafayette Radio on Summer Avenue. We had a lot of unique marketing ideas, including a live radio show, produced and directed with the help of Alex Ward of Pig-N-Whistle fame. We bought one-hour blocks of time on FM-100 and had guests like Billy Joel, Phoebe Snow, Barry Manilow, ZZ Top, and Black Oak Arkansas.

I really enjoyed what I was doing. I always sold the best products for the best prices and stayed about two years ahead of the curve with quality equipment. I warrantied everything I sold, and I took care of any problems with the products we sold. That's just my nature.

Almost every restaurant in the city was a customer of our stereo business: T.G.I. Friday's, Trader Dick's, Lafayette's Music Room, and The Public Eye, to name a few. Even then, I liked the restaurant business, and I gained a lot of experience by watching their operations — experience that came in handy later. Selling stereos Downtown, I also rediscovered many old buildings. I really loved these buildings and thought that the best way to save them was to put them to good use. I still feel that way today.

In the '70s, I sold my share of the stereo business and took a couple of years off to travel and spend time with family and friends. During my time off, Charlie Sevier, my lawyer and friend, asked my advice on marketing a Downtown restaurant he owned, Zinnie's Around the Corner. I knew little about the business, so I decided to work there every weekend. I learned and worked every position in the restaurant and got a grasp of the business. Then I could offer Charlie a lot of advice!

We became business partners and started making changes. We changed the restaurant name to Jefferson Square and changed the hours, format, and menu. We stayed open until 3 a.m. with a full menu, and back in '78, we were one of the few places in Memphis serving food that late at night. We invited Sid Selvidge — an extremely talented local folk musician I'd met during my stereo-business days — to be our house musician every Friday and Saturday night, and he did this for 15 years. People traveled far and wide to eat food from our unique menu and see Sid perform.

At that time, despite business efforts like ours, Downtown Memphis was still pretty drab and sad; I saw that the city needed more things to make it appealing. That's how I started working on the idea of a carriage company. I restored my first three carriages in the basement of Jefferson Square, starting in 1979. Today, I have a dozen horses and 15 carriages — including the first one I ever built.

On Nov. 1, 1983, at 5:30 a.m., Jefferson Square burned to the ground. No one was injured, but it was devastating for everyone who worked there. We relocated to a building at the corner of North Main and Jackson — where Westy's is today. We named the new place The North End, so people could find us. Our loyal customers came back, Sid Selvidge resumed singing every weekend, and we were back in our element.

Before long, business at The North End was rocking at all hours of the day and night. We expanded the menu and beer selection and added more live music. Soon we opened similar restaurants: The South End, Lafayette's Corner on Beale, and Jake's Place.

In 2003 I sold The North End so I could focus on my growing carriage company. But I didn't stay gone for long because the quality and service at The North End suffered under the new ownership. So in 2004, Dave Harsh and I bought it back and returned to the restaurant business. We named it Westy's, after Dave's brother. We expanded the menu again, brought the quality back up to speed, and here I am today!

Life has been so incredibly rich. Between operating The Carriage Company of Memphis and running so many enjoyable restaurants, I have had a very fulfilling, rewarding life — which continues today. I don't ever want to retire. I'd be so bored! I've worked all my life, and I enjoy working. I'm so fortunate to get to meet so many fascinating people. I can't imagine doing anything else.

Jake's Original Hot Fudge Pie was born … at Jefferson Square. I worked on developing the recipe and perfecting the pie for six months, combining my two favorite desserts: my mother's chocolate icebox pie and the classic brownie. We've sold more than 900,000 of them since they were put on the menu in 1979.

Westy's famous rice dishes … also started at Jefferson Square. I tried to create things that were healthy and not being done by other people. The rice dishes and the Creole menu fit those criteria.

I decided to do a Creole menu … in 1979. I bought every Creole cookbook I could find (27 total), and read them all. But I still wasn't satisfied with what I was reading, so I went out on the Downtown mall and had started talking to hundreds of people about cooking. I finally found a guy who I trusted could teach me about Creole. His name was Albert Pickins. He pushed a grocery cart around Downtown, and he could not read or write, but he started cooking when he was seven, and he was 65 at that time. He had cooked in New Orleans and Chicago restaurants for years. We made a deal: Three times a week, 6 p.m. till 9 p.m., he would share his lifetime knowledge of Creole cooking techniques. In return, I'd pay him $10 an hour and give him all the Jim Beam he cared to drink. This arrangement went on for months. The recipes were mine, using his style of cooking; I've done Creole in my restaurants ever since.

The name Westy's … comes from my business partner's brother, Westy Harsh.

Westy's Thanksgiving and Christmas tradition of feeding people in need … started at The North End on a very small scale. I saw the need around me all the time — and still do. There's a big difference between panhandlers who con you and people who are down on their luck and genuinely hungry. So we opened our doors. It kept growing each year until it got larger than I could manage, so I asked my friend at Lindenwood Christian Church for help. Now we have more than 30 volunteers to help us feed about 800 people on each holiday, 9 a.m. till 1 p.m.

One of my more original restaurant ideas … was to build a restaurant on a riverboat barge. In the late '80s, we refurbished a barge and a companion vessel, the towboat Gloria M., to create a 200-seat restaurant that was anchored beside the historic cobblestone wharf. It was outfitted with a kitchen, bar, and dining area.

Of all the restaurants I've owned, the one nearest to my heart … was Jefferson Square. No question. But The North End does run a close second.

The idea to open a carriage company ... came from a marketing standpoint. Downtown needed a more positive image in the '70s, and taking people on carriage rides while visually informing them about the city seemed the way to go. I knew nothing about horses. In fact, I had ridden a horse once earlier in my life and didn't like it. But I learned to love them. Our first three carriages were built in the basement of Jefferson Square, and we refurbished other carriages that came from Piggly Wiggly's marketing director. Another carriage company actually beat me to the street, but our company, The Carriage Company, prides itself on having the most extensive knowledge of Memphis history. Did you know that Memphis has more carriages per capita than almost any other major city?

The first funeral I did with a carriage … was for my mother, who dearly loved the horses.

My first carriage barn was located … in the old dog-pound building on the northwest corner of A.W. Willis and North Main. I then moved to 422 S. Main, which is now part of the National Civil Rights Museum's annex. In 1988, I bought stables at 393 N. Main, and later, at 1051 N. Second, where we operate today.

My favorite part of the carriage business … is watching people's expressions when they look at the horse and carriages — especially the kids. The other part I most enjoy is having the ability to sell Memphis. People from many parts of the world come to hear about our rich history — some of which we like, some of which we don't. The outside world probably knows more about Memphis music history than we do! I see it all the time. It's fun to educate people about Memphis because we have so much to talk about.

Carriage drivers … are a special breed of people — outgoing yet humble. They really love horses, of course, and each bond to a particular horse. Drivers also have a favorite carriage. They often decorate their carriages or bring their dogs along for a ride.

An especially memorable carriage story … Most of those have to do with the St. Jude children. We give the children and families at St. Jude free rides and tours of the barn so they can see and pet the horses. To see those same children come back months later, years later, and see them healthy and healed and wanting a carriage ride — it's an incredibly wonderful, moving experience. Back in 1983 when we first started giving patients and families free rides, most of the patients didn't survive. Today, most of them do.

An early lesson I learned about horses … is that they're a lot like women: You'll never know everything about them.

One piece of advice… As much as I love it, I would never tell anyone to go into the restaurant business. It is absolutely the hardest thing I've ever done. I still love it, but there's nothing that I've been involved with that's as hard as running a restaurant.

My long-time business partner… was Dave Harsh. We met in the '70s when I helped him market his restaurant, The Bull Shot. We were business partners off and on until he passed away in 2011. We knew how to disagree and still get along.

One of the most difficult decisions I had to make … There were so many difficult decisions, but one was not being able to rehire all the employees after Jefferson Square burned. We had 55 employees working there; we only had room for 14 when we opened The North End. I couldn't save them all. It was like not being able to save your family members, and it affected me for a long, long time. It still does.

The Tennessee Brewery … was founded in 1885 by my great-grandfather, John Schorr. He immigrated to the U.S. from Bavaria, where his family had been brewing beer for hundreds of years. Grandfather Schorr — who is my namesake — took over the brewery in the '30s, just after prohibition. Then my father was the brewmaster there until the company closed in 1954. The building still stands at Tennessee and G.E. Patterson.

The philosophy I live by … You have to stay curious and keep on learning until you know what you're doing and are able to do it well.

Growing up, my biggest mentor … was Buster Williams, a wildcatter and entrepreneur who owned a jukebox business — Plastic Products Record Co. — that produced vinyl records. Buster was the father of my best friend, Robert Williams, and he played a major role in forming my life as an entrepreneur. For years, I watched him and listened to him — and learned so much from him. He and his wife were as good to me as my parents were.

People might be surprised to learn that … I'm not a chef; I'm an accidental cook. My cooking technique is not that I know what I'm doing, it's that I don't know how to stop until I figure out what I'm doing.

I met my significant other … in 1981, when she worked for me at Jefferson Square. Deb Walker was a loyal employee for nine years. Even after she moved to New Orleans, we remained friends, and she'd come visit the horses and bring her children. In early 2005, I told her, "Deb, if you think there's ever a chance for a relationship between us, call me." She called me and asked, "Do you want to go on a date?" I said yes. She came up, and we went to a benefit concert featuring Mud Boy and the Neutrons. Later that year, when Hurricane Katrina hit, she evacuated to Memphis, and a few weeks after she'd been here, I convinced her she needed to move to Memphis for good.

My children … While in and out of the Philippines during my Navy years, I met Ligaya Bada, a fascinating woman. Her father was a guerrilla fighter with the Japanese in WWII. He taught me to cook a pig's head in a five-gallon drum and how to cook a goat using hot rocks and palm leaves. As Ligaya and I got to know each other, I asked her to marry me. We had a handsome son, Jacob B. Schorr IV, who has since had four children of his own and has another on the way. Deb's two daughters have been in my life almost 10 years, and her son is a lawyer in Chicago.

I learned to cook … after my mother took a job outside the home. When she went to work, I had to help fix meals. It turned out that I enjoyed cooking. My Uncle Lloyd Geyer encouraged me. I went to his home in Pembroke, Georgia, at least twice a year, where I cooked with him and my aunt. I'd spend two or three weeks there, learning what was new. They always encouraged me, even though, at the time, men weren't "supposed" to cook. Uncle Lloyd told me, "Do what you want to do, and don't pay attention to what people tell you to do." I never forgot that.

The future opening of Bass Pro Shops … You know, I was here before, during, and after The Pyramid, and whether Bass Pro opens or not, I'll still be here. But will Bass Pro make a difference? Yes, I think so.

One of my biggest hobbies growing up … was working on ham radios and model trains. I read every book published by the American Radio Relay League. I built my first ham radio transmitter when I was about 13. The information I learned became very useful later in life when I went into the stereo business. I also loved trains and boats and putting models together — still do. Hobby shops were some of my favorite places.

A once-in-a-lifetime experience … was seeing a hydrogen bomb explode at Johnston Atoll. It was during my active duty in the Navy in the '60s. You can't imagine. The brightness, the mushroom cloud — how big and brilliant it was! It was absolutely overwhelming.

One of the first lessons I learned …was when I was 11 and was mowing lawns with a push mower. I wanted to do more lawns, but for that I needed a motorized lawnmower. Instead of buying me a lawnmower, my grandfather financed a lawnmower. We bought it together at the hardware store, and I paid him back the $150 at about $3 per week. In this way, I learned about borrowing money and paying back my debts.

My best teacher growing up … was Mr. E.P. Spiller, the custodian at East High School. I followed after him asking questions, and before long, I was helping service things. We set up the sound system in the auditorium, and I learned all the mechanics of the boiler system, the clock, alarm bell, and anything else he was willing to teach me.

When Jefferson Square burned in 1983 … it devastated the lives of so many. While the firemen were fighting the fire, I took many of the employees onto the Downtown mall and talked with them about how we would be stronger if we stuck together and tried to reopen as quickly as possible. After the fire was out, the employees went back into the building to salvage what they could. That evening, we cooked crab legs we had pulled from the basement freezers and ate them in the streets. As friends came by, we shared beer, crab legs, and fond memories. I was in deep mourning, not only for the loss of a budding enterprise, but also for the loss of the historic building, once home to America's first true self-service grocery store, Piggly Wiggly.

I never tire of … experimenting with recipes and learning new things.

I have a vivid memory of … riding over the Harahan Bridge with my dad on our way to fish at Horseshoe Lake. The bridge had a wooden roadbed, and twice I saw that it was burning where the steam engine's ashes had caught fire. Dad said not to worry and just drove on across!

From my father, I got … the trait of saying what's on my mind at the time it's on my mind. Sometimes I do that too much, just as he did.

From my mother, I got … compassion. She taught me to care about people. She was a member of the King's Daughters, and she consistently took me to the Home for the Incurables in the McLemore area. It was a place for people with polio, cerebral palsy, and other diseases — people who couldn't care for themselves. Seeing her and her friends taking care of people taught me compassion.

My first visit to Beale Street … was when Grandfather Schorr took me. I don't remember my exact age, but I was young enough that he was holding my hand. He financed many of the businesses on Beale, and he introduced me to people. He also showed me where the crap games were, the bars, the prostitutes, the offices, the pawnshops — he knew them all. He wanted me to be exposed to whatever it was that life held — to see it, accept it, and not be sheltered from it.

Racial inequalities … I saw it as a young person, but I never understood it. There was never any prejudice in my family. Period. My family took people for who they were, as I do to this day.

An early experience that stayed with me … My uncle had polio. He was in bed for two years. He worked as a foreman for the state of Georgia, building wooden bridges in the swamps. One of his bridges was in the movie Ode to Billy Joe. When my uncle finally decided he was recovered enough, he went back to work, and he took me with him on occasion. I was about nine years old, and I remember seeing him going to work in a wheelchair. He would have to crawl on and under the bridge to do the inspections that were expected of him. He was empowered with the strength of his will and determination to do his job correctly, when he could have just sat back. That made a major impression on me.

Items still on my bucket list …I'll probably open another restaurant. While I have no desire to change Westy's, I'd like to evolve it. I don't know what kind of a restaurant it will be, but I do know that anything I do will be connected toDowntown in some way

My final 2 cents ... Despite the challenges and difficulties that everyone faces in their lives, there are so many things about life that are right and good, so many incredible relationships and exciting things to be curious about. I could not have done what I've done without sincere, honest help, and there's been a remarkable amount of that in my life. I've had lots of successes and lots of failures, but I don't give up. I'll never stop trying. I make things work.