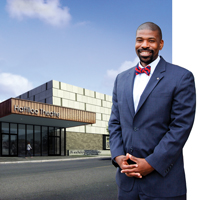 ©DPI Sep 2013 | Photo by Downtown Productions
EKUNDAYO BANDELE
Founder and Executive Director of Hattiloo Theatre
I was born in Buffalo, New York, in 1971. My parents split when I was 3 years old. I was an only child, so it was just my mother and I as I grew up in Brooklyn's Fort Greene neighborhood.
My mother was highly educated in the arts. She was an operatic singer, played the piano, and was very cultured, very poised. She instilled that in me. She was very disciplined and philosophical, and because she was an artist, she respected and encouraged my creativity.
My father was literally born in Memphis's Foote Homes housing project. He played as active a role in my life as he could. I came to Memphis a few times to live with him and my grandmother in their house at the corner of Chelsea and Breedlove. My father and I didn't spend a lot of time together, but when I was with him, he taught me many lessons that I use to this day.
So I traveled among my mother, my father, and different relatives during the summer. It was difficult to cultivate long-term friendships, and today, as an adult, I have no childhood friends. So I largely played by myself and entertained myself, and I was OK with that.
I was a latchkey kid because Mom worked a lot, but she was very hands-on and strict with me — in all the right ways. I was very involved with the African Methodist Episcopal church and sang in the children's choir. I was a studious child.
I started writing books when I was in the sixth grade. I had a vivid imagination, and I read copiously. I knew I wanted to be a novelist — always. I wanted to be Richard Wright — "Native Son," "The Outsider," "Uncle Tom's Children." The first book I read by him was "Black Boy," when I was eight years old. As a boy, I related to Wright: He was smart; he was mischievous; and he always found a way. For instance, when he was growing up in Natchez, blacks were not allowed to visit the library. So he befriended a little white boy who checked out books for him. And then there is his writing — so descriptive and powerful.
Another reason I wanted to emulate Wright was because he made a difference. There I am, in 1979, reading his work, with him long dead, and he's having an effect on me. To me, that's immortality. I wanted someone to read my work someday and be just as inspired.
I read my first play when I was 19 years old. Mind you, I still had never seen; a play. I was at Tennessee State University, and one of my professors was Dr. James Byrdsong. I had to write an essay, and Dr. Byrdsong gave me a D grade. I went into his office to tell him off. I said, "You may not realize it, but you're looking at the next Richard Wright!"
To calm me down, he played a Lead Belly blues song on his record player and made me listen to the whole thing before we started talking. Dr. Byrdsong did two things for me that set the course for where I am today: He introduced me to the blues, and he gave me a book titled "Five Black Plays" and encouraged me to go into playwriting.
I read a play by Amiri Baraka, and I enjoyed the challenge of reading a play. I became intrigued by the idea of getting people to see a story through dialogue.
I wrote two plays. For a 20-year-old young man, writing plays was powerful. I was in charge of what people said and what people did. There is a bit of a "God complex" in writing a play, directing it, building the set, and then sitting there, knowing that what I am seeing on stage is happening exactly as I had written it. It's like being a puppet master. Writing plays also gave me the opportunity to make some money, which I wasn't accustomed to. So I kept doing it, writing different shows and selling them. During this time, I split my time between New York and Nashville, where my girlfriend, Nicole — who is now my wife — lived.
In 1994, I moved to Memphis to care for my ailing father. My oldest daughter was born that same year; my second daughter was born in 1995; my father died in 1996; and I left Memphis to return to New York that same year. Nicole and the girls stayed in Memphis.
Like my father, I always found it hard to stay put in one place for very long. I was always moving around, from place to place, from job to job. I was restless.
In 1998, I wrote a play titled "Judas Hands" that made some waves. It's a tragedy about a country man who runs away from trouble, with the hope that his skilled hands can build a better life for him in the city. I started getting some real recognition. The Karamu House in Cleveland decided to stage it. What was significant about that to me was that Langston Hughes was, at one point, a writer-in-residence there. So I felt honored that they were putting on my work. I caught a Greyhound bus from Memphis to Cleveland. I remember the hotel, the city — I remember everything. I went to the theater and … the play;sucked. Oh, it was awful what they had done to my play!
I vowed that I would never again give that much control of my creativity to another person. I vowed to never write another play — and I didn't for almost 12 years. That's when I started writing my novel, "Tales Go 'Round." The failure of it is that it's overwritten. It's beautifully overwritten, but it's way too poetic. It's me proving to myself that I can write.
During the nine years I took to write the novel, I became one of four principals at the Manhattan Art Brokerage Firm. But I also had a lot of entrepreneurial jobs: I owned a mobile carwash business, opened a vintage clothing store, sold incense and original hardbound books, performed spoken word on a circuit — a lot of hustles. I couldn't stick with a job; I didn't have the patience.
My back-and-forth traveling between my family in Memphis and wherever I happened to need to go started taking a toll. I just couldn't get settled. Nicole — who was and still is a schoolteacher — is very stable, but being a single mother for much of the time was difficult. Our eldest daughter was 10 and had reached an age where she was needing guidance. Our youngest daughter was 9 and had special needs. Nicole didn't give me an ultimatum; she simply said, "It would be good for our family if you could settle the dust under your feet."
That didn't happen right away — it couldn't happen right away because that just isn't my nature. It took Hattiloo to make it happen.
Michael de Caetani and Jackie Nichols — founder of Playhouse on the Square — kept discussing the absence of black theater in Memphis. So I started a weekly event at the Jack Robinson Studio called The Speak Easy, and it drew people from various artistic disciplines to perform. The event became so popular that Michael and Jackie really started pushing me to do black theater.
When I first started seriously thinking about Hattiloo and talking to people about forming a board, one of my dearest friends, Nancy Bogatin, asked me, "Are you going to be able to commit to this?" She knew me, knew my nature. She said, "If you can commit to this, then I will help you."
I had no idea that Hattiloo would last. I thought it was just one more "fleeting thing" in a lifetime of fleeting endeavors. I thought, "I'll do something else after this thing collapses," because that's what I do: I create jobs; I create businesses. Hattiloo was just something to do. I never looked at it as being long-term.
I was 34 years old when Hattiloo opened in 2006. The moment I knew that this was going to be long-term was when we received $20,000 from United Way Venture Fund for a youth program I started called Camp Awareness. When I saw how that camp literally changed those kids, I realized, "I can make a difference."
Then, when people started believing in the idea of Hattiloo and seeing it as part of the solution to a big problem in Memphis, I was hooked. And when I saw black people and white people coming here and sitting together — and nowhere else in Memphis did I see such a diverse audience — I thought, "Damn. This theater is doing something great and important." How do you not give your life to that? How do you not become a servant to that?
So seven years later, we're now in our last season in our original theater before moving to our brand-new one being built in Overton Square's theater district. There will be some nostalgia, but the beautiful thing is this: If you bring people to Memphis and you want to show them how black people are currently contributing to the arts in this city, where do you take them? Soulsville and the National Civil Rights Museum catalog past contributions. What can the black population put their hands on and say, "This is our contribution today; we can share this with you. Come to my house, and let me feed you." Hattiloo — outside of just the arts — is something the black community can touch and say, "This is our contribution to Memphis."
My name … is pronounced "eh-coon-DIE-oh BAN-duh-lay." It means "to turn sorrow into happiness, as he reawakens hope through God." It's Yoruba, a southern Nigerian language. I legally adopted my new name in 1995 when I was 23 and at the height of my self-discovery. We call ourselves African Americans, but we know very little about Africa, and we don't really claim some of the culture of that continent. I knew some Nigerians whose culture was Ifa, and I started studying it. I'm naturally American — every black in America is — and if I wanted the "African" part on there, I felt I needed to know about it. My Christian name is something I keep within myself.
My biggest concern about opening a black theater in Memphis … A black guy I know came to me after his high-end seafood restaurant went out of business. He said, "Do you know why my restaurant didn't work? I tried to pull the black community up too quickly, and I scared them. I served sushi when they were used to eating at Applebee's." With Hattiloo, I worried about how many patrons would know who August Wilson is. Earl Lovelace. Or any of the great playwrights. Sure, they've heard of "A Raisin in the Sun," but have they heard of "Zooman and the Sign"? "Dutchman"? That was my biggest concern, that I might try to pull the black community up too fast. So, I worked hard not to do that. Before we laid down a platter of calamari, we said, "Try this salad — yes, it looks like seaweed, but just try it." We developed our audience's theatrical palate.
Hattiloo's first play … was a production of Samm-Art Williams's "Home." I did everything but act on stage! People came in the front door, and I sold them their ticket, sold them a Coke and a Snickers, and gave them a program. Then I'd run down the hall and make the curtain speech. Then I'd run upstairs to the light booth, work the lights, and start the music. When late patrons arrived, I'd call out, "I'll be right with you!" I'd run downstairs, usher them in, and tell them to just pay at intermission, and then I'd run back upstairs and change the lights. At intermission, I'd bring up the lights, go handle concessions — three years I did that!
Hattiloo Theatre is named … after my daughters: Hatshepsut — Hatti — and my youngest daughter, Oluremi — Loo. Oluremi is a Yoruba name like mine. Hatshepsut is named after an Egyptian queen — the only woman to ever rule ancient Egypt as a pharaoh. I was floored by what this woman of antiquity accomplished.
The first play I ever wrote … was right after I quit college: "Hand in Hand, Lest I Fall." But there were too many characters in it. I couldn't get all my friends to consistently come to rehearsals. So over the span of one weekend, I wrote a new one, "Talking About My Man," and I wrote it using the same number of characters as I had people showing up to rehearsals. We performed it in Queens, and then I brought it here to LeMoyne-Owen College, where my aunt was going to school. She encouraged me to bring the play to their theater, and I made some money.
One of the hardest parts of being a playwright … is the inability to control how your creation will be produced and staged at other theaters. Your play may be being performed at 100 other theaters, and you can't totally control what they do with it.
The first play I ever saw … "Dracula," in the round, in Louisville, when I was 19 or 20. I was blown away.
What I find most gratifying … is how what we do at Hattiloo literally changes lives.
To me, playwriting is … fascinating. It is the purest form of writing. How can I express a character's education, upbringing, background, desires, pains, fears — everything — with just dialogue? And then take it a step further, and how can I explain these things through their actions? It's that old playwriting maxim: If a gun shows up in the first scene, it had better be used somewhere in the play.
It used to bother me when … I'd hear people describe Hattiloo as "that little mom-and-pop theater" or "that little, bitty theater over there." But that's OK. A friend of mine once told me, "You never want to be in first place; you always want to be in second. First place always cruises; second place is always working to catch up." Which means we're exerting more and being more creative. I like to play second fiddle.
My first writing … was a comic book I did on barn owls when I was 9. I wrote a lot and had a vivid imagination.
When developing each season's plays, I … In the beginning, I made sure we did plays that wouldn't be off-putting or too foreign to the black community. We did "safe" plays. Gradually, we introduced Shakespeare, Tennessee Williams, and August Wilson. Today, I first look at family shows; we do two per season, typically musicals. We do an August Wilson and now a Katori Hall — a Memphian — every year. Then I consider, "What can we do to raise the cultural IQ of our audience?" Plays such as "The Whipping Man," which we're doing next. We've got to have a Christmas show and something for Black History Month. What are my bookends? What's going to bring people in on that first show, and what's going to leave people with a sweet taste at the end of the season and make them want to return for more?
I'll never forget … a 14-year-old black girl in the audience who stood up at the end of a performance and wept, telling her mother, "Mom, those actors look just like me."
The employee who contributed most to Hattiloo's success … There were two. Sharcie Johnson and Ferron Muhammad. Hattiloo would not be where it is without those two women.
The most technically challenging production we've staged … is "Grease" — with "The Wiz" taking a close second. With "Grease," there are so many scenes changing so quickly — a cafeteria, a high school hallway, a shop, a bedroom, a basement, a park — and staging each of those scene changes in less than 20 seconds with a large cast on a small stage — and music and dance thrown in — is, yes, technically challenging.
Hattiloo's best set to date … "Fences" or "Two Trains Running."
The types of plays I like to write … I love tragedies and dramas. I love making you cry! So if you were to see an "Ekundayo season," you would cry during every show.
The number of my plays Hattiloo has produced … Three: "If Scrooge Was a Brother," "Judas Hands," and a new one I just wrote, "The North Star: An Urban Nativity."
My first directing experience … was in 1996 when I was hired by Levi and Deborah Frazier of Memphis's Blues City Cultural Center. Deborah had written a play — "Knight Songs" — with Ethridge Knight, the African-American writer who discovered poetry while serving a prison sentence. The new play was slated to tour Tennessee prisons.
The most unsuccessful Hattiloo play … was "Dracula," which we did during the second or third season. It was awful, but I couldn't cancel it, which I wanted to do. It was scheduled to run for three weeks, and I had to let it run. It got bad reviews, people talked about it — The Memphis Flyer wrote, "Why are they screaming at us at Hattiloo?" because the actors shouted the whole play. I sent the show's sponsor a tear-filled letter of apology. It was a terrible play.
At the top of my brain trust is … Jackie Nichols. He not only served as my mentor in the beginning, but to this day, I go to him. It's amazing how gracious and open he is to sharing his knowledge, experience, and resources — as long as it doesn't come to the detriment of Playhouse on the Square. Debbie Litch, the executive producer at Theatre Memphis, is always there when I need her. But my very closest friend here in the arts is Dorothy Gunther Pugh, who founded Ballet Memphis. Whenever her husband isn't available to take her somewhere, it's me!
The new Hattiloo Theatre … is being built from the ground up in Overton Square's theater district. It will sit to the north of Circuit Playhouse and west of Playhouse on the Square. The new main stage will seat 150 to 175, and The Blackbox theater will seat 65. The lobby can seat up to 110 guests at round banquet tables. Backstage will be dressing rooms, showers, a green room, a multiuse room, and offices.
The public's biggest misperception about black theater ... There are some who say that Hattiloo is segregationist. No, it isn't. Would you say that about the Memphis Greek Festival? The Israel Festival? The Memphis Italian Festival? They are celebrations of this-is-the-okra-in-our-gumbo America. These are the threads that make us come together as a community. You need it all to make America.
With the new theater, I'll be able to … We now have a good reputation for producing great work. I can do more challenging works that have social commentary: "Dutchman," "Zooman and the Sign." Our musicals can be a lot bigger. I've got so much more flexibility with what we can offer.
My biggest concern about the new Hattiloo Theatre … I'm terribly nervous about it. The increase in expenses is a little daunting. And how will the community accept us? Jackie Nichols told me years ago, "If you're not growing, you're dying. There's no middle ground." We're building a $4 million theater, and how do you top that? But I thrive on being nervous, and I never let it stop me. It's an impetus, not a barrier.
One of the things I miss … is writing plays. I just don't have time to write as much as I want. I have a play I want to write, but I'll need to take a sabbatical to do so. I'll need two months to write it, and then it will take three years to get it to the point where I'd want to stage it here.
My involvement during a Hattiloo season … I direct at least a few plays every season because I enjoy it. I do constant quality control. I tried the Jackie Nichols approach, where he sits in the audience on every play's opening night. It doesn't work here. Prior to Hattiloo, there were very few opportunities for black directors, actors, etc., so they don't have as much experience. Therefore, I need to have my hands in the play — guiding and teaching — for quality control.
An early theater lesson I learned … When you see a show at Hattiloo, whether it's "Charlotte's Web" or "One Monkey Don't Stop No Show," there needs to be continuity in there to let you know you're seeing a Hattiloo show. That's something I learned in my meetings with Steppenwolf Theatre. They said, "Even though the shows are different, the artistic director is involved in all of them, which lets you know it's a Steppenwolf show."
My favorite part of producing plays … is directing. Outside of building a set, directing is the thing I most enjoy. Acting, not so much.
My least favorite part is ... the finances! I hate doing QuickBooks, accounting reports, profit-and-loss statements, balance sheets — but I have to know and understand all that. I can't just hire an accountant, turn everything over, and walk away. I wish I could, though!
I find good actors by … You know, you can throw a rock and hit somebody with talent. But a good actor is a person who has the heart and believes in what we're doing at Hattiloo. Just because you can sing and dance, jump and memorize — that doesn't mean anything to me. If a person believes in what we're doing, I believe in that person.
An unintended side effect of Hattiloo … is the pride and ownership it has given to the black community. Hattiloo gives blacks a stake in this city and tangible proof of their current, ongoing contribution to the art scene here. Vicariously, through Hattiloo, the black community can give. That's huge. And from that, other black organizations can build on this model and produce quality and worth. We can break some of the stereotypes out there about black businesses and organizations.
My typical day … is never typical. It starts at 4:30 a.m. and ends around 10 p.m. In addition to the day-to-day business of running a theater, my days are filled with meetings — with current donors, prospective donors, sponsors, supporters, and board work — social obligations and functions, speaking engagements, and strategy sessions.
People might be surprised to learn that … I am a recluse by nature. Part of what I enjoy about writing is the solace, the solitude. As public as I am, and despite all the meetings I go to and presentations I make, my most valued time is when I'm alone. If I could choose, I would choose to be at home reading or writing.
My first novel … was written after I'd sworn off playwriting in 1998. I originally titled it "Ouroboros," which is an ancient symbol of a snake eating its own tail. My agent said, "Come on, Ekundayo! No one is going to know what that means." So I changed it to "Tales Go 'Round." It is sitting, unpublished, on a bookshelf in my office, bound by duct tape. When my agent read a draft, she told me, "OK, right here, you were reading William Faulkner; right here, you were reading Gabriel Garcia Marquez. And here? You were reading Jose Saramago." I was emulating these writers! So I said, "OK, as long as I'm working on this novel, I'm not going to read anybody." That lasted for a month, and during that month, I was terribly depressed. I realized that reading reminded me of why I was writing. Reading reminded me that I wanted to make others feel in the same way I felt while reading. Reading was so fundamental to my writing, I couldn't do one without the other.
A childhood lesson I learned from my mother … When I was 12 or 13, she and I were having an argument, and I said, "You're making me so mad!" She said, "I'm not making you mad; you're choosing to be mad." And that's how she was — very philosophical. She made me think.
The main traits I got from my father … He was even more poised than my mother! Women loved my father. He was a handsome man and very charismatic — also very restless as a young man. But when my father got angry, he got angry. I'm that way. We're both slue-footed — we walk with our feet pointed out like a duck — as did my grandfather. We called it "the Williams walk."
I admire my father for … My father had a lot of emotional baggage before I was born, and being a parent, I understand how you can't just push a reset button on what has happened to you, just because you now have children. And that was my father: He just could not push the reset button. However, my father struggled to love me the best he could with a bruised heart. As such, I never doubted my father loving me.
My father taught me … "No one will ever care for your stuff as much as you do — not your mom, not your dad, not your wife, not your kids. No one." And that helps me with Hattiloo, to realize that no one will work like I'm going to work, no one will think about it nonstop like I do, no one will wake up in the middle of the night worrying about it. Others are passionate about Hattiloo, but I own the dream — and all the challenges that come with that.
During dark times, I … remember what my father told me during a car ride together when I was about 13. It was raining. He said, "Look outside." I did. He said, "How much do you want to bet that eventually this rain is going to stop and the sun is going to come out?" I said, "I'm not going to bet you anything, because it's going to happen." He said, "Exactly. And life is the same way."
One of my pet peeves … I tell my casts that when rehearsal is at 6 o'clock and you show up at 6:05, you're breaking your word and perpetuating a stereotype. Punctuality lends credibility to your name.
I'm not very good at … conforming to a routine. God help me if I ever have to take a pill every day. I wouldn't be able to do it, to save my life!
Hattiloo's community outreach includes … Black Arts Fest, I AM Memphis, and Hattiloo Children's Theatre.
My daughters … At 19, Hatshepsut is me at her age. She has artistic friends who are "out there" trying to figure things out. She has my charisma. Oluremi was born four months premature and with every preemie illness you can think of: brain hemorrhages, kidney failure, heart malfunctions — you name it. In Yoruba, her name means, "God consoles me so I will not die." That little girl is a fighter. Here she is, 18 years old, and most people would never know she has cerebral palsy. And although both daughters work here and are artistically gifted, neither one currently has theater aspirations!
Items still on my bucket list ... I want to finish college and major in a foreign language, because becoming fluent in another language is also on my bucket list. I can kill two birds with one stone! I want to learn Spanish because I love Gabriel Garcia Marquez, Isabel Allende, Pablo Neruda — a lot of the literature I love is originally written in Spanish, so I would love to read them in Spanish.
My final 2 cents ... We are comfortable with Here, because we know what to expect when we're Here. But when you look down the street, and you can't see There, it's terrifying. It's daunting, and so you say, "Hey, I don't know what's down There, so I'm going to stay Here." But you've got to leave Here. And you've got to brave whatever is There. With Hattiloo and black theater, we are going There.